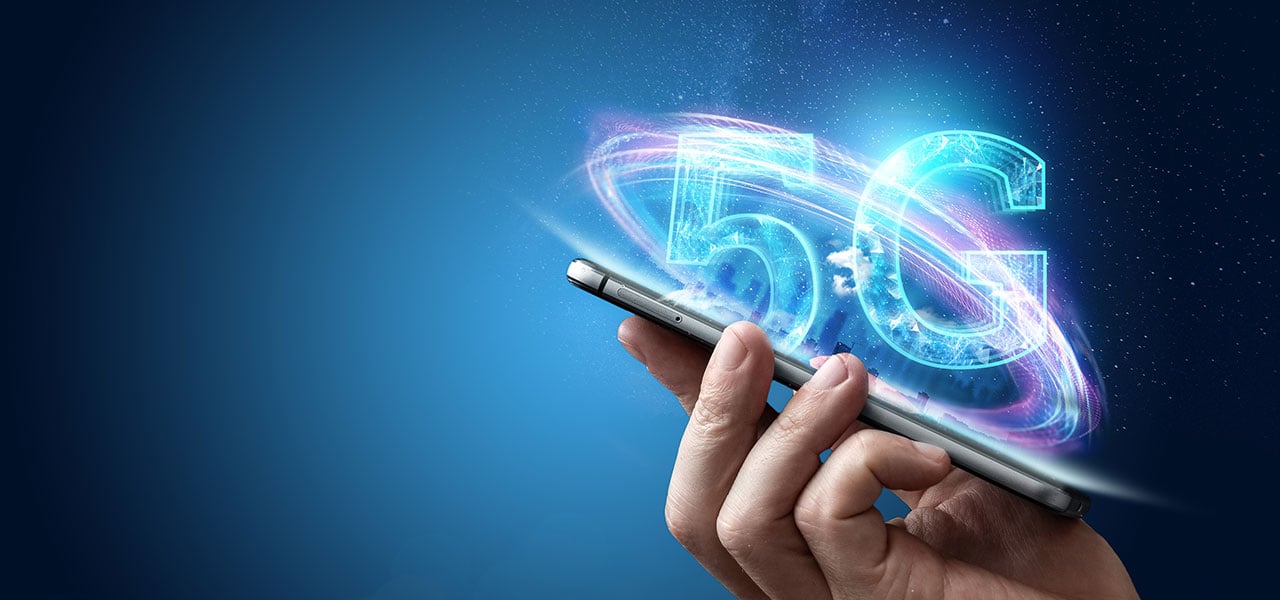 11 May

5G phones currently on the market

With a small variety of 5G phones currently on the market, you want to make sure that your choice does exactly what you need it to do. 5G connectivity was released in 2019, along with a small variety of smartphones compatible with it. Throughout the year, more and more 5G phones have been released. Whilst there still isn't the widest range, the difference between each device is obvious.

When looking at 5G phones, you'll see that Huawei and Samsung fill most of the market. Although these brands are in the top 3 of the tech world, it's a great idea to look at the others. To stay in the tech market, smaller manufacturers have to find cheaper ways to give the best features, and that's just what they've done.
Samsung S20 Range
The S20 range is probably one of the most iconic in the 5G market. They were released in March 2020 and brought the best Samsung technology to the table with an improved camera. 3 out of 4 of this range is compatible with 5G connectivity.
Starting with the most basic of the series, the Samsung Galaxy S20 5G comes in with the lowest price tag. There is a 4G version of this handset too. With this smartphone, you'll get a 6.2-inch infinity screen. This allows you to see more of what you want with less scrolling. To make sure that none of this screen space goes to waste, the selfies camera is a dual 10MP punch hole lens. You'll also find that the battery life of this phone is outstanding as it contains a 4000mAh battery. You'll be able to stay connected for far longer.
Following a lot of similar specifications as the S20, the Samsung S20 Plus is the mid tier addition. These two phones have the same triple lens camera set up. You'll find a dual 10MP punch hole selfie camera in the front display. Flipping over to the rear camera, you'll find a 12mp wide lens, 64MP telephoto lens and a 12MP ultrawide lens. Both the front and back cameras are going to give you some extremely high quality photos.
Finally, the Samsung Galaxy S20 Ultra is the last addition to the range. This is the most expensive and for good reasons. First of all, this phone is resistant in up to 1.5 metres of water for 30 minutes. With the super impressive quad lens camera, you'll be able to shoot at the poolside. The S20 ultra has a main lens of 108MP, you can only imagine the level of professional photos from this smartphone.
Huawei P40 Series
April 2020 saw the release of the P40 series, answering so many questions surrounding Huawei as a brand. After Google added Huawei to their entity list, Huawei would not be able to use their services on future devices. The P40 range shows the world just how much Huawei doesn't need Google to make a good phone. EMUI is added to the phones to cover any missing Google services as well s the Huawei App Gallery. These 5G phones really shook the world.
For anyone looking for a mid tier Huawei in the 5G phones market, the Huawei P40 may be just what you need. /one of the most noticeable benefits of this range is the design itself. The P40 offers a fun range of colours with Midnight Black, Silver Frost, Blush Gold, ice White and Deep Sea Blue. Each variant has the same smooth, eye catching finish.
To offer a higher end phone, Huawei introduced the P40 Pro. Something Huawei were certain to pull off with no issues, even without Google, is building one of the best smartphone cameras. On the Huawei P40 Pro, you'll find a quad lens camera features on the back. This camera contains a 50MP wide lens, 40MP ultra wide lens, 12MP telephoto lens and a TOF 3D depth sensor. As always, this Huawei camera is going to produce some extremely sharp and crisp photos, leave room for no noise or dullness.
Samsung Galaxy Note 10 Plus
One of the first 5G phones from Samsung was the Galaxy Note 10 plus. Whilst this isn't one of the most popular choices when buying a 5G compatible smartphone, it is a great one. Any addition from the Note series is a great option for anyone who works from their phones. This device gives you a 6.8 inch infinity screen, great for conference calls or answering mails. The included S-Pen also makes it far easier to get the smallest of details when using your phone. Adding 5G with each of this phones great features will make it run so much more efficiently and faster.
Other 5G Phones
Of course, you can get 5G phones from manufacturers that are slightly less known. By opting for smaller brands, you can get some of the best and latest technology for a much smaller price. A lot of smaller mobile phone companies have been in the game for a few years and can offer exactly what you want.
A great example of this is the Oppo Reno 5G. Each Oppo device has a super sleep, eye catching design, not too different to some of your favourite phones. With the Reno 5G, you'll get an under display fingerprint sensor, a dual camera, featuring a 48MP wide lens and 13MP telephoto lens, and a Corning Gorilla Glass 6 screen. You can get all and more this for half of what you can with bigger brands.
Another player in the 5G phones market is Xiaomi. They're a Chinese company who are producing extremely high end features for super low prices. They entered the market with the Xiamoi Mix 3 5G and really do raise standards. This device features a rear mounted fingerprint sensor, active noise cancellation and back cameras which slide out to use.
You're going to want to get the best 5G deals with these 5G phones. No matter which smartphone is the perfect fit for you, you'll be able to find a great deal to match. There are hundreds of different deals with different data packages and prices, giving you multiple options.