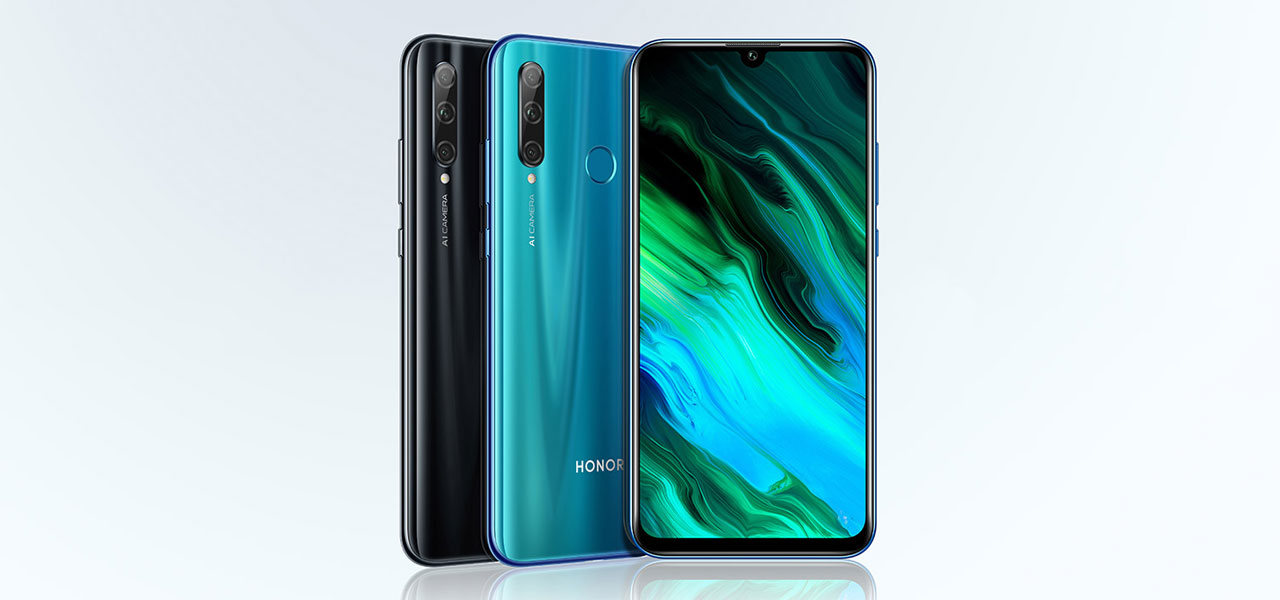 21 Sep

Best Honor 20e Deals

Honor is an up and coming manufacturer, creating some of the most impressive smartphones and the best Honor 20e deals will convert you. This device is full of high tech features but doesn't carry the unattractive price tag that others do. As an off cut of Huawei, you can understand how high quality it really is. From the design to the inside components, there's so much to love about this device.
About the Honor 20e
With the Honor 20e, you get a very slick design all over. The plastic backing offers you a glossy finish that almost reflects the light. You'll get the option of a Midnight Black or Phantom Blue variant when you do buy the phone. Both these options are high quality and offer the same glossy finish however, the blue variant will give you a range of hues for a unique style. Both will have very little on the back of the phone with only a small fingerprint sensor, the camera system in a neat housing and then the Honor logo, which is barely visible.
Honor has always produced an impressive camera system on their smartphones. On the back of the Honor 20e, you can find a triple lens camera, consisting of a 24MP main camera, 8MP ultra wide lens and a 2MP depth sensor. Each provides a different style of shooting however, all give a very high quality finish. You'll get an extremely high resolution photo with each lens. If you're looking to get a bit more creative with your photos, then this is the perfect camera for you. Use the ultra wide lens for a larger frame or the depth lens to make portraits that pop.
Talkmobile Offers
We've just recently paired with Talkmobile to bring you the best Honor 20e deals with extremely low prices. As the only third party to work with Talkmobile, you won't find deals like this with anyone else. Every single Honor 20e deal you find on Talkmobile will be lower than £30 a month. They pride themselves on offer prices lower than anyone else and that's exactly what they've done here. Just because your paying a low price doesn't mean you lose out elsewhere as they're on the Vodafone network, meaning you'll get high quality speeds and coverage in the UK too.
Once you've been accepted by Talkmobile, which is instantly, you'll be invited to create your own online account with them. Through this, you can access all of your monthly bills, see how much of your monthly allowance is left, purchase add ons and even set spend caps. There's a lot more you can do however, these are the features you're most likely to use. By having your entire account right at your fingertips, you've got way more control over your mobile phone contract than ever before. You can even get help around all things Talkmobile through this account to save you time.
EE Deals
EE is the leading network in the UK, they've even won the award for best UK network for 7 years running. This just goes to show how your time with them is going to be. When you join EE, you'll get the very best service right away. Not only are they the best UK network, but EE also has the best network speeds and coverage in the UK. That means that no matter where you are, you'll be able to stay in contact with the rest of the world. Let your loved ones know you're safe with little interruption.
This amazing coverage also comes in handy with the EE entertainment plan you'll get to enjoy. All customers that join EE will be able to use a range of free trial subscriptions ranging from 3-6 months each. These include subscriptions with the likes of BT Sports, MTV Play and BritBox. The best thing about this offer is you don't have to choose just one trial to enjoy, you can use each and everyone of them. When the trial comes to an end, EE will text you, giving you the chance to cancel or continue at a monthly cost.
Vodafone Packages
Every single customer that joins Vodafone will be asked to set up their online account. To make your life easier, you can actually download the Vodafone app onto your Honor 20e. Through here, you can see your monthly bills, allowances and so much more. This also means you can access Very Me Rewards. These are a huge variety of discounts on huge brands and new or small ones too. Each discount can help you save tons of money and they've even updated weekly so you can use new ones all the time. You'll even find a giveaway every now and then.
If you choose one of our best Honor 20e deals with Red Entertainment, you'll get a free 24 month subscription included in your contract too. You'll be able to choose between Sky Sports, Amazon Prime, YouTube Premium and Spotify Premium. With this range of free subscriptions, there really is something for everyone to enjoy. When your contract comes to an end, Vodafone will send you a text with instructions of how to cancel or the option to continue at a monthly cost. You're able to completely control your spending with this one.
Best Honor 20e Deals
To ensure we've got the best Honor 20e deals on the market, we'll pair a lot of our deals with cashback amounts. Our simplest form of cashback is automatic cashback. This is a smaller lump sum that we'll pay to you after 90 days. As long as you keep up to date with your payments to the network, there will be no issues with this payment. You don't even need to remind us as our finance team will handle it all. That's why it's called automatic cashback!
Redemption cashback is the method that will save you the largest amount of money, In some cases, you'll find that the total contract cost is reduced by almost half its original cost. These amounts are much larger than automatic, purely because you do have to claim for them. Claiming is super easy with only a network bill and a form being submitted 5 times throughout the contract. By the end of your 24 month contract, you should have the full amount sitting in your bank account.
If these best Honor 20e deals have you dreaming of this smartphone, make sure you check out our offers. We like to ensure that the very best prices are in the same place. When shopping at Fonehouse, you can save tons of money with little work.