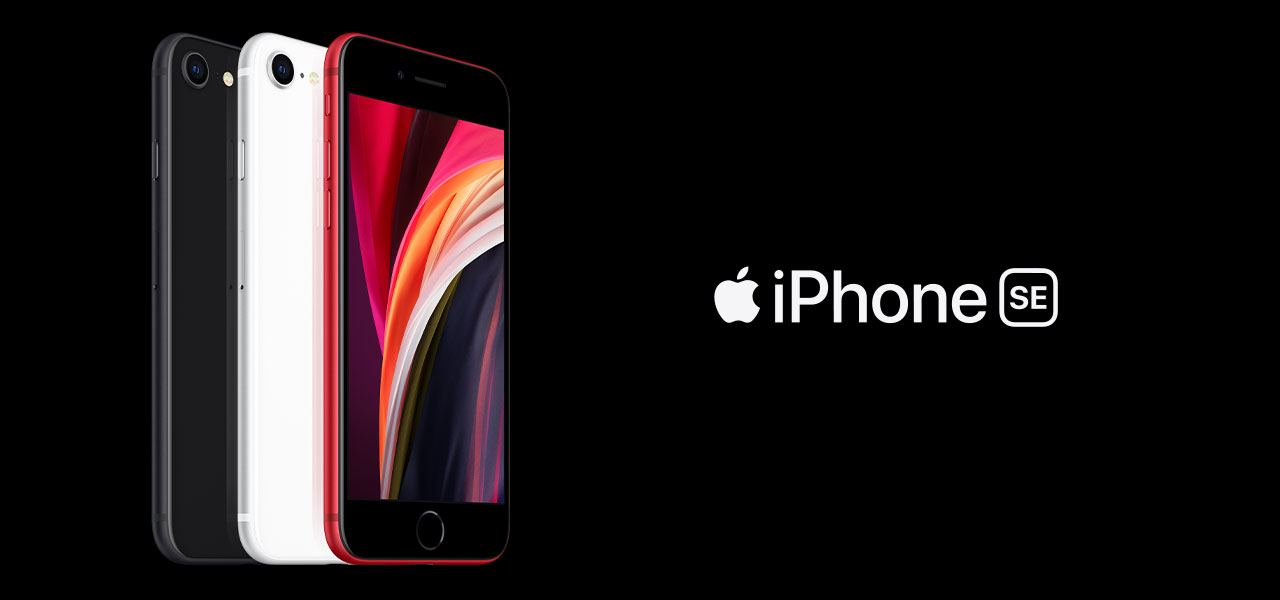 01 May

iPhone SE Deals

There are hundreds of iPhone SE deals out on the market at the moment and they're full of value. They're also way cheaper than you think! April 2020 saw the release of this new budget smartphone to hit Apple's lines. It comes with a fresh design as well as some of the best bits from the iPhone 11 series.
A bit about the iPhone SE
In April 2020, Apple announced the release of the new iPhone SE. This shook the market slightly as it just wasn't expected. To much surprise, this budget handset looks and feels extremely high end. With a glass back and front, you get a very glossy finish. The home button has also been reintroduced, which means users also get Touch ID back.
Although you are paying a slightly lower price for this device, you don't get any less. The powerhouse of the SE is in fact the A13 Bionic, which is the same chipset found in the iPhone 11 series. You also get full use of Portrait Mode and the new High-Key Light Mono option that was added last year.
Network Benefits
With whichever network you decide to join, you're going to get a range of different benefits. That's why it's always a great idea to take a look at offers over the available networks. We currently advertise iPhone SE deals with EE, Three and Vodafone. Each of their benefits are very different but extremely useful.
When you join EE, you'll have access to their exclusive entertainment package. This will give you access to different free subscriptions with some of your favourite brands. To keep you entertained at all points, you'll have access to 3 months free BT Sports, 6 months Apple News+, 6 months BritBox and so many more subscriptions. Even better, EE will cover your data used with select subscriptions.
The benefits offered by Three are a bit different. If you're someone who travels a lot, this is the perfect network for you. Three has far more countries covered in their roaming coverage than any other network. You'll be able to use your monthly allowance in the USA, Australia and most of Europe. If you join with a deal including over 12GB of data, Three will also cover your data used across different apps.
Vodafone offers every one of their customers access to VeryMe rewards. This will give you access to a whole range of different discount codes for your favourite brands and brands you may have never heard of. If you join Vodafone on a Red Entertainment plan, you'll be able to choose a 2 year free subscription from the likes of Spotify Premium and Sky Sports.
iPhone SE deals with cashback
By adding cashback to different deals, we're able to effectively lower the price of your monthly tariff considerably. These amounts can sometimes even bring your tariff price down to as low as half the actual cost. We offer two different types of cashback to suit different needs: redemption and automatic. Automatic cashback allows for a quick and easy cash back option. This is a lump sum, all paid after 90 days of your contract being connected. Automatic amounts are always a lot less than our other option. When you take out a deal with redemption cashback, this is paid in 5 different instalments throughout your contract. Although you do have to claim this payment, it allows you to save far more money than you could have ever imagined from your phone bill.
We know you're going to be looking for the best iPhone SE deals around so we've put together a range of our best selling deals. These are full of data and topped with cashback.