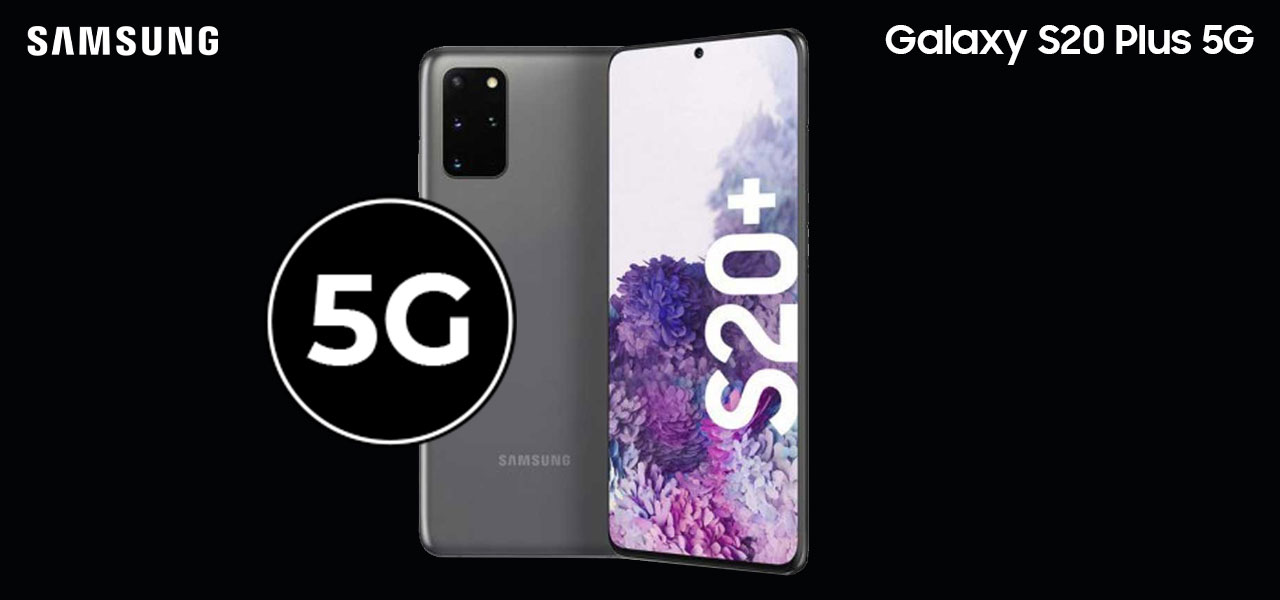 11 Aug

Best Samsung Galaxy S20 Plus 5G Deals

With the best Samsung Galaxy S20 Plus 5G deals available, you're going to get something well worth your money and super high tech. Released earlier this year, the S20 Plus 5G brought a whole lot of excitement to the world. That being said, there are plenty of reasons as to why that's the case. If you want something that's going to blow you away, this is the phone for you.
About the S20 Plus 5G
In March 2020, we saw the release of the new Samsung Galaxy S20 range. It brought a huge amount of new 5G phones for people to enjoy. As we've seen 5G progress over the last year, we've seen a much wider range of compatible handsets arrive, one being the Samsung Galaxy S20 Plus 5G. This offers you some of the very best speeds seen in a handset. Giving you access so 5G is the Exynos 990 chipset, one of the most impressive 5G chipsets to date. All your browsing, gaming and streaming will be smoother than ever.
Sticking with an all glass design, the S20 Plus has a very high end finish to it. With a glossy back, you get to enjoy a style that really catches the light. As this device has such a high standard, the colour options are pretty eye catching too. You're able to choose between Cosmic Black, Cosmic Grey, Cloud Blue and Cloud White. Each of these options offer an attractive glossy finish however, allowing you to add your own style into the mix. Classic Black and White options can keep a professional feel whilst other options add a pop of colour.
Battery power is something that we've seen grow massively over the last few years. It's becoming more and more important for phones to last longer than ever before. Keeping the Galaxy S20 Plus 5G powered is a 4500mAh battery and it's capable of some big things. Alone, this battery has enough power to keep you connected for the entire day. When you do come to give it a power up, Samsung have given the phone plenty of charging methods. This included USB power delivery 3.0, fast charging 25W, fast wireless charging 15W and even reverse wireless charging 9W.
Amazing Network Extras
When browsing our best Samsung Galaxy S20 Plus 5G deals, you'll notice we work with three of the top networks in the UK, EE, Three and Vodafone. Each of these offer the best prices, amazing speeds and even throw a few extras in too. When you join Three, you'll get to enjoy Go Roam and Go Binge if you have over 12GB of data. Go Roam lets you use your monthly allowance in 71 different destinations for free. With Go Binge, you can enjoy apps such as Snapchat and Netflix without eating into your data allowance.
Vodafone will give every single one of their customers access to their Very Me Rewards through their downloadable app. From here, you can enjoy a huge range of discounts with a variety of brands. These can be companies you use everyday or even ons you've never heard of. To make sure you're getting the best use out of the discounts, Vodafone will update these weekly. When you join with one of their Red Entertainment packages, you'll be given the option to choose a 24 month subscription for free. This means you can stay entertained for hours on end and even better, it's for free!
Finally, there are plenty of reasons to join EE. From the awards they've received to the customer reviews they have, you are never going to be disappointed by this network. For 7 years, they have been voted the UKs best network and it's understandable why. With every single EE deal, you'll be able to enjoy their exclusive entertainment program. This allows you to enjoy multiple different trial subscriptions without needing to pay anything towards it. Included in this are subscriptions with the likes of BT Sports TV, YouTube Premium and so much more. With the reliable speeds and coverage you get with EE, you'll never find yourself bored again.
Best Samsung Galaxy S20 Plus 5G Deals
To make your life easier, we've gathered all the best Samsung Galaxy S20 Plus 5G deals in one place. This means you don't have to spend hours scrolling through the internet to find something that's perfect for you. To make sure our prices are better than everyone else's, we add cashback to our prices. With redemption or automatic cashback on offer, you can choose how much you save and just how you save it.
With automatic cashback, you'll be able to save small amounts from your overall contract price. With this amount, it will be paid in a lump sum after your contract has been live for 90 days. There's nothing you need to do in order to get hold of it, other than pay your monthly bills. Whilst this is the simplest form of cashback, it's also the smallest.
If you want to make sure you're saving the highest amount possible, you're going to want to turn to redemption cashback. These amounts are much larger than automatic offers as you do need to claim them. Claiming is super easy as all that's needed is a quick form and a specific network bill. Once this is received, you'll get a fifth of the payment paid right into your bank account. This is then done another 4 times before reaching your full amount.
When it comes to the best Samsung Galaxy S20 Plus 5G deals, you are not going to be disappointed. With so many offers across the very best networks in the UK, there's something for everyone to love.