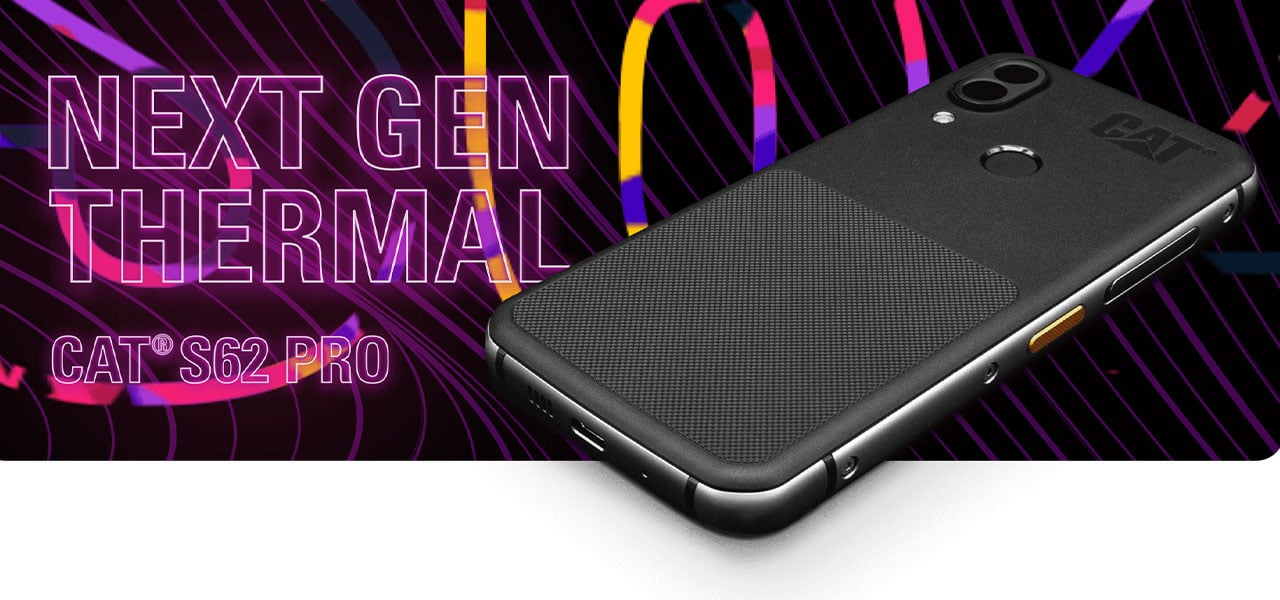 09 Feb

CAT S62 Pro Features

Every workmen needs a protective phone for their day to day job and the CAT S62 Pro features make this your perfect pairing, we'll even give you a great deal. From huge protection specifications to amazing modern features, this smartphone brings it all. You're going to want to get to know this smartphone.
CAT S62 Pro Design
The CAT S62 Pro has a 5.7 inch FHD+ display, offering a very large viewing area. This gives a bright image with huge amounts of detail whilst keeping the smartphone relatively small and portable. This is protected by Corning Gorilla Glass 6 for a super protective design. This is super protective and allows you to trust that this display is protected against scratches, chips and even cracks.
There is now a fingerprint sensor featured on the CAT S62 Pro as well. This allows you to get secure access to your mobile phone super quickly.
An aluminium body gives a high end design all over, whilst also offering a fair amount of protection. This design is far more protective than the glass backing on a lot of market leading devices. This is an incredibly hardwearing device. With non-slip rubberised TPU material on the back of the phone, you'll find that there are far less accidental drops throughout the day.
CAT S62 Pro Camera
The CAT S62 Pro camera has so many features to rave about. On of the best parts of this set up is the FLIR Lepton 3.5 sensor. This gives this hardy smartphone top tier thermal imaging technology. You'll be able to easily locate damp, leaks, electrical shortages and so much more using just your camera. This is going to save you so much time! As the best thermal camera in a smartphone to date, you really don't want to miss out on this smartphone.
There is also a 12MP Sony camera featured on the back of the CAT S62 Pro for regular images. You won't get any special features from this camera however, it does produce high quality images with plenty of detail.
CAT S62 Pro Features
The CAT S62 Pro is always talked about as an incredible device for the working person. With the protective specifications this device comes with, it's understandable as to why. It has an IP68 and IP69 rating, which means the S62 Pro is resistant in up to 1.5 metres of water for 35 minutes. It is also drop to concrete resistant from up to 1.8 metres and vibration, sand, salt mist and pressure resistant. With all these amazing specifications, you can trust that this phone is going to be safe when on a building site.
You're going to need to choose the CAT S62 Pro because it's got a much longer battery life than it's predecessors. With a 4000mAh battery, you'll be able to get up to to days use on just one charge. This is perfect for those long days at work without worrying about needing to top it up.
If you think these CAT S62 Pro features are for you, you're going to want to view our CAT S62 Pro deals today. Save money on the things that matter so you can put it elsewhere with our value packed deals./vc_column_text]