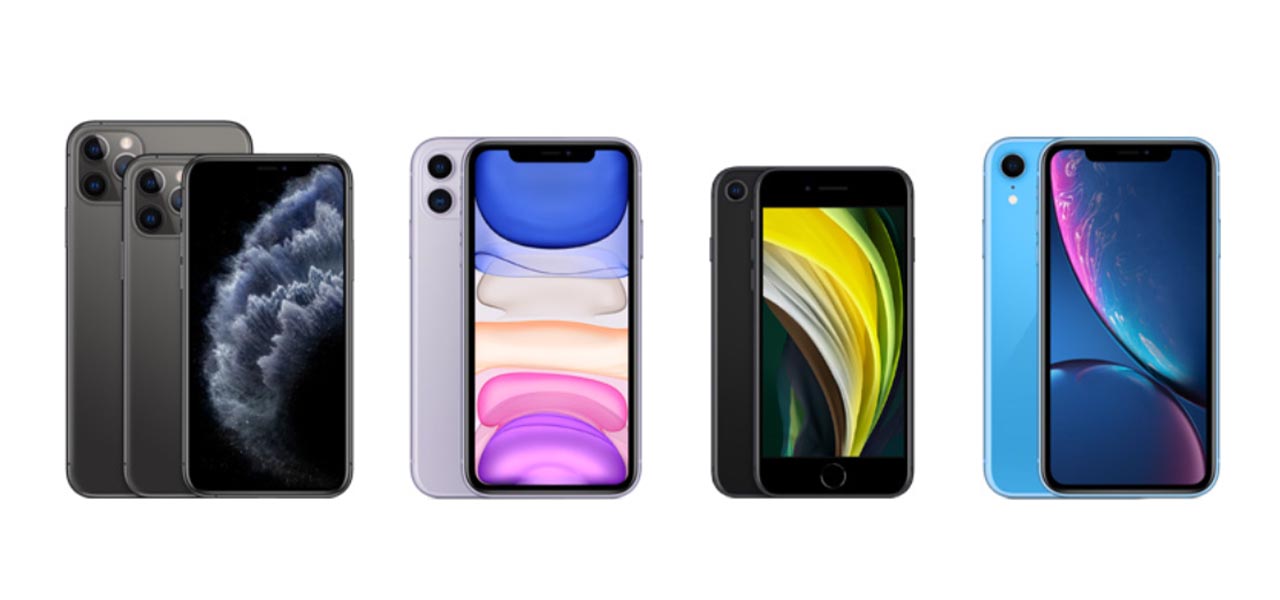 15 Sep

Finding the perfect iPhone for you

With so many different Apple devices, finding the perfect iPhone for you can feel almost impossible. Don't worry though, we've made it far easier. There are thousands of things you need to take into account so we thought we would narrow down the options for you. From how a phone looks to what it actually does, there's more than you could even imagine.
Screen Sizes
Over the last few years, we've seen a huge rise in smartphone screen sizes. As we use our devices for more and more different tasks, we need them to be larger. A lot of consumers will use their smartphones for watching films, editing photos and even work from them. With that in mind, Apple produced a range of devices that allow for these sorts of tasks. One of the largest screens they have on offer is the iPhone 11 Pro Max with a 6.5 inch super Retina XDR OLED display. This gives you tons of space for the things you love.
Although more people are doing a lot more on their smartphones, some people are still only using their phones for tasks such as texts or calls. If this is the case, then a huge screen just isn't necessary. One way that Apple has met both the large and small screen requirements is by offering the standard variants followed by the Plus/Pro or Pro Max options. A great smaller screen is actually the Apple iPhone 8 4.7 inch display. This is a retina IPS LCD display so you can be sure that everything on screen is very high quality and full of colour. You won't have to squint to see what you love.
Design Options
Nowadays, an all glass design is pretty popular. Apple have been doing such design for quite some time now, all the way back to the Apple iPhone 8 in 2017. This means that everything since has this all glass design. This is such a highly wanted design as it offers a very glossy finish that catches the light. With a glass backing, you also get a very high end feeling and look. It also means that you can get away with almost any colour option, which varies quite a lot. These devices can be available in Lilac, White, Black, Blue, Yellow, Space Grey, Midnight Green, Gold, Silver and so many more.
Any iPhones before the iPhone 8 are actually made completely of aluminium. With this backing, you can enjoy a much safer experience. Glass is super easy to smash however, aluminium is not so easy. If you do drop these devices, you'll find that they only really dent, scuff or scratch. These devices offer a matte finish with all colour options, which perfectly reflect the light. If you would prefer an aluminium backing, you don't have to go for old devices. Unfortunately, there are no newer iPhones that offer this aluminium design so you would have to get an older one if you prefer this security.
iPhone Prices
If you do have a tight budget to stick too, there are plenty of iPhone's you can get your hands on. The best thing about Apple is you don't have to settle for the older devices for a low price. A lot of our smartphones are paired with cashback so we can offer the latest devices at lower prices. The latest Apple release is actually the iPhone SE, and it's got an amazing price. For something even cheaper, you can look towards older iPhone's, such as the Apple iPhone 7 or even the 8. Both these devices are still very popular within the mobile market. All of these devices should get you a monthly payment of under £30.
Of course, no one wants to pay a high price. If you do have a little more money to spend on your next iPhone, you'll be able to move towards the more expensive, latest devices. This includes all the higher specification devices, such as the iPhone 11 Pro Max and even the Apple iPhone XS Max. By higher prices, we mean over £30 a month. Included in this bracket would be the iPhone Xr and Apple iPhone 11, both recent handsets that offer the very best from Apple. Both these options also give you a lot of fun devices and the best of modern tech.
Camera Features
Having a decent camera is possibly one of the most important parts of choosing your smartphone. Lucky for us, Apple produces a huge range of smartphone cameras. One of their very best smartphone systems is on the back of the Apple iPhone 11 Pro Max. In a very neat housing, you can find a triple lens camera consisting of a 12MP main camera, 12MP telephoto lens and a 12MP ultra wide lens. Each of these give you a completely different shooting style however, every single photo is going to be high quality and full of detail. You really don't have to worry about unappealing photos with this camera.
Whilst making huge cameras is desirable, it also increases the price. A lot of people just don't need to take photos and would prefer to save money. That's where the single lens camera systems come into play. Apple can really prove that a single 12MP camera doesn't mean you lose quality with the Apple iPhone XR. This was built to be a budget friendly smartphone whilst offering great technology. Any photo that you do capture with this camera will be full of detail, real life colours and even hold realistic textures. You can even capture photos when there's not much light around in the highest resolution.
Finding the perfect iPhone for you
When it comes to finding the perfect iPhone, you just need to consider what it is you need from the phone. If you're someone who doesn't really use their phone too much, you could get away with a lower specification device to save money. If you work from your phone or even play games, edit photos etc… then you may want a higher specification device. Making sure you know what your budget is will make your search in finding the perfect iPhone for you way easier. You can get Apple iPhone's at amazing prices with modern features, they don't have to be the most recent release.
After finding the perfect iPhone for you, you'll want to get one of the highest value deals available. Check out our best iPhone deals for something high quality but super affordable. For prices across the top UK networks, there's something for everyone.