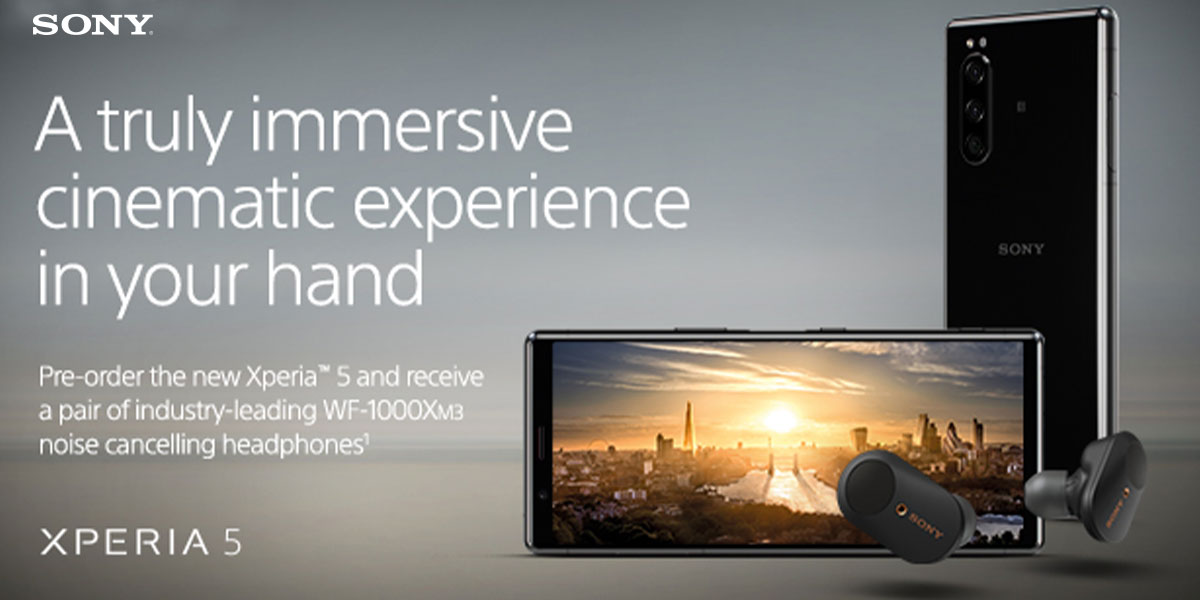 22 Sep

Free Headphones Worth £220 When You Pre-Order Sony Xperia 5

Excitement is mounting as the launch of the Sony Xperia 5 is looming. Since Sony released all the details, the phone has now been made available for pre-order, and it looks really good. We are delighted to see so many handsets being reserved, so in case you missed, here is what you need to know about this handset. 
Free Sony WF-1000XM3 headphones 
Let's start with the carrot, and to be fair, it is a pretty generous carrot from Sony. If you pre-order the Sony Xperia 5 from 19/9/19 till 3/10/19 you are looking at not only bagging the latest phone but you will also be receiving your free gift which is a pair of Sony WF-1000XM3 Headphones, and they retail at £220. These are one of the latest offerings from sound giant's Sony and are stunning earbuds that come in their own little charging case. Not one single wire to get in the way here just uninterrupted sound quality every time you listen. 
The Xperia Range
Sony has seen stellar sales of the Xperia range over the years, and the latest and greatest incarnation is the Sony Xperia 5, so what exactly is on offer? Well, this is a really good looking 6.1-inch handset that features the classic Sony widescreen look. This makes this a really great choice for those of you who like to stream box sets or movies on your handset. The 21:9 CinemaWide™ display brings you closer to the real movie experience and makes watching a real delight. Of course, we know the sound quality is stunning, so if you are in a quiet room you can turn up the volume and sit back, but if you are in company, then you have your free gift to turn your viewing pleasure into a private screening. 
Tech Spec Details 
As well as the stunning screen you also get a Triple lens camera with Eye AF (Autofocus) technology from Sony's Alpha™ cameras, which makes capturing your day a joy, and the images are going to be true to life and make all your friends jealous when you share your adventures on social media. If you want to take some video footage, then you are also in luck as the Sony Xperia comes with 4K HDR Movie recording capabilities and this is also pretty professional level hardware so no need to take a big video camera when your mates get married. They will be begging for your footage. In terms of storage, for all those videos and photos, you have 128GB with 6GB of RAM, which is pretty decent and more than enough for most people.
It even means you can download your favourite TV shows and watch them even when you don't have a wifi or 4G signal. Your final decision is simple; you have the choice of two colours, black or blue. So, what are you waiting for! Get your pre-order in now and have your new Sony Xperia 5 in your hands on as soon as it is available!