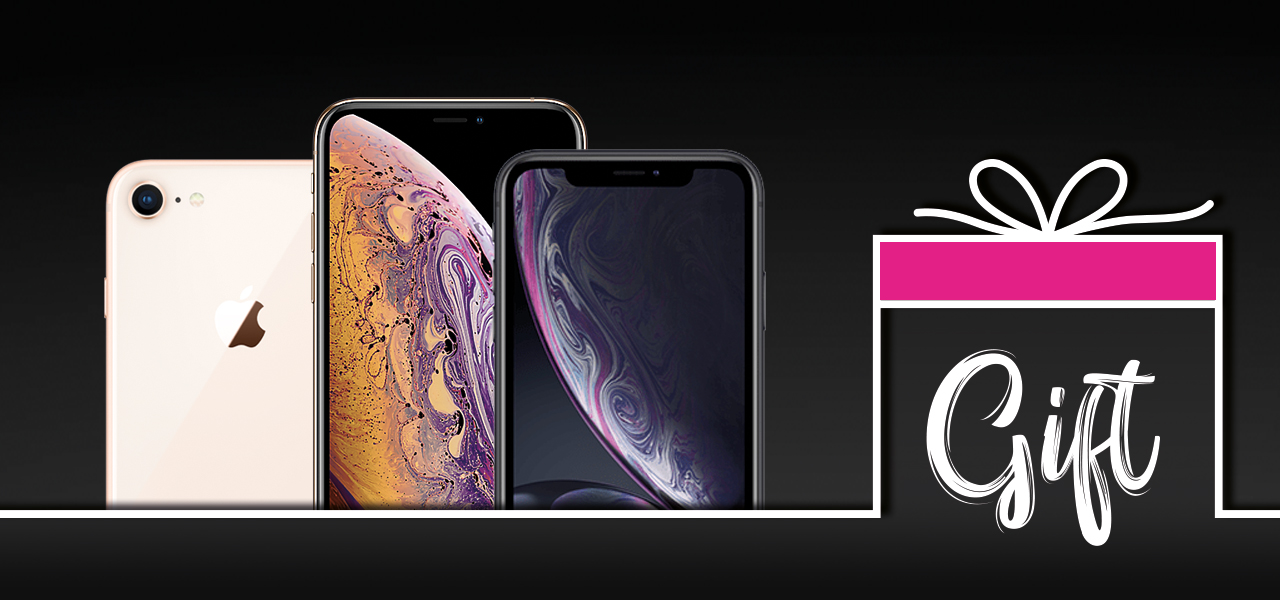 17 Jan

Get an Apple smartphone with a free gift!
Get an Apple smartphone with a free gift!
Here at Fonehouse we are committed to getting our customers the best phones at the best possible price. And now we have taken that promise one step further and are even offering a free gift with Apple smartphone purchases! We have a wide range of Apple handsets to choose from and a choice of four fantastic gifts that could come free with your iPhone contract. Read on to find out more about what you could get!
For years Apple have been one of the biggest names in the smartphone market, and for good reason. Their range of iPhone are not only stunningly designed providing beautifully simple looking handsets packed with user-friendly features, but they also come with Apple's super powerful operating system meaning that your phone can always keep up with your busy lifestyle.
Here at Fonehouse we offer a large variety of different Apple handsets ranging from the iPhone 6 all the way to the latest generation iPhone XS and iPhone XR. We have always prided ourselves on being able to offer our customers the best deals with our network partners, but now our deals have gotten even better because with all of our iPhone's you can now get yourself a 24-month contract with a free gift, and, trust us, this is a gift you will want!
To check out all of our best iPhone deals click here now!
With all of our Apple smartphones you can now get yourself a free PlayStation Classic!
Released only a month ago in December 2018 the PlayStation Classic is the perfect console for those of you who remember the original PS1 with fond nostalgia. Perfectly mirroring the original design of PlayStation's first console the PlayStation Classic comes with the same distinctive logo and button layout but at a 45% smaller size than the original this perfectly compact console is exceeding all of our expectations. Featuring 20 of the biggest and best games from PlayStation's era defining first console the Classic comes with two wired controllers giving you the option to play cooperatively with a friend, an HDMI cable to connect to your TV and enjoy these retro games in high definition quality, and even does away with the biggest issue from its predecessor with a virtual card to save your progress in each game and as you switch between games.
Relive your favourite gaming moments with the PlayStation Classic!
With our amazing Apple smartphone deals for our entire range of iPhone handsets you can now also get yourself a free Xbox One S!
Xbox has always been popular with their loyal fanbase but their latest Xbox One S now performs better than ever and is sure to exceed expectations. With 4K Ultra HD Blu-Ray capabilities and high dynamic range technology providing a higher contrast between light and dark the Xbox One S's crystal-clear viewing quality allows for the best gaming experience possible. And with a wide range of entertainment apps available to download and the ability to stream in 4K the One S is not only perfect for gaming but can also provide an impressive all-round viewing experience for film and television too. And, with over 1,300 games to choose from, you're bound to find something to enjoy. But, best of all, the Xbox One S is backwards compatible meaning all the Xbox One accessories you already own will still be functional, and you will have the choice of over 1,300 fantastic games from the biggest new releases to three generations of favourites!
Experience Microsoft's best gaming console yet with the Xbox One S!
The world's best selling console is now available free with an Apple iPhone contract!
With the PS4 Sony broke the mould on gaming consoles, and we're so glad that they did. The PS4's bold new design is a drastic variation from previous generations but we love it! The cooling vents are now better positioned to help avoid your console overheating and the smooth lines are pleasing to the eye. But, the most impressive thing about the PS4 has to be its power and performance. Maintaining all the best features from previous generations, the PS4 sets itself apart from the crowd with some amazing new capabilities. With a PS Plus membership you can have access to a variety of top-selling games for free each month and play online cooperatively or competitively with friends or other PlayStation fans worldwide. But our favourite new feature has to be PS VR. By connecting a PS VR headset you can fully immerse yourself in the virtual world and play your favourite games in extraordinary new ways. Or, if you prefer playing games with others how about PlayStation's new PlayLink games? The variety of PlayLink games allow you to bring together family and friends in a totally new way as you use your smartphone or tablet as the controller. Many of the games are very easy to pick up so you won't have to worry about wasting time explaining, or having to pass the controller around to share, you can just jump in and have fun together!
Be one of the Players and experience the best Sony has to offer with a PS4!
Nintendo are revolutionising console gameplay with the Switch. Experience it for yourself when you get the Nintendo Switch free with an Apple iPhone contract!
With Nintendo's first new console since 2012 they have done something unprecedented and managed to create a gaming console that is so versatile and powerful it can be used to play games on a TV at home, on its own on a commute, and even with others competitively all from the same device! The Switch stand can be connected to a television for everyone to enjoy together at home in TV mode, in Tabletop mode you can use the stand itself as a screen to play alone or with a friend, and with handheld mode you can transport the console with you wherever you go with the controllers connected for an immersive handheld gaming experience like no other. You can even link up to eight consoles together for amazing multiplayer fun! All of this is made possible by the new Joy-Con controllers that come with the Nintendo Switch. When attached to the Joy-Con grip the Joy-Con controllers with function in the same way as a traditional controller, and without the grip they become two separate, fully-functioning controllers capable of sensing shape, movement, and distance! Allowing you to effortlessly switch between solo play and cooperative or competitive play with friends the Nintendo Switch has revolutionised multiplayer gaming and we just can't get enough.
Experience revolutionary gameplay with the Nintendo Switch!