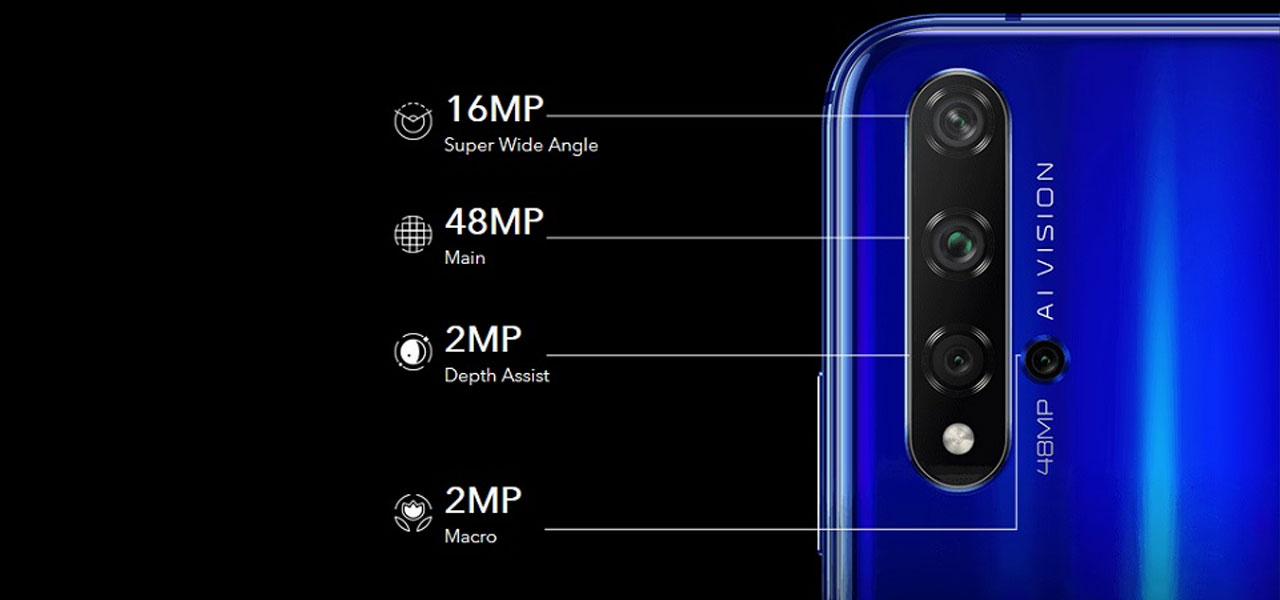 26 Jun

Honor 20 Camera System

Honor is a brand that has been around for a few years and the Honor 20 camera system is one of their most impressive ventures so far. Thanks to this camera, you'll be able to produce extremely high quality photos, full of colour and detail. They're constantly producing devices that hold super high end technology but don't have the same price tag.
Main Lens
When you take a look at the camera system, you'll first be met by the main camera, a 48MP wide lens. With a wide f/1.8 aperture and a large 1/2" sensor, you'll be able to shoot in a choice of different styles and situations. Further paired with the Kirin 980 AI chipset, every single detail you capture is going to be in the highest clarity. Whether you're shooting from a distance or up close, you can expect high levels of detail and thousands of natural colours.
You'll end up taking the majority of your photos with this 48MP camera as it's just incredibly versatile. Shoot in multiple different situations and capture tons of detail, all with little work from yourself. Even as a single lens, this would be very spectacular. When you're photographing with the Honor 20, you won't feel as if it's a budget friendly handset. In fact, with the photos this phone produces, you'll begin to convince yourself that you're shooting from a professional digital camera. It really is that good.
Not only is the main lens just all over impressive but, it also takes some of the most breathtaking portraits we've ever seen. Thanks to the built in advanced AI algorithm, the main camera will play with depth to give you professional looking portraits. All on it's own, the lens will begin to soften the background without losing any colours, highlights, shadows, or details. At the same time, the lens will grasp hold of your subject and accentuate every feature whilst keeping a very natural look. This can give such a gorgeous photo that is sure to turn heads.
Get Creative
There are actually 4 different lenses in the Honor 20 camera system, not just the amazing 48MP main camera. In fact, there is actually a 16MP Super Wide Angle camera too. Whenever you're caught, trying to step back and fit everything into a photo, swap to this lens. In a single frame, you'll be able to capture more than ever. With the all new 117° angle on this lens, everything right in front of you will fit with ease into a single frame. Capturing landscapes and group photos has never been as simple as it is now.
Marking the third lens in the system is the 2MP depth lens. With the help of the main camera, this is how you're going to create such high level, professional portraits. This lens will offer you the likes of Bokeh to help you get more creative. If you don't already know what this is, it essentially makes your photos seriously pop. Heavily focusing on your subject, the background will begin to blur, adding loads of depth to your photo.
Finally, the 2MP macro lens. Unless you're seriously into photography, you probably aren't going to use this lens too much. Without moving an inch, you'll be able to zoom up to 4cm and get amongst the details. Capture colours and patterns that you didn't even know existed. Throw yourself into nature and get to know it exactly how it is with the Honor 20 macro lens.
Super Night Mode
We all know the pain of being out with friends and the sun has already started to set but, you've just had the perfect photo opportunity. Going back over the photos, you can see that they're actually so bad because there just wasn't enough light. With Super Night Mode, that never has to be an issue again. Using the AIS algorithm, the main camera will open up sensors to take more light in. This allows for some extremely crisp, high resolution low light images. Even if you've got a slightly unsteady hand, you can still expect clear photographs.
Slow Motion Video
Capturing moments in slow motion can allow you to relive them in the highest levels of detail available. Filing at 960 frames per second, you'll capture every single detail available in the very best detail. Capture action frame by frame with vibrant colours and next to no noise. If you want to experiment with your footage, the Honor 20 is the way forward. This smartphone camera offers so many different benefits. Whether you're capturing nature in it's business, action amongst the world or even just the people around you, slow motion video is going to make it 100 times more special.
Honor 20 Selfie Camera
In the front screen of the Honor 20, you'll see a small punch hole camera. This is the 32MP AI selfie camera. Using this lens, you'll be able to capture selfies at any point of the day in a great resolution, featuring tons of colour and details. This is an unusually large lens for a budget smartphone. Even in a lot of high end smartphones on the market right now, you'll find much smaller selfie cameras that aren't capable of capturing as much as this one does.
The brains behind the camera are what makes this even more impressive. Intelligence will work to combine four pixels into one larger pixel in the photo. This allows the phone to produce far clearer, brighter and more colourful photos than others you've seen. Brand new to the Honor 20, AI beauty and portrait modes work to make those selfies even more eye catching than they already are. Offering more depth and even the well known bokeh effect, you'll be able to get way more creative in ways that you couldn't before.
We have some of the best Honor 20 deals right now to help you stick to budgets. You don't have to forfeit great tech just to stick to a budget when it comes to the Honor 20. Enjoy innovative technology for a low price