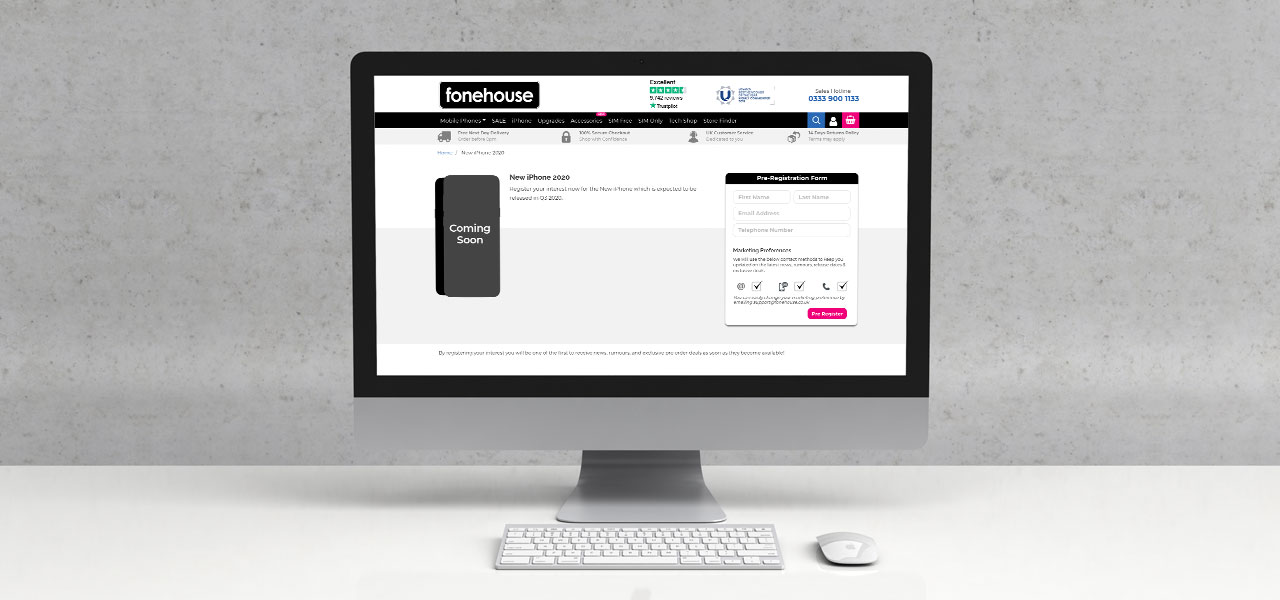 20 Jul

How to pre register for the new iPhone

Each year we see the release of a new Apple device and that times getting closer and closer so here's how to pre register for the new iPhone. We all want to be the first to find out what's to come when it comes to new phones. With the big brands, there's a huge excitement about finding out what's next to come.
What we can expect
When it comes to the new iPhone, we know that it's likely to come sometime in September. Apple releases new iPhones every single year, arriving in September. Expecting that they carry the tradition on, September would be the most likely date. There are also rumours suggesting we can expect to receive four new iPhones rather than the standard 2 or 3 variants. This would include the standard new iPhone, Pro variant, Pro Max option and perhaps an S version of this at some point. Whilst it hasn't been confirmed the new iPhone just yet, it would follow along with their previous devices.
As for design, it's likely that we can expect to keep hold of a very classic, high end look. This would keep the aluminium frame whilst supporting a glass back and front. A few rumours are even suggesting a frame much like the iPhone 4. If this is the case, the phone would have a more squared design, possibly getting thicker than previous iPhones. Supposedly, this is to reduce the reduction of signals from the frame. As well as an improved frame, we could be getting a sapphire or tempered glass screen. All these rumours are sure to increase the high end feel.
In terms of what's keeping the phone powered, we're likely to see the new Apple chip hit the new iPhone. This would bring the A14 with even faster speeds than the previous chip. So far, the A13 Bionic is the fastest chipset in a smartphone. It's very unlikely that they will lose this title after smashing the boundaries that they have. This chipset is rumoured to improve the battery life even more, allowing you to last hours long. It should also help with the phone now overheating so you don't have to worry about that classic Apple heat warning.
How to pre register for the new iPhone
Knowing how to pre register for the new iPhone is actually super simple. To make it easier for you, we've made the registering process as easy as possible. All you need to do is head over to the Fonehouse website and fill out our super short form on the New iPhone 2020 page. We will ask for your email address and telephone number so we can alert you with new information and dates. You will get an email asking you to confirm the email address but that's all done. Once this is finished, you'll be registered for the new iPhone 2020!
What does pre register get?
Whenever you pre register for any smartphone, you're hoping to get the latest information on it. We post regular blogs on the latest leaks, rumours and anything confirmed from manufacturers daily. When these blogs relate to the new iPhone, you'll get an email with a link to that blog. This way, you can stay up to date with the latest from all your favourite brands. We will even send you emails with exclusive pre order deals when the time comes around. By simply entering your email, you can be one of the first at the cheapest prices around.
If you just can't wait after knowing how to pre register for the new iPhone, there are plenty of the best iPhone deals available on other Apple products right now. With all the best iPhones available, there's something for everyone.