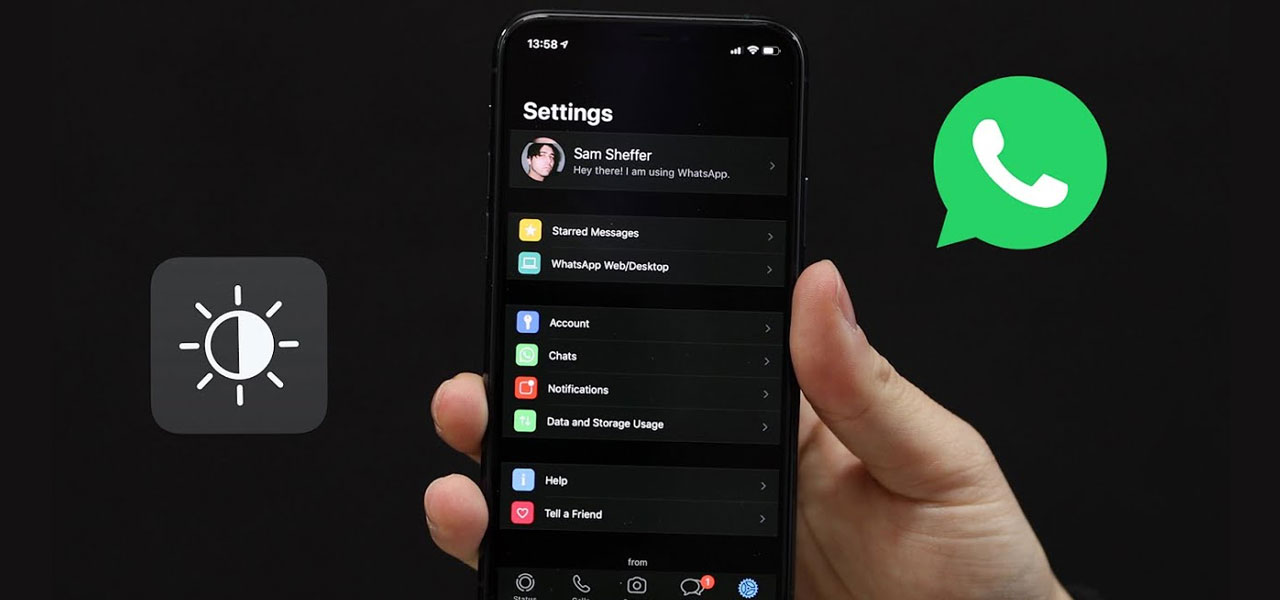 03 Jul

How to use WhatsApp Dark Mode

Over the last few years, dark mode has become far more popular than ever before. To make your experience easier, here's how to use WhatsApp dark mode. There are so many different benefits to this feature but at the end of the day, it all comes down to what you prefer.
What is WhatsApp Dark Mode?
You may have noticed on all popular smartphones and a lot of smartphone apps that you can now set it to dark mode. It's something that has grown massively over the last few years and has forced different apps to become compatible with it. Essentially, WhatsApp dark mode loses the bright green and white backgrounds and replaces it with black and grey for a background that's easier on the eyes. Having this background option will allow a far more comfortable use, especially in lower light situations.
Benefits of Dark Mode
If you haven't already heard the benefits of dark mode, you must have been living under a rock. One of the most obvious benefits of dark mode is that people low the look of it and it's particularly stylish at the moment. Different colours and images seem to pop against the black background compared to the white one, making it far more interesting. Whilst style is one benefit, it's not the most persuasive perk of dark mode. There are plenty of other reasons as to why you may switch to dark mode, from its health benefits to the luxuriousness of it.
When you're sat in a dark room staring at your phone, you'll find that you're left straining your eyes. This can cause headaches, sight deterioration and even make sleeping harder. In the long run, dark mode will emit less blue light towards your face, being far less harmful to your eyes. By removing as much blue light as possible, you're going to squint less, reducing headaches, as well as reduce myopia in your eye. This is what brings on nearsightedness over time. It is suggested that you changed between the two as during the day, you may find yourself squinting to read in dark mode.
How to use WhatsApp Dark Mode
Setting up WhatsApp dark mode on an iPhone is a little different to doing so on an Android. Of course, both have completely different operating systems meaning there are different ways to make these features available.  With both systems, you will need to change settings to activate it as both ways are extremely simple.
On an Android device, you'll need to make sure you've got the most recent version of WhatsApp. You can make sure of this by heading to the Google Play Store and checking for updates. Once updated, tap into WhatsApp. You'll see an icon marked 'Settings', select this. Tap into Chats>Theme and make sure you select Dark. The background and text should change within a matter of seconds, allowing you to now learn how to use WhatsApp dark mode, although it's exactly the same in terms of use!
Setting up WhatsApp dark mode on an iPhone is not much different to be honest. Again, you will need to make sure the most recent version of WhatsApp is downloaded. You can do this by heading over to the App Store and tapping into the updates section. Once you're sure you have the recent version, open up WhatsApp and select Settings > Chats > Theme and select Dark. From here forward, the app will now have white text with a grey/black background. Whenever you want to change it back to the regular theme, just do it the exact same way, only selecting the standard background instead.
Now that you know how to use WhatsApp dark mode, you'll be ready to take it on. Enjoy the ease and calmness of this amazing feature. If you're looking for the perfect phone to match, make sure to take a look at our best pay monthly phone deals now.