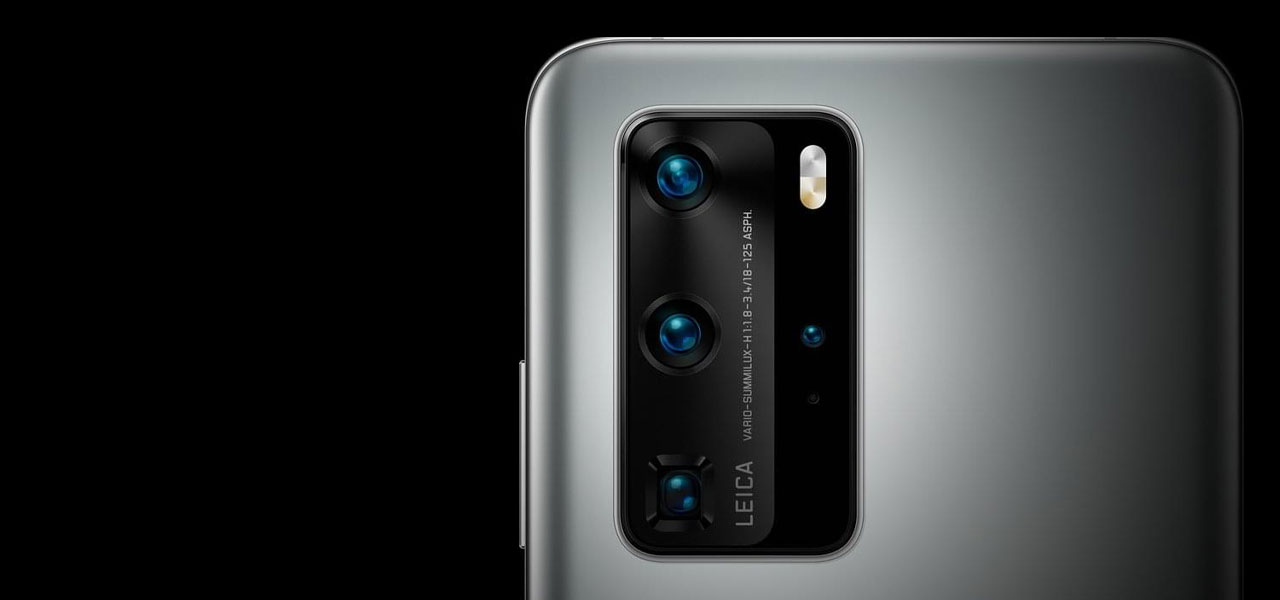 02 Jul

Huawei P40 Pro Camera

It's no secret that Huawei has some of the greatest camera knowledge out there but the Huawei P40 Pro camera takes it to a whole new level. This smartphone has one of the most powerful camera set ups that you'll find nowadays. Any photos you take will have a professional finish with more detail than ever before. Once you hear about this camera, you're going to be shocked.
Camera Set Up
Nowadays, it's pretty common for smartphones to feature more than one lens in their camera set up. In fact, most camera set ups will have 3 or 4 different lenses now. On the P40 Pro, you'll find a 50MP wide lens, 12MP periscope telephoto lens, 40MP ultra wide lens and a TOF 3D lens. Each of these play different roles in offering you details, high quality photos. You will take the majority of your photos with the wide lens, offering a range of different features and eye catching photos.
The next lens is the telephoto camera. This offers a range of different focal lengths, allowing you to find far away beauty without moving from your spot. With 5x Optical Zoom, 10x Hybrid Zoom and 50x Max Zoom, there's so much more you can now see. When you want to capture more, the ultra wide cine camera is your best bet. With ultra low light, slow motion, telephoto and $K time lapse video available, you can choose a range of styles. Finally, the 3D Depth lens. Giving you real time depth detection and Bokeh effect, you can shoot professionally.
Shooting Scenarios
With so many lenses, you would expect to have a few different shooting scenarios and that's exactly what you get. Night mode is just one of those features that will make your photos better than anyone else's. With the built in HUAWEI Ultra Vision Sensor, your camera will allow more light to enter. This means that even in the dark, you can expect high quality, detailed photographs. Night mode has never been as high quality as it is on the Huawei P40 Pro. Whether you're trying to capture the night sky or a group photo at a party, it is far easier than ever.
For times you want to pull the world right to your feet, you will turn to the periscope lens. From a single spot, you'll be able to pull everything closer in great detail and colour. There's no need to worry about any blurry lines or unwanted noise. Zoom right in at your favourite artists concert or capture wildlife without deserving it. See details are they're meant to be seen.
AI Portrait Studio
Something that is relatively new to Huawei phones is the AI Portrait Studio. This brings the power of the ultra vision main lens and multi spectrum colour temperature sensor with AI AWB Algorithm to one place. With the P40 Pro, you'll get 45% more colour precision than any other phone. Enjoy the beauty of true colours, darker shadows and brighter highlights with the Huawei P40 Pro. This camera will automatically assess the environment and subjects, making them far more accurate and eye catching than ever before. This particular feature allows you to capture beautiful portraits at all points.
Whilst producing beautiful photos, you're also able to use the AI Portrait Studio to get slightly more creative with your photos too. Using your natural skin colour, you can create a complimenting background to really make your photo pop out. With every detail from your eye lashes to the creases in your lips in high detail, your photos will feel as if they're really right there in front of you. The camera will manipulate the light in your environment to illuminate your face whilst keeping the background beautiful. Creating a photograph as beautiful as it is in real life has never been more simple.
Huawei P40 Pro Selfie Camera
In the front of the Huawei P40 Pro, you'll find a dual camera set up with a 32MP lens and an IR TOF 3D lens. With auto focus, you can expect, clear, detailed selfies at all points of the day. You'll also find that this camera works with bokeh effects too, meaning you can expect extremely professional images from the front camera too. Just like the Portrait Studio, you'll find that the camera automatically absorbs light and redirects it if necessary whilst making skin tones and textures more accurate than ever.
Different features throughout your selfies will be accentuated and brightened from the colour in your eyes to the whiteness of your teeth. With the slightest bit of light, you will be able to see gorgeous colours, just as they are in person. Even with group photos, you can expect high quality images with each face perfectly focused thanks to the built in multi-focus feature. You will never come to experience photos quite this beautiful without the Huawei P40 Pro.
Think the Huawei P40 Pro camera is for you?  Right now, there are hundreds of the best Huawei P40 Pro deals available on the best networks in the UK. Don't miss out on great technology.