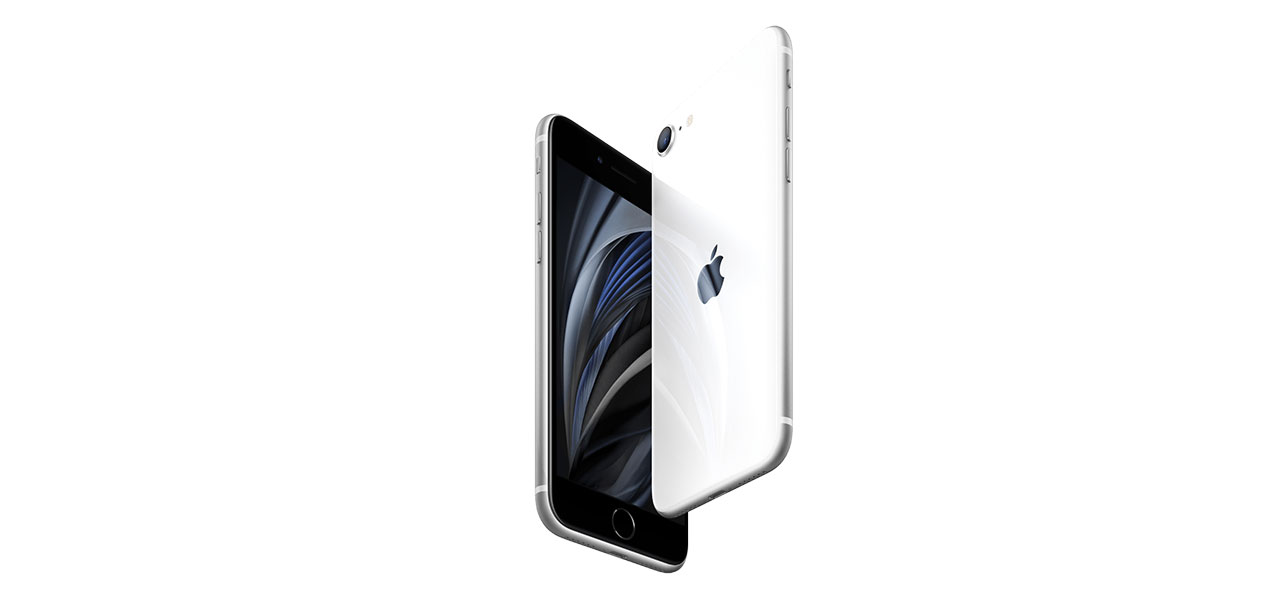 15 Jun

iPhone SE Review

In 2020, we saw the release of the new iPhone SE from Apple and before buying it, you're going to want to read our iPhone SE review. Get to know each corner of the phone so you can decide if it's the perfect match for you. From the camera to the performance to the price, we'll give you the most important information so you can make the right choice.
iOS 13
With the iPhone SE, you'll experience the latest iOS update, as found on all recent iPhone's. This is ofc course, iOS 13. This operating system brings the best security, privacy, features and so much more to the iPhone SE, a budget handset. These features range from Dark Mode and Portrait Mode to editing tools and secure browsing.
You don't want to risk your data being shared without your permission or even your online browsing being tracked. For this reason, Apple takes your privacy extremely seriously. Each different Apple app has technology behind it to make sure that you're aware of any data sharing and to prevent most, if not all, of it. For example, when you send an iMessage, it will stay encrypted from the moment you press send to the second it reaches the other iPhone. No one will be able to intercept or view these messages bar you and the person receiving them.
To make your experience with the iPhone SE even better, different apps have received some major updates. A great example of this is the Maps app. To create a more realistic experience, you can zoom right in and see the world from your view. With the immersive 3D view, you'll be able to see real life detail and get a feel for the place. Making your messages more personal is the Memoji updates. Express your emotions through an emoji that looks just like you! These are just a small amount of updates that will make your iPhone SE experience so much more personal and exciting.
iPhone SE Camera
Smartphone cameras are becoming more and more important. People are wanting to take high resolution, professional photos from the comfort of their smartphones. Different manufacturers are managing to produce high quality images using different features and lens types. In the iPhone SE, you'll find a single 12MP wide lens with capabilities similar to that of the iPhone 8. This camera will produce photographs with plenty of clarity and colour. Paired with Apple's fastest chip, the A13 Bionic, the iPhone SE camera is able to produce photos quickly and efficiently.
Of course, you'll want some fun features to make your photos fun and eye catching, that's where Portrait Mode comes into play. The camera will automatically blur the background whilst focusing on the subject, making the photo pop. To make the photo even more artful, you can control how blurred the background really is. Using the small depth slider, you can make the photo your own and edit the depth before or after taking the photo.
Alternatively, choose a new type of lighting to experiment with. On offer are 6 different effects so that you can get creative. Choose the best option to show off your subject in the best light with a huge range of exciting features. If you want to get creative whilst staying natural, the natural effects, such as Studio Light and Natural light, are the best option to choose. You may also choose to photo in a different effect for a different finish, such as Stage Light or High-Key Light Mono. Find a new way of shooting to suit your style.
Making sure your photos are as high quality and clear as possible is Smart HDR. The iPhone SE will automatically take multiple photos at one shutter click. Behind the scenes, these will be merged to create high definition photos with huge amounts of detail.
iPhone SE Deals
On our site, you'll find a range of the best iPhone SE deals across the top three networks in the UK. These include EE, Vodafone and Three. Each of our deals are paired with a great data package and an outstanding price. You may even find a few extras included from the networks themselves. We may also partner a deal with cashback. This allows us to drop the price tag considerably and make your pay monthly phone contract even more affordable.
When joining Vodafone, you'll be able to access VeryMe Rewards through the My Vodafone app. Here you'll find an attractive range of discounts and giveaways. These range from large brands that you may use regularly to smaller names you may not have heard of. Even better, they're updated each week to allow you to experience new things.
On the Three network, you'll be able to use their Go Roam benefit. This allows you to enjoy your monthly allowance in up to 71 different countries. You won't have to worry about any nasty charges when you visit different countries anymore. If your contract includes over 12GB, you'll also be able to enjoy Go Binge, giving you the ability to use platforms such as Snapchat and Netflix without eating away at your data.
Whichever iPhone SE deal you use to join EE, you'll be able to enjoy their entertainment services. Choose from a range of 3-6 month free subscriptions from huge platforms throughout your contract. You don't have to commit to just one, you can use each of the benefits. Included in this deal are subscriptions with the likes of Apple Music, BT Sports Mobile and BritBox. You'll never find yourself lost without any form of entertainment again.
Overall iPhone SE Review
Just from the above features in our iPhone SE review, you can understand just how high quality this smartphone is. As a budget addition to Apple's line, you get some of the best technology along with the classic Apple design for a super low price tag. This device is a brilliant option if you're looking to progress into more innovative technology or even as a first phone.
These are just a few of the top features from the iPhone SE. Hopefully, our iPhone SE review has helped you make the right decision and commit to your perfect smartphone.