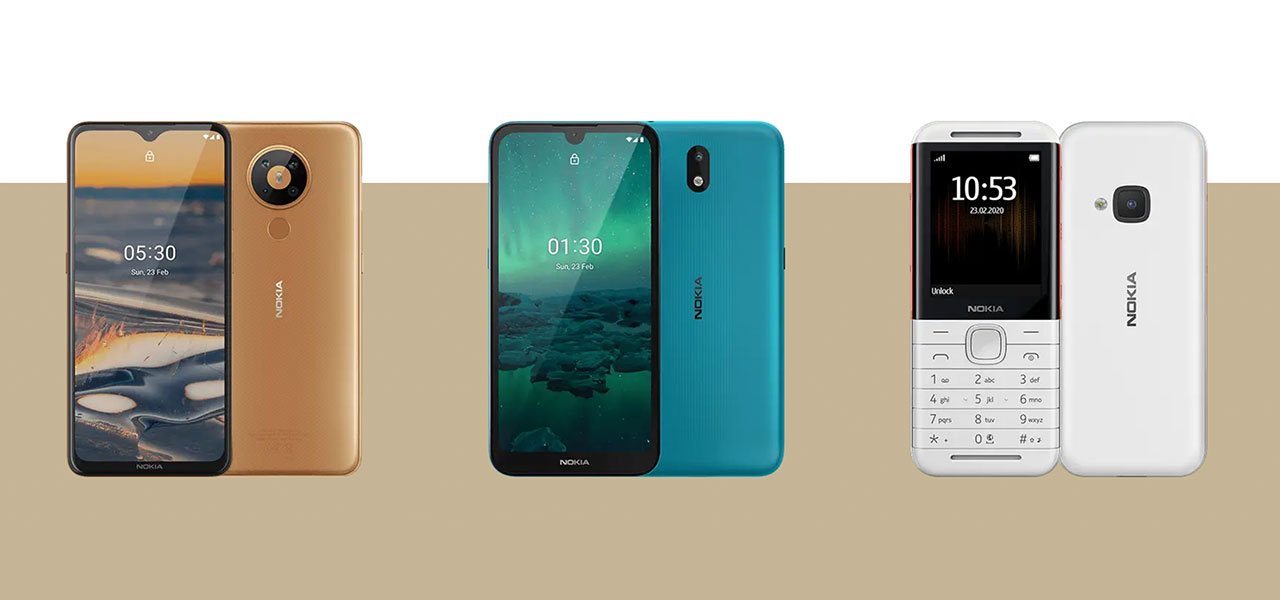 02 Apr

New Nokia Phones

Nokia has been around for years now, kicking out some well designed phones that hit a range of different people and the new Nokia phones are no different. They've hit 2020 with 4 brand new phones, all with a lot of different features as well as completely different designs. This year's releases really targets everyone, not just low budgets or high technological capabilities. Something each of these phones have in common is that they're all very budget friendly and easy to use.
Nokia 1.3
This is one of the new Nokia phones that are slightly more technological compared to some of their other additions. For anyone looking for an easy, smooth transition into technology, this is a great option. You get some fun features with this release, whilst keeping it very user friendly. A 5.71-inch IPS LCD display makes room for everything you love to be seen on the screen in more detail. A 720 x 1520 pixel resolution also makes sure that the screen is as clear as possible.
Whilst it's still incredibly basic, you do get both a front and back camera with this phone. A water drop 5MP lens is displayed at the top of the screen. You'll be able to get some pretty decent selfies from the Nokia 1.3 camera. It's not too far off the level of many flagship handsets from other brands. As for the rear camera, there's a single 8MP lens, paired with an LED flash. These are very neatly placed on the back of the phone. This camera does have auto focus so you should get some relatively clear images with true colours from each photo.
There isn't the highest amount of storage available on this phone with only a 16GB 1GB RAM version available. If you do find yourself needing more storage, there's a dedicated slot for a microSD. In terms of colours available, there's quite the choice, especially if you're looking for something a little more fun. With Charcoal, Sand and Cyan versions available, there's something to suit everyone.
Nokia 5.3
Something a little out there in the new Nokia phones would definitely be the Nokia 5.3. This design is more fun and slightly different to usual smartphones. A 6.55-inch IPS LCD ensures you've got an edge-to-edge display to get the best view whilst using your phone. With a 720 x 1800 resolution, you can also be sure that everything you view is of a high quality. When you turn the phone over, this is where it gets different. Each camera lens is placed surrounding the LED flash in the centre of the phone. Just underneath this is the fingerprint sensor. Usually, you find lenses placed in the corner or in a full circle, not surrounding the flash. It's great to see Nokia trying something else!
These lenses include a 13MP wide lens, 5MP ultrawide lens, a 2MP depth and a 2MP macro lens. With these lenses working together, you're going to get some impressive photos, fun features and artistic angles. The camera from the Nokia 5.3 is also supported with AI imaging, which will help make each photo high resolution.
Just like the 1.3, you're able to buy this addition in Cyan, Sand or Charcoal. With both understated and fun colours, you're sure to find your perfect match. You will only be able to get your hands on a 64GB version of this phone but, there is a choice between 3GB, 4GB and 6GB RAM.
Nokia 5310
Of course, it wouldn't be a Nokia release if one of the new Nokia phones wasn't a blast to the past. With the Nokia 5310, you get a real feel of being back in 2006. With a small 2.4-inch screen with a fresh new keypad. This is not a touchscreen phone. To suit the target market for this phone, you also find a 3.5mm headphone jack on the phone. We haven't seen these in quite a while however, this isn't a high tech phone so wired headphones would be the only way to use headphones.
You'll also find that there is no selfie camera on the front of the phone. This just isn't needed with a phone of this level. Don't worry though, you aren't completely cameraless! There is a VGA camera on the back of the phone. Through this camera, you'll be able to take plenty of photos however, they're not going to be of the highest resolution. You'll probably find that they aren't the most colourful photos you've ever seen too.
Nokia has only made the 5310 available in 16MB with 8MB RAM. This should be plenty of memory for a phone of this level. It is, however, available in two different colours, White/Red and Black/Red. This can jazz up your mobile phone and make it a bit more run.
Nokia 8.3
This addition to this year's new Nokia phones is the most advanced when it comes to technology. Compatible with 5G connectivity, the Nokia 8.3 is bound to sweep you off your feet. Of course, you will need a 5G ready plan, as well as 5G in your area but, speeds on this phone will be some of the best. Playing a huge part in giving you these speeds is the Snapdragon 765G chipset, along with Android 10.0 running on the phone. These are often found in a lot of other high-end devices.
You do have slightly more choice when it comes to the8.3 and storage with both 64GB and 128GB variants available. If this still isn't enough memory, there is a dedicated slot for a microSD card to add extra storage. You will only be able to purchase this variant in Polar Night, there are no other colour options.
In terms of cameras, you'll find the same circular set up as the 5.3 with each lens surrounding the LED Flash. In this set up, you get a 64MP wide lens, 12MP ultrawide lens and 2MP macro and depth lenses. The Nokia 8.3 camera is also paired with Zeiss optics so you know each photograph that comes from this phone will be extremely sharp and bursting with colour. In the front of the phone, you'll find a singular 24MP wide lens. Your selfies will be of the highest quality and detail seen in a smartphone.
With such a range of new Nokia phones, there's something for everyone. Whichever phone you think suits you best, you can be assured that you'll be getting an extremely reliable handset at a great price.