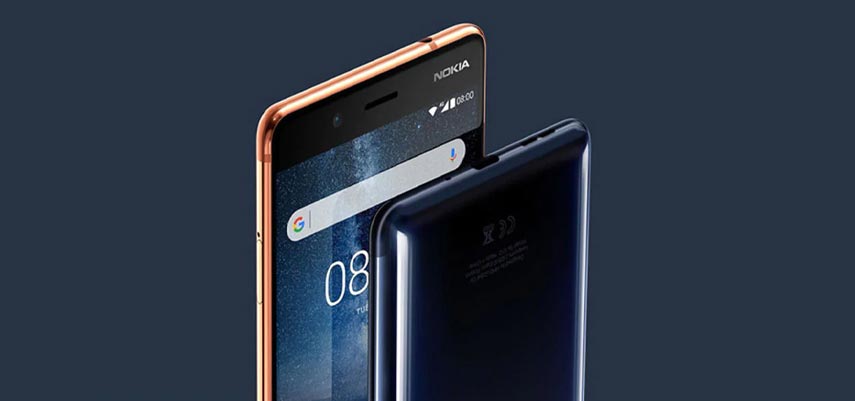 08 May

Nokia 8 Review

If you're fortunate enough to remember the very first round of success from Nokia then you'll no doubt have fond memories of playing the iconic game Snake, composing your own monophonic ringtones (or polyphonic if you were really fancy), and texting friends with just enough characters to keep it to one text so you didn't use up too much credit.

However since then times have moved on significantly, and after a brief hiatus Nokia are now known for manufacturing fantastic value mid-range smartphones with some great features and functions; it's a great comeback story in the mobile phone industry.

The Nokia 8 is just one of those fantastic smartphones. Released in late 2017, it is still one of the critics favourite Nokia releases, and it's not hard to see why.

The Look.

The Nokia 8 is a beautiful smartphone, and when we say that we're not over-exaggerating. With a stunning aluminium design surrounding a 5.3 inch IPS LCD capacitive touchscreen, some experts have even gone as far to say that it's one of the best looking Nokia phones ever, with minimal branding to retain a super sleek look.

The seamless body has been crafted through a complex 40 stage process of machining, and features a fingerprint scanner and two navigation buttons underneath the screen, making for a handset that is comfortable and easy to use.

Not only does the Nokia 8 look beautiful, but it is durable too. The handset is reinforced with Corning Gorilla Glass 5 so that even the clumsiest owner should manage to avoid too many accidents.

Available in four different colourways (two matte – steel and tempered blue, and two gloss – copper and blue), there is a Nokia 8 handset to suit anyone and everyone. Although we would advise a quick investment in a case if you're going for a gloss option, as there a magnet for fingerprints.

Don't forget to checkout a selection of our latest handpicked

Mobile Phone Deals

on some of the latest handsets.

For its size and price the Nokia 8 is an extremely powerful handset, so you may be concerned that it may fall short when it comes to its internal specifications. But you needn't worry, the Nokia 8 runs on Qualcomm Snapdragon 835 which delivers an ultra-responsive smartphone experience; you won't be waiting around when using multiple apps or snapping away on the camera.

A 3090mAh battery pack doesn't sound like anything too special, but the Nokia 8 will easily manage to last a day with intensive use, and as most users tend to charge overnight this won't bother the majority. If you are stuck without power, however, the Nokia 8 uses Quick Charge 3.0 for a quick power up.

You also don't need to worry about your phone getting too hot,  with an additional copper cooling pipe to distribute heat evenly the Nokia 8 can easily survive the British summer, and your exotic holidays too!

The Nokia 8 features a dual rear camera. Two 13MP sensors working in tandem together with colour and monochrome sensors, and an additional wide angle 13MP phase detection autofocus front camera. So whether you're a budding smartphone photographer or a self-confessed selfie obsessive, you'll be more than happy with the camera setup.

To make things even better, our good friends at Nokia have enhanced both cameras with ZEISS optics, as well as dual sight mode to allow users to operate both front and rear cameras simultaneously to create brilliant, and often hilarious, split screen photos.

Beyond the photography, you'll also find that your videos will also be of an incredibly high standard thanks to 4K capabilities.

Nokia OZO 360 degree audio is the same technology that Hollywood filmmakers use, so as well as looking great, your videos will also sound amazing. And when you're done you can choose to start streaming to Facebook or YouTube at the touch of a button.

If you're hoping to get your hands on the Nokia 8, then you can expect to pay around £296 SIM-free which is an astonishing price for such a high-end handset.

However, if you're on the hunt for a new pay monthly contract or are eligible for an upgrade then there are fortunately loads of incredible deals currently available on the market. Here at Fonehouse, we have some of the very best Nokia 8 pay monthly contracts, on both Vodafone and EE.

To complete your new Nokia 8 deal you can take advantage of an entertainment package and even get a fantastic cashback offer!

Whatever it is you're looking for in a new smartphone, we'd highly recommend checking out the Nokia 8; you won't be disappointed.