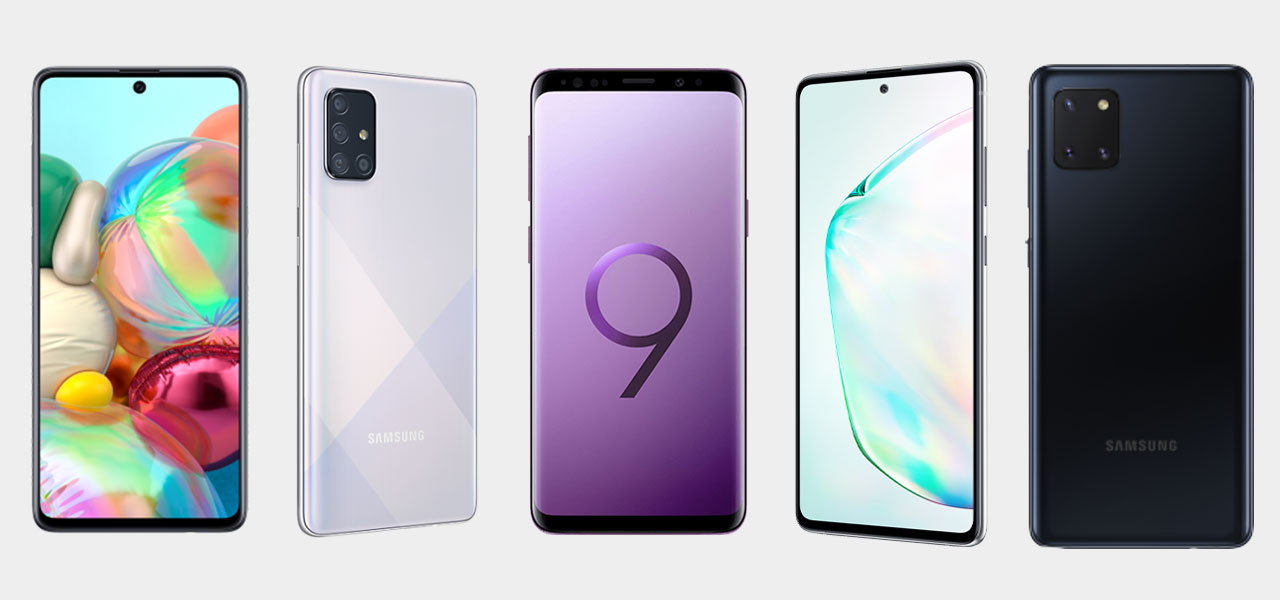 07 Jul

Samsung Phones on a Budget

With so many phones on the market there are phones for every occasion. These are our best Samsung phones on a budget, and they're pretty high spec. Just because you're on a budget doesn't mean you have to lose out on all the exciting parts of modern technology. It certainly doesn't mean you have to miss out on a stylish design either.
Samsung Galaxy A71
Deals on the A71 are usually sitting at around £20 a month. This means it's super friendly for anyone who's looking to keep costs low whilst also enjoying some of the good bits.  Although cheap, this smartphone has got one of the most impressive camera systems on a phone of this price. On the back of the phone, you'll find a quad lens camera, consisting of a 64MP wide lens, 12MP ultra wide lens, 5MP macro lens and a 5MP depth lens. Each of these give you a different shooting style however, all your photos will be incredibly high quality with great amounts of detail.
You'll also be pretty shocked with what's keeping this phone powered. Making sure that you're connected every hour of the day is a 4500mAh battery built into the phone. This is capable of keeping you and your phone connected to the rest of the world for hours on end. Even with regular use, you can expect that the Samsung Galaxy A71 will stay powered all day, so you don't have to worry about charging in times when you've got more important things to think about. When you do need to charge it, the A71 is compatible with fast charging 25W.
Samsung Galaxy A51
For something even cheaper than the A71 with slightly less high tech components, the Samsung Galaxy A51 may be just what you need. This smartphone comes in at around £15 a month and has an equally impressive camera with a slightly less powerful battery. Either way, both these features are very high end and give you a great user experience. Giving you an even more high end feeling is the under display optical fingerprint sensor. This is currently found in most high end smartphones and is a great improvement. Enjoy a full design from front to back.
When it comes to design, the A51 screams style. Enjoy a 6.5 inch super AMOLED touchscreen, with Gorilla Glass 3 to watch all your favourite videos and edit photos on. The back of the phone is also quite a stylish part too. Choose from a fun range of colours, each offering a completely different feeling to the phone. If you want something a little understated, the Prism Black and White option may be your perfect match. To add a little bit of excitement, make the best of the Blue and Pink options. Each has an extremely eye catching design.
Samsung Galaxy S9
Each year, Samsung releases a new range of phones to add to their S series. In 2018, they introduced the S9 into the mix. Seeing as this was released some time ago, the price tag has dropped an awful lot. At the moment, the Samsung Galaxy S9 costs around £30 a month. It is slightly higher than the previous two options however, it's one of their flagship handsets. With this smartphone, you'll get a rear mounted fingerprint sensor, an iris scanner and a single 12MP lens. You'll find there's a few more dated features compared to the previous options however, it is a flagship.
Behind the brains of the Galaxy S9 is the Exynos 9810. This chip will offer some great speeds along with some real efficiency throughout the phone. You shouldn't have to worry about any interruptions during downloading and uploading nor do you need to worry about slow videos. There's plenty of amazing components inside this phone. Working alongside the chip is also a 3000mAh battery. This will keep you powered for hours however, you can charge it up with fast charging 15W, Quick Charge 2.0 or even wireless charging. The S9 is full of amazing features and components.
Samsung Galaxy Note 10 Lite
Following prices of the S9 very closely, the Samsung Galaxy Note 10 Lite  is also a super affordable phone. You're looking at paying around £30 a month for a computer in your pocket. 2019 saw the release of the Note 10 series followed by the Note 10 Lite in January 2020. This brought the enjoyment of the Note 10 to a much more affordable market. Enjoy a 6.7 inch infinity screen with a small punch hole selfie camera for an overall high end experience. With the very sleek design on the back, you get a high end feel all over.
Of course, with the Note 10 Lite, you also get to enjoy the whole excitement of the Galaxy S Pen. With the S Pen, you're able to draw in full detail, edit photos closely and even snap photos without pressing the shutter. This stylus brings you the ease of a computer without the struggle of lugging it around. Not only is the S Pen a great help, it also makes the Note 10 Lite one of the best options for a work phone. Sign documents, take notes and even edit emails with no struggle at all.
Best Samsung Phones on a Budget
Whilst these are some of the top options for Samsung phones on a budget, there are hundreds more options. If Samsung isn't quite what you're looking for, then why not take a look at Huawei, Sony or even Honor. You'll find some extremely high tech devices, all capable of amazing things. If you're not too worried about money and just want the best technology at whatever price, there are plenty of Samsung options for that too. From the S20 Ultra to the Note 10 Plus, Samsung has a huge range of devices to please everyone.
There are plenty of other Samsung phones on a budget available right now. In fact, there are Samsung phones for everyone. Whether you're looking to work from your phone, game on it or just a little carry about, we've got what you need.