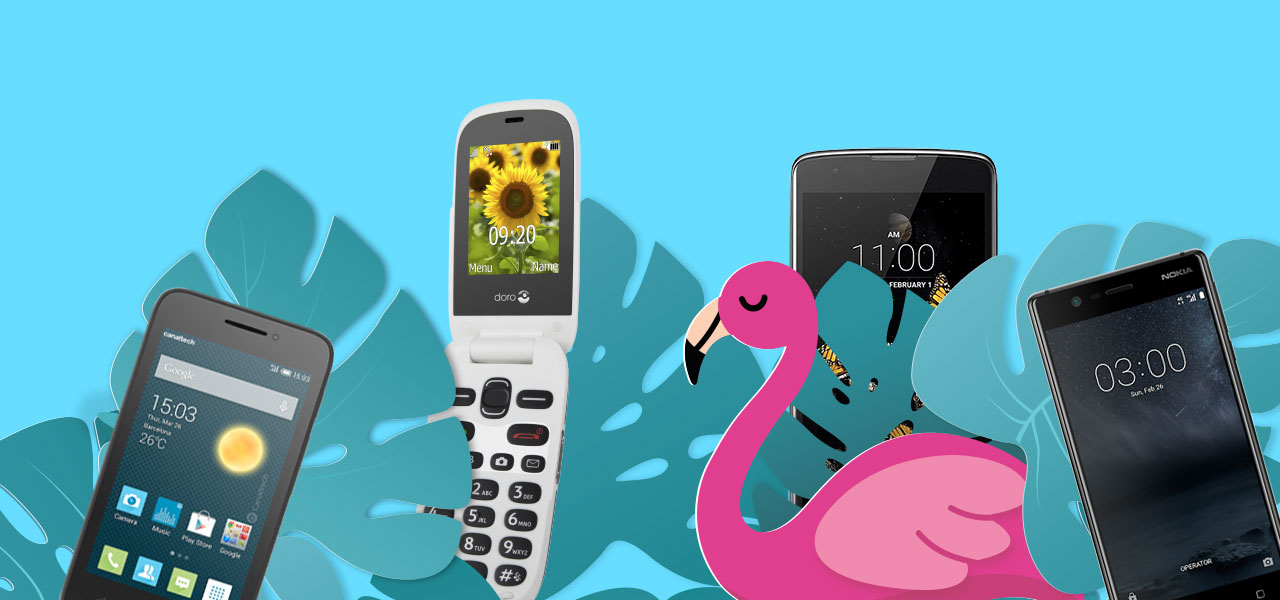 14 Jul

Summer sales on budget smartphones

While it is always tempting to have the most recent release from your favourite smartphone manufacturer, sometimes it's not always the most sensible move when it comes to those annual summer events such as attending your favourite festivals or taking a break from it all to go on your travels.

Thankfully here at Fonehouse, we have some fantastic summer deals to give you a great mobile phone deal that won't break the bank.

Nowadays more and more people are taking a break from the 9 to 5 to go on an extended holiday. And who can blame them? With all that culture and endless new experiences out there, there's no better way to expand your horizons than to explore the world.

When you choose to do this there's no doubt that you'll be taking on some pretty exciting adventures, some that you may not want to risk an expensive iPhone X or Samsung Galaxy on (there's nothing worse than spending all that money a top of the range phone only to drop it down a waterfall in Thailand…).

Not to worry! We have some great recommendations for durable and low-cost mobile phones that still perform.

While the Doro 6030 is often targeted at older generations, we have to admit that it is a stellar choice for anyone going travelling, particularly if you're venturing off to more remote locations.

The durable clamshell build of the 6030 means that as well as being extremely comfortable to use, the handset is also super robust and compact enough to simply throw in your backpack.

The loud and clear sound ensures that you won't ever miss a call, or an alarm if you have to wake up early for a flight or train, and 2G functionality means that you can be sure to stay connected wherever you are.

Don't forget to checkout a selection of our latest handpicked

Mobile Phone Deals

on some of the latest handsets.

Best of all you can get your hands on the Doro 6030 for as little as £10.83 per month thanks to our fantastic cashback deal. And if you're ordering at short notice, you could get your hands on it the very next day thanks to our brilliant delivery service.

Although it doesn't have the protection that the Doro handset provides, the Pixi does have a 2MP camera which is a strong advantage. While it's not the most powerful camera, it's still adequate for catching last minute shots when your out and about.

The 3.5-inch touchscreen means that content is easy to read, and the handset comes readily installed with your favourite social networking apps, meaning that you'll be connected to the rest of the world straight out of the box.

You can get the Alcatel Pixi 3 from as little as £10.83 per month thanks to our current cashback offer.

If you're staying closer to home this summer, but do plan on attending some of the UK's top festivals, then we'd strongly advise spending a small amount of money on a great affordable SIM-free handset.

You don't have to spend loads to still get some great features, check out our recommendations below:

The Nokia 3 is incredible for its price, you might even be tempted to replace your old phone with this budget handset.

With the Nokia 3 you get a stunning 5-inch display protected by Gorilla Glass – so you don't need to worry too much if you accidentally drop your phone while dancing along to your favourite band.

There are also two 8MP cameras on the front and back with autofocus, allowing you to get all the best shots, even if you're far away from the stage, and with 16GB of storage, you'll have no problem storing all of your photos to show off to friends and family after the festival. You can get all of this for just £126 SIM-free at Fonehouse.

For just £1 more you could take the LG K8 Titan along to your festival.

The K8 comes with a beautifully sleek design that is light and compact, and a 5-inch display that delivers a fantastic viewing experience.

There's a brilliant 13MP camera on the rear of the handset for stunning photographs, as well as a 5MP front shooter to allow you to get those all-important selfies with your best friends.

This is all for just £127 SIM-free and free next day delivery!
So whatever it is you're planning on doing this summer, make sure that you shop smart with Fonehouse and choose a smartphone that won't let you down.

For more information on any of these handsets, or a particular mobile phone deal, call our UK based customer service team today on 0333 900 1133.