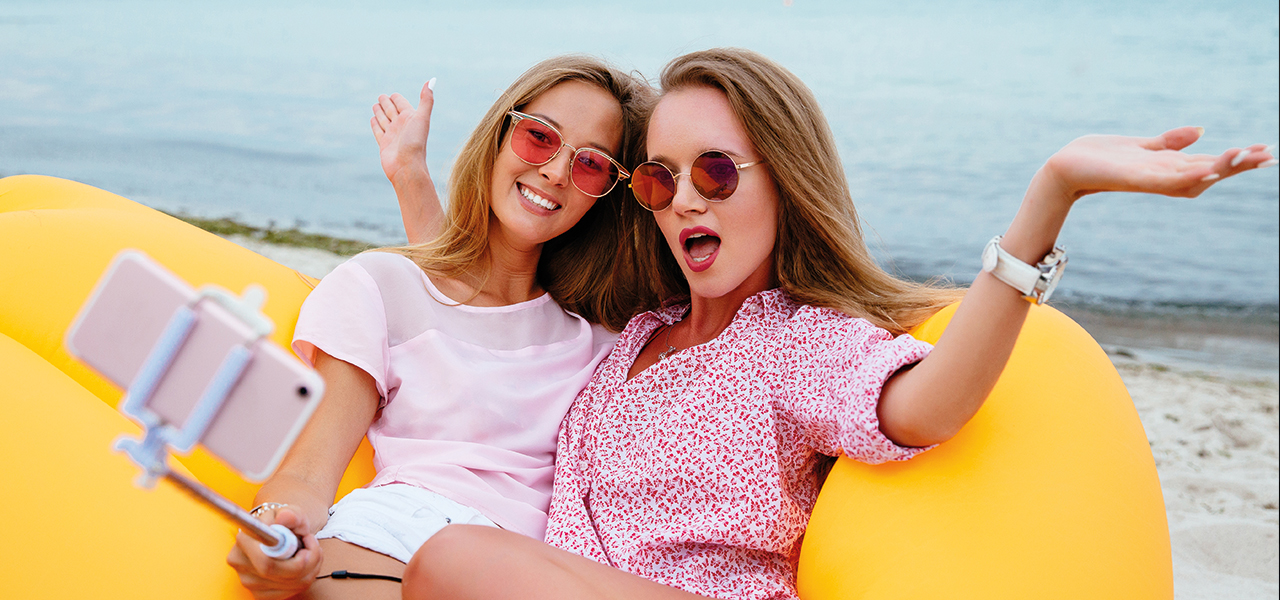 22 Nov

The best phone accessories for photography
The best phone accessories for photography
With all the recent advances in mobile phone technology it's no surprise that this has brought with it some amazing improvements to camera functionality. But, if you're a budding photographer, to truly get the most from your smartphone camera there are a number of different accessories that can help to enhance your photos.
First thing's first; if you want to take good photos on your phone, you're going to need a phone with a good camera.
As one of the most popular manufacturers Apple have had to ensure that the cameras in their latest iPhones can keep up with customer demand. They have succeeded in creating a range of stylish handsets with good quality 12MP front and 7MP rear cameras that can meet the photographic needs of most people.
Another brand that has had to keep up with popular demand and meet customer expectations for their handsets is Samsung; and they have achieved this well with their newest handsets, coupling beautiful design with a good quality 12MP rear camera and a slightly superior 8MP front camera.
However, the most impressive handsets for photography available are the range designed and manufactured by Huawei. Even the older range of Huawei handsets offer front and rear cameras that meet, or even succeed, the quality of the cameras in both the newest iPhone and Samsung handsets. And, their newest flagship handsets – the Huawei Mate 20 Pro, and the Huawei P20 Pro – boast impressive 24MP front cameras for the perfect selfie, and a hugely impressive 40MP rear camera! If you are looking to take the perfect photo then you can't go wrong with a Huawei.
Selfie sticks were revolutionary in helping people to get the perfect photo from the perfect angle without having to worry about extreme close ups from unflattering positions. But, if you are looking for something even better, a kickstand or a tripod may be the best choice for you. There is a wide range of kickstands both permanent and detachable that can help to position and stabilise your phone at the perfect angle for photos and video. Many come built into phone cases for a variety of different handsets so if this is something that interests you it is worth researching what options are available for your specific handset.
The downside to kickstands, however, is that your phone would still need to be placed on a flat surface: This issue can be avoided with a tripod. Tripods can be both rigid and flexible – I would personally recommend flexible – and can allow you to position your phone anywhere anytime for the perfect handsfree selfie. Again, there is a wide range of tripods available so will a little bit of research I'm sure you will be able to find the right one to suit your needs. Just make sure that your phone is securely fastened before you move away!
A Bluetooth remote shutter
Tripods and kickstands can allow you to take handsfree photos and video but without a timer or device to activate – and for video, deactivate – the function of your camera this can still be inconvenient. This is problem that has been solved by the invention of Bluetooth remote shutters. These function in a similar way to the button on the bottom of a selfie stick and can remotely connect to your device to allow you to take photos and start and end video wirelessly. Simply connect the Bluetooth enabled device to your phone and, at the click of a button, you will be able to take the perfect selfie or group photo effortlessly and at distance from your device. There are a variety of Bluetooth remote shutters available for both IOS and Android devices and in a range of styles and designs so you can choose the one you like best and start taking the perfect group photos with ease.
Many smartphones now come with dual lens cameras for better quality photography, but the results can always be improved by the use of wide-angle, telephoto, fisheye, or macro lenses. If you are someone looking for professional quality photos from your smartphone then this is something you should consider. Attachable lenses are great because when used they can greatly increase the quality of your photos, but when not in use they can be removed so they will not ruin the look of your phone and you will still be able to fit it in your pocket. There is a wide range of choice and brands for external lenses so be careful to make sure the one you buy will be compatible with your device: Different phone manufacturers, and even different models by the same manufacturer, place the handsets camera in different positions so external lenses are not necessarily universal. However, some lens manufacturers will also offer phone cases that can support the lens and help to ensure that it will always be in the right position.
Also, consider a portable power source & extra storage
A couple of other things you might want to consider if you're looking to use your smartphone for photography are a portable power source and extra storage. Taking many photos on your phone can significantly reduce your battery life so if you're planning on taking a lot of high-quality photos it may be worth investing in a portable power source so you don't have to worry about losing power. There is a huge variety of portable power sources available for purchase compatible with both iOS and Android devices in a variety of shapes and sizes. My best advice would be to check the reviews before you buy to make sure that it will be suitable for your needs.
Also, taking lots of photos will take up a lot of storage space on your device. Many manufacturers now allow for cloud storage to allow you to free up space on your device, which is definitely something worth taking advantage of. However, on top of this any Android devices will allow for the insertion of a memory card to increase the devices internal storage. Just make sure to check the specifications of your particular device to see whether it will support an external memory card, and what is the maximum memory card size it will allow.
A final thought; Wireless photo printers & Display frames
As a final thought, if you're like me and like to not only take lots of photos but also display them around your house then maybe you should consider purchasing a wireless photo printer or display frame. Wireless photo printers, one connected, allow you to print any photo from your device and come in a variety of sizes and for a variety of prices so make sure you research which would be most suitable for you. Also, different printers are capable of printing photos of different sizes so make sure that you look into this before you buy.
But, if you would prefer a less permanent option that can allow you to save space, then a display frame may be the best choice for you. Digital display frames can be connected to your device and are capable of displaying either a single photo or a rolling selection of photos. This is perfect for displaying your favourite photos without the need for multiple photo frames. Display frames come in a variety of designs and sizes so I am sure that will a little it of research you will be able to find the perfect look to suit your own personal style. Just make sure to check what display ratio your selected frame is capable of displaying before you buy.