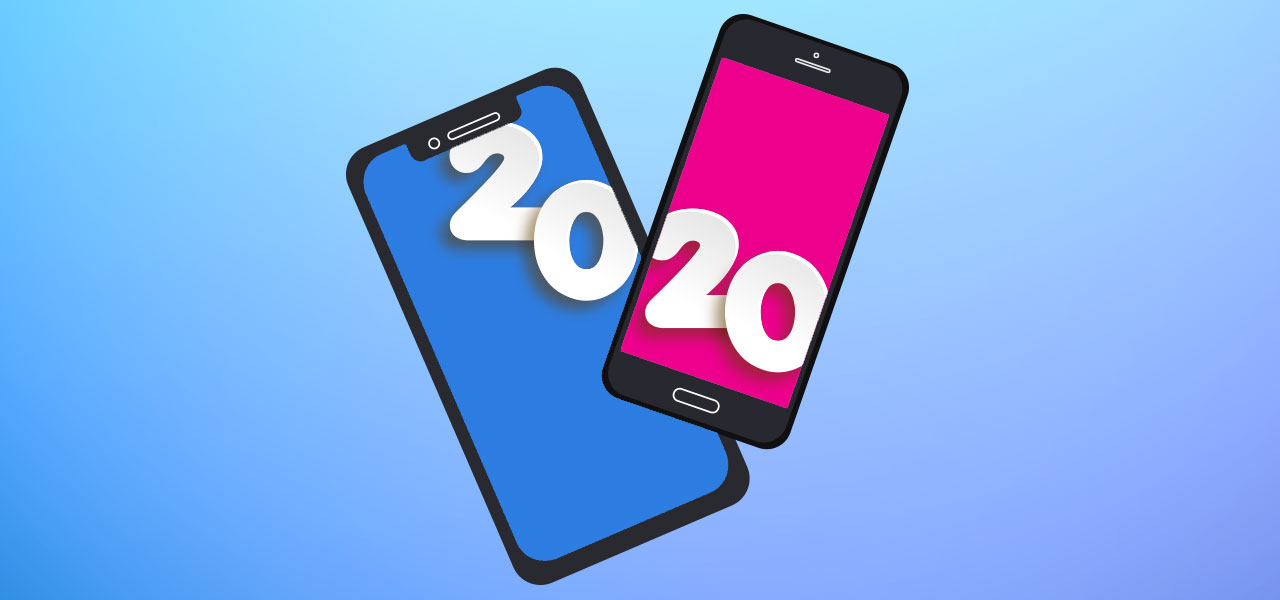 30 Mar

Best Phones for 2020

With so many different smartphones on the market at the moment, it's extremely hard to decide which ones are the best phones for 2020. You can easily decipher between the top brands, such as Apple, Samsung and Huawei, but which of these handsets are up there in the top select few? It's not an entirely easy question to answer but, you can look at which are the best sellers and figure it out from there.
Apple iPhone 8
Whilst this handset was released a few years ago, it's sales have really boosted this year already. The iPhone 8 has one of the best displays on a smartphone, paired with a great price that's super affordable. It's also got an improved FaceID compared to its successors, which makes it a great contender for the best phones for 2020.
You'll be able to see far more of what you love on the iPhone 8 with a 4.7-inch retina IPS LCD screen. Everything on your phone is going to be a great resolution with true colours. The screen also has an oleophobic coating to make sure there's no glare when you're using your phone in the sunlight.
Samsung Galaxy S20+
In March 2020, we saw the S20 range hit the market from Samsung, with 3 out of 4 handsets supporting 5G connectivity. From this range, the Samsung Galaxy S20+ have proved a big hit with people all over the world. This release really opened up the 5G market, giving customers access to reliable, high-end handsets that they were waiting for. We also saw a huge upgrade in the camera with a 64MP lens shocking everyone.
All over, this is one of the most impressive smartphones to hit the market so far. Samsung are also bringing new technology to their phones but the camera setup featured in the Galaxy S20+ is shocking. A 12MP ultrawide lens, backed with a 12MP wide lens and a 64MP telephoto lens allows you to get photos you've never seen before, wider angles, brighter colours and detail that will astound you. You can now capture more of the world in one photo.
Apple iPhone 11
It's no surprise that we see the iPhone 11 in the top 5 as it has been one of the best-selling Apple handsets since it's release in September 2019. iOS fans were given a new camera setup, a fun range of colours and Apples A13 Bionic. The tech giants really pulled it out the bag with this one.
With a new dual camera set up, the iPhone 11 kicks out some of the best photos seen on a smartphone so far. This camera is made up with a 12MP ultrawide lens and a 12MP wide lens, allowing for wider angles than ever before. You'll also find that Night Mode has had a HUGE upgrade and low light situation images are going to be better than ever before.
If you're looking to express yourself through your phone, take a look at the brand-new colour range! Each option comes with a glass front and back to make sure you've got a sleek finish to your phone. For something a little understated, take your pick of White or Black. These are great options, especially if you're going to put a case on your phone. Anyone looking for something a little more exciting, choose from Green, Yellow, Red and Lilac.
Huawei P30 Pro
Huawei rose from the ground very quickly and have been producing some of the most technical handsets seen in the last few years. They're cameras produce some amazing photos, best processing speeds and some amazing features to come to a smartphone. Fans have been showing the Huawei P30 Pro a whole load of love since it was released in March 2019. We're not too shocked that they're up for the best phones for 2020 as they've caused quite the stir over the last few years.
In the P30 Pro, we get to see one of the first quad lens cameras in a smartphone with a 40MP wide lens, 20MP ultra wide lens, TOF 3D and a Periscope 8MP telephoto lens. This all sounds quite technical but, all you need to worry about is just how amazing these photos will be. You're going to see some incredibly detailed photos that pop with colour.
Huawei also offers a range of colours that you wouldn't have seen on a smartphone before and they're extremely eye catching. With colours ranging from Black to Aurora, Amber Sunrise, Breathing Crystal, Pearl White and Mystic Blue, there's something for everyone.
No matter which phone you decide is your best phone for 2020, we know we'll have the perfect deal to match it. With deals across 3 of the best networks in the UK, we have prices to suit everyone with a range of tariff extras.