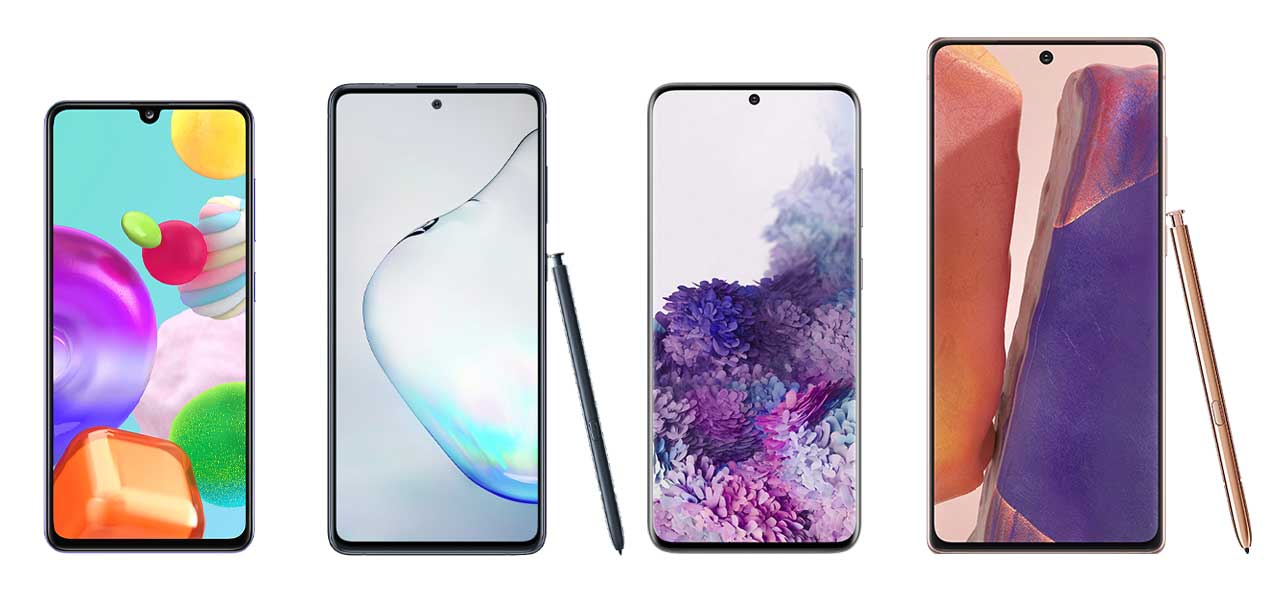 18 Sep

Which Samsung Galaxy is for you?

There are hundreds of different smartphones on the market so figuring out which Samsung Galaxy is for you can feel next to impossible. To make things easier, we've gathered the best features of each phone. With everything all in one place, you don't have to spend hours trying to decide. We've even made sure that we've got the best Samsung Galaxy deals around do you really can so everything in one place.
Samsung Galaxy Note 20 Ultra 5G
With every year that comes, we get a new Note range. With each new Note we receive, we also get a much higher specification addition. 2020 offers us the Samsung Galaxy Note 20 Ultra 5G. This allows you to experience the classic high end design that you get with Note devices. The Note 20 Ultra gives an all glass design for a very glossy finish all over. The phone is available in Mystic Bronze, Mystic Black and Mystic White, allowing you to choose your perfect pairing. It's also got super squared edges to offer a very professional shape.
You are able to enjoy this from all over with the huge 6.9 inch dynamic AMOLED 2x display. Using this, you're going to be able to view everything you love in the best way possible. As this is such a large screen, you want to use it to its full potential. For that reason, the selfie camera has been reduced to a tiny punch hole and even the edge bezels have been removed, offering a 91.7% screen to body ratio. In other words, this display is extremely high quality and it's HUGE.
Samsung Galaxy S20
In June 2019, we saw the introduction of 5G to the UK. Through this feature, you can enjoy a much faster experience with everything that you do. Whether that's browsing, streaming or even downloading, you'll be able to do so with a smooth experience. The Samsung Galaxy S20 comes in both a 5G and a 4G version. Of course, the 5G version is a lot more expensive. If you do choose the 4G version, you can still expect to receive fast speeds in everything that you do. You'll be able to enjoy all your favourite things easily.
We see Samsung handsets holding impressive features pretty much all of the time. The S20 has an all glass design for something extremely eye catching and glossy. It allows for a seriously professional design, no matter what colour you choose. In terms of colour options, you'll be able to choose between Cosmic Grey, Cloud Blue and Cloud Pink. Each of these will allow for a very high end design but can also help to show off your personality easily.
Samsung Galaxy A71
Every year, we see a few new additions to Samsung's budget range, the Galaxy A series. This really opens up the market to a whole new range of customers but also makes sure to keep things modern and high quality. One thing you really don't lose out on with the Samsung Galaxy A71 is a fresh design. A plastic backing offers a satin finish with a geometric pattern on the back. There are so many different colour options with Prism Crush Black, White, Pink and Blue. Each option offers a completely different style that you can show off with the huge pace on the back.
This slick design also pulls over to the front of the A71 with the 6.7 inch super AMOLED plus display. This extremely large display allows you to view the things you love in a very full experience. To enhance this full view experience even more, Samsung has reduced the selfie camera down to a tiny punch hole notch in the top centre of the screen. They've also reduced the bezels around the edge of the phone to widen it further. You really do get a completely immersive experience when it comes to the A71.
Samsung Galaxy Note 10
Something that the Note range is known for is the S-Pen that comes with the phone. With the release of the Samsung Galaxy Note 10 in August 2019, we got a huge upgrade in the S-Pen. With the 2019 addition, you're able to capture photos, create gifts and capture screens in a new way. There's so much you can do! By opening the camera app, you can simply press the button on the S-Pen and a photo will be taken. This is particularly good if you want to take group photos.
Arguably, one of the most important components in any smartphone is the battery that powers it. With the Note 10, you'll get a 3500mAh battery. Going about your day is going to be more simple than ever. You won't have to worry about your battery draining throughout the day as a single charge will keep you going. The battery does support fast charging 25W, fast wireless charging 12W and a few other charging features to make your life easier. With these, you'll be able to power up in minutes to get you back about your day.
Samsung Galaxy S10
No one wants to worry about their phone dying halfway through the day. We've had mobile phones around for years now and there's just no need for it anymore. That's why the Samsung Galaxy S10 is powered by a 3400mAh non removable battery. This allows you to go your entire day on a single charge. When you do need to charge the phone, the S10 supports fast charging 15W, USB power delivery 2.0, fast wireless charging 15W and even reverse wireless charging 4.5W. You'll be able to power up your phone whilst you're having a morning coffee.
As we see a huge uplift in smartphone cameras, manufacturers are having to build their systems in a much more impressive way. On the back of the phone is a triple lens camera. This holds a 1"MP main camera, 12MP telephoto lens and a 16MP ultra wide camera. Each of these is going to offer you an incredibly high quality photo with more details than you've ever seen in a photo. As they're all different types of lenses, you'll be able to capture in a range of styles. Whether that's in the dark, up close or further away, it'll be in high detail.
Which Samsung Galaxy is for you?
When you're trying to decide which Samsung smartphone is for you, you want to consider a number of different factors. A huge part in choosing any smartphone is down to the budget. If you set a monthly limit, you can be certain not to go over this. There are plenty of options for lower budgets, that's the main point of the Galaxy A range. You'll also need to consider how much storage you really need. The average person would be absolutely fine with 64GB, 128GB if you want to play it safe. You'll also want to decide how you use your phone, how long you want it, what you want from it and so much more.
Hopefully, we've helped you figure out which Samsung Galaxy is for you. Even if you don't feel like any of these are your perfect pairing, there are hundreds more devices available for you. You might even want to take a look at a few different smartphones, such as Huawei devices.