Free Next Day Delivery
Order before 8pm
100% Secure Checkout
Shop with Confidence
UK Customer Service
Dedicated to you
14 Days Returns Policy
Terms may apply
Microsoft XBox One S 1TB White Console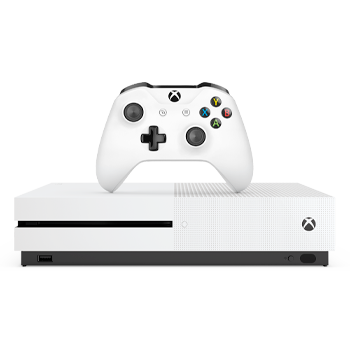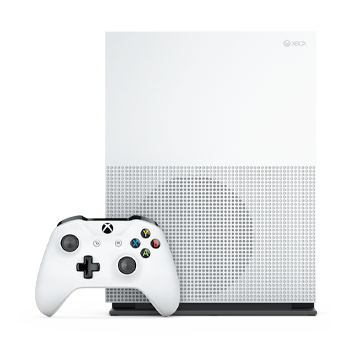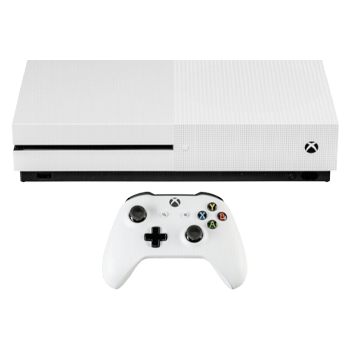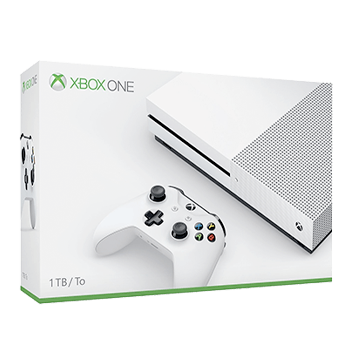 Microsoft XBox One S 1TB White Console
Microsoft's newest console model is a real powerhouse. Featuring 4K gaming, it also has a number of other features for those who want a device that will be a centre for their entertainment. There is a lot going on the One S.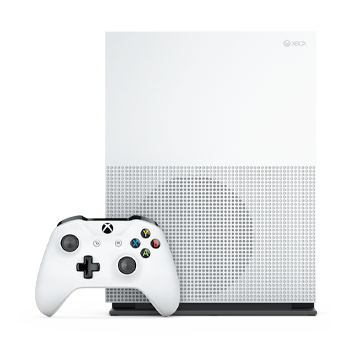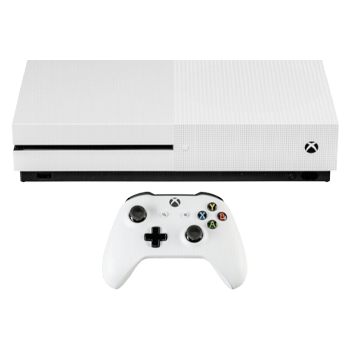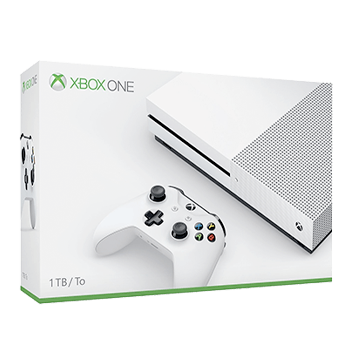 Key Features:
WiFi Compatible for Complete Online Gaming
1TB Hard Drive - Store Up To 60 Games
4K Streaming
HDR Gaming For Better Contrast And Colour
Microsoft's newest console model is a real powerhouse. Featuring 4K gaming, it also has a number of other features for those who want a device that will be a centre for their entertainment. There is a lot going on the One S.
Consoles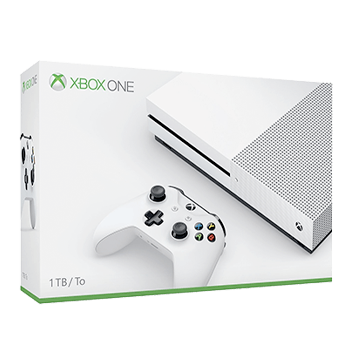 Microsoft has come a long way since the advent of their first foray into the console gaming world, and as well as turning out some top-notch titles they have also made a stunning console. With features that aren't seen in many of the others. The ability to control your TV viewing through the console being one of the USPs of the Microsoft Device. <br />
<br />
Microsoft X-Box One S 1TB Console Design<br />
<br />
The X-Box One S has a classic design, which is sure to look good while sitting under your TV or in your entertainment unit. The console is capable of outputting a 4K Ultra HD image, which makes your apps and Blu-rays really pop. It also features HDR technology to make the colour depth and look of your game, as well as your entertainment really fly. <br />
<br />
The controllers connected wirelessly to the console using a Microsoft proprietary technology which, while it means you have to use specific controllers for the console, it also means that the signal isn't going to be interrupted by other devices such as Bluetooth, or mobile connectivity. The controllers are smooth and ergonomic with easy to reach trigger buttons as well as the standard thumbsticks, which are slightly soft to the touch meaning that you won't get sore thumbs from a lot of playing.<br />
<br />
One of the other great design ideas from Microsoft is a socket for a headset built into the controller. This means that even if you are using a wired headset, you are not tied down to your TV screen. The console itself only features two buttons on the front as well as the glowing X box logo, which is actually a third button used for powering the console on and off. The other buttons are used for ejecting discs and for synchronizing controllers, useful if one of your friends wants to bring their controller over for some gaming fun.<br />
<br />
Microsoft X-Box One S 1TB Console Features<br />
<br />
The X-Box One S features 4K apps and Blu-ray, which is a big step up from the standard X-Box One, and the pictures themselves are just gorgeous. Games look amazing in HDR resolution as well, and you will get some of the clearest pictures around. The console also supports audio in up to Dolby ATMOS quality so if you have the necessary home cinema system connected to it; the sounds will be amazing as well.<br />
<br />
The console features the Microsoft store which allows you to purchase digital copies of games rather than buying them on disc and the massive 1TB storage on the console means that you will have loads of room for all your favourites. You can also get access to Microsoft Game Pass which gives you access to an extensive catalogue of games both new and old. Some are repurposed X box Original and X box 360 titles, but the selection goes all the way through to the latest Microsoft first-party blockbusters and included in the monthly price. <br />
<br />
Microsoft X-Box One S 1TB Console Setup<br />
<br />
Setting up the console is really straight forward, simply plug the included HDMI cable into the console and into an empty port on your TV, plug in the power and away you go. The console itself will guide you through additional steps like connecting the controllers and connecting to the internet. <br />
<br />
Once online the console itself will check for updates to its operating system and for updates to all your favourite games and will even download these while you aren't using it. This means that you are always ready to game, no matter the time or the place. <br />
<br />
Microsoft X-Box One S 1TB Console Performance<br />
<br />
The One S is powered by an 8-core Jaguar CPU at 1.75GHz which gives it great performance for all the most demanding games, coupled with 8GB DDR3 RAM it means it will never struggle to perform.<br />
On the graphics side, it is running a 12 CUs (914MHz) 1.23 TF GPU which gives great looking gaming whether these are purchased disc which is then installed to the internal hard drive, or digital copies of games there is certainly a lot going for this console. <br />
<br />
Multiplayer gaming is a significant feature of the One S, and this is built-in thanks to its excellent connectivity. You can also upgrade to Microsoft Live Gold to enhance your online gaming. There is a basic headset included in the box, which you can use with your controller to talk with others you meet in the game, but the flexibility means that you can easily upgrade this to a more substantial headset if you so desire.<br />
<br />
The console also has built-in features to stream your games, as well as take screenshots, or capture small videos, in fact, the console will do a lot of this automatically so that when your big gaming moments come you never miss them, and you are easily able to show them off to your friends. <br />
<br />
With the in-built 1TB drive you have a massive amount of space to play with, however, if you do decide you need more, you can easily attach any commercially available USB drive, allowing you to expand the storage by adding up to an additional 16TB, which is more than enough for anyone. <br />
<br />
There is also a range of apps on offer, such as NetFlix and BBC iPlayer, which means you can use the One S as the centre of your entertainment world, and all these apps streaming in 4K quality meaning amazing looking content all around. <br />
<br />
Summary<br />
<br />
The X-Box One S is a great mid-tier offering from Microsoft for a home games console, and it allows you to up your entertainment to 4K quality without blowing your bank balance, which is great. The storage on offer is fantastic, more than enough for the most avid gamer's needs and this console is just a great update to the original X-Box One. <br />
<br />
The variety of games and entertainment on offer is huge and with some of the usp's like the ability to hook your TV through the console, and the bonuses like Xbox Game Pass, this is one console that is sure to make everyone happy. <br />
<br />
Microsoft X-Box One S 1TB Console Fonehouse Deals<br />
<br />
At Fonehouse, we offer a range of different products and deals because we want to be able to give you the best choice when it comes to your entertainment. The recent addition of the Microsoft X-Box One S is just one of the ways in which we are bringing this to you. <br />
<br />
If you're interested in the X-Box One S or any other console, phone or products that we offer then our customer service team are waiting to hear from you; please call us on 0333 900 1133.
Dimensions L x W x H
37 x 32 x 19
Internet Connection
Wifi/Wired
Console Type
Xbox One S All-Digital Edition
Controllers
Xbox Wireless Controller
Warranty Information
Maunfacturer Warranty
Whats in the Box
Console, 1 wireless controller, HDMI cable, Power cable, Manual (Quick Guide), Warranty instructions
Why Choose Fonehouse?
When you choose to purchase a product from Fonehouse, you are purchasing from one of the UK's leading independent mobile phone retailers.
We're proud to deliver some of the very best mobile phone deals on the market, with our team of experts who work tirelessly around the clock to ensure that we also give you the very best price for your new mobile phone deal.
At Fonehouse we have several network partners including EE & Vodafone. By giving our customers a fantastic deals on these networks, we can be sure that they always have the best service and network connection no matter where they are. With free roaming, you can connect to anyone and everywhere, even when you're on the other side of the world.
When you shop with Fonehouse, you could get your hands on a fantastic cashback offer, saving you even more money. Plus, every time you take out a new pay monthly contract with us, you have the chance to be entered into a prize draw to win an incredible new Samsung Galaxy S9 handset, solely by providing us feedback!
At Fonehouse we off free next day delivery with all of our orders, so you could have your new handset the very next day.
If you need more information about shopping with Fonehouse or are interested in any of our great deals, then call our UK based customer service team today on 0333 900 1133
FREE Next Day Delivery
We offer free next day delivery with all products, when ordered before 8pm Monday-Friday.
14 Day Returns Policy
We hope you are happy with your purchase. However, we understand that sometimes you might change your mind. Please contact us within 14 days to see how we can help.
UK Based Customer Service Team
Call our UK based customer service team where a trained member of staff will be on hand to assist with your mobile phone purchase.
FREE Phone Insurance for the First Month
Take advantage of out one month free mobile phone insurance. Click to buy or call into our UK based call centre.
100% Secure Checkout
We use SSL (Secure Socket Layer) technology. When you place your order with us all information you share with us is encrypted for your security.
©2019 All rights reservered E&OE. fonehouse.co.uk is part of KTM Online Limited. Reg. No. ‍10781202. VAT Reg. GB ‍276 ‍6191 ‍72. Monthly prices may rise in line with RPI.