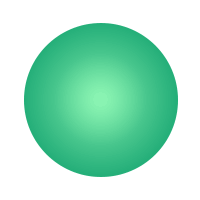 FREE Next Day Delivery - 7 Days a Week
Jays Bluetooth Headphones Black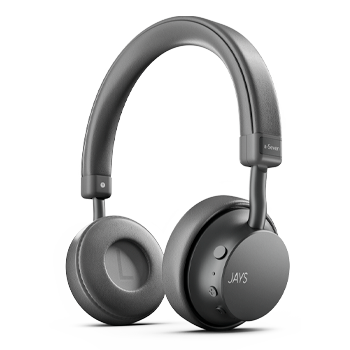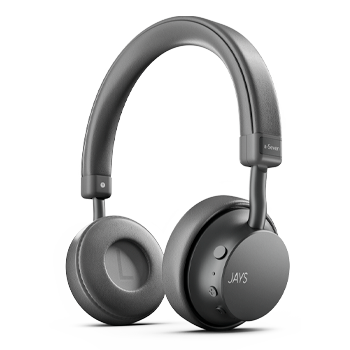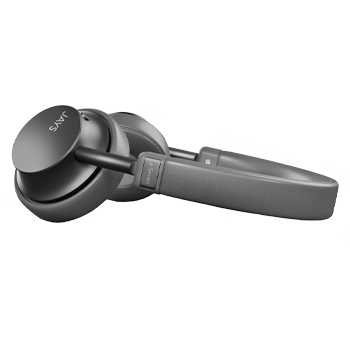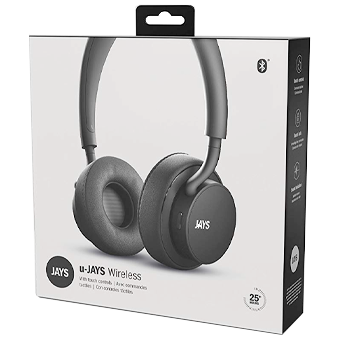 Jays Bluetooth Headphones Black
These headphones are designed to work with every type of phone and play audio at clear and crisp levels. They impress with minimalistic designs and several options for playback options
These headphones are designed to work with every type of phone and play audio at clear and crisp levels. They impress with minimalistic designs and several options for playback options
Key Features:
Integrated touch controls give you an easy-to-use experience with full control one touch away
25 hours of wireless playback
Touch lock to secure the controls (no accidental skipping)
Noise isolating headphones
FREE DELIVERY
Order now for delivery within the next 3 days*
Jays u-JAYS Wireless Heaphones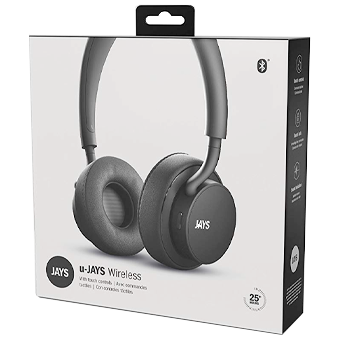 Jays are a company which has a reputation for going against the grain. They reject the standard features of wireless headphones, opting for a sleek and minimalist design that has seen consistent success. The company owes its success to headphones like these. You will note that they are unlike other options but prove to be as effective as competitors when it comes to sound quality, and in some cases outperform rivals.

Jays may not be the most influential brand out there, but their dedication to quality and aesthetic beauty have cultivated them a dedicated customer base. They are keen to prove to the world that bigger does not always equate to better, and as we have used these headphones for ourselves, we are inclined to agree in this instance.

Jays u-Jays Wireless Headphones Design

From a design perspective, there is a lot to appreciate. These headphones have a stainless steel frame which holds the rubber padding of the headband in place. It is evident that the design is meant to be smart and sophisticated. While some may question the validity of the minimalist construction, may see it as being a deliberate choice - the overall aesthetic value is higher than if the headphones had a lot of features and buttons to press in this instance.

The cup coverings, which are where your ears would connect to the headphones, are made of synthetic leather and are comfortable. This feature is worth noting because it makes them suitable for extended periods of listening. It may take a little effort to make them fit your head precisely, but it is worth it to have the comfort that is available.

Jays u-Jays Wireless Headphones Audio

The audio capability of the headphones is one of the most critical elements of the entire product, and in this case, you will not face disappointment. The minimalist design hides the incredible power and consistency of these headphones. They offer exceptional sound quality all the time, regardless of what audio you have. There is taut bass, and while punch and power are present, it does not cause them to bloom out.

The result of this is that the higher registers, which would typically cause the sound to become cluttered, are not affected. This feature helps to ensure that audio remains crisp and clear. You get a very realistic sound quality from these headphones, with comparisons drawn between these and conventional stereo sound.

Users wishing to escape the hardship of sharp and painful noises will be pleased here. The design of these headphones prevents them from exposing you to something unnecessarily harsh. Individual audio tracks contain elements which can injure the ear when played at a high volume, but these headphones prevent a lot of those from happening.

Thanks to the functions contained within the playback controls, you can manipulate the audio and still get a good effect. The quality remains the same regardless of volume, and there is no audio feedback when you fast forward or skip.

Jays u-Jays Wireless Headphones - Features

Let's look for a moment at the features which come from these headphones. There's a lot to appreciate here, and it's all part of the minimalist design. There are multiple variations of the headphones which are best suited to a different type of phone, so you can pick the model which works best for you.

There is a three-button remote, which allows you to switch between the different options and come up with the ultimate music combination for your needs and requirements. However, the main feature of interest is the touchpad, which gives you access to playback controls. You can play music, answer calls when connected, raise the volume of the audio and lower it, and other options which grant this a high level of versatility.

There is also a lock feature, which is a welcome addition. It serves as a way of stopping you from making changes to the playback when you did not intend to. Press the power button twice, and you can enable or disable the lock, which will activate or restrict access to the touchpad.

There is a 25-hour battery life available for you to work with. There's also an auto-detection feature which gives you the chance to switch off all non-essential functions to conserve the battery life. It is helpful for getting the most out of the system and helps you to push the headphones even further on a daily basis.

Jays u-Jays Wireless Headphones Summary

These headphones are designed to work with every type of phone and play audio at clear and crisp levels. They impress with minimalistic designs and several options for playback options. It's clear that as a company, Jays don't pay much attention to the current trends. Instead, they seem happier to release products which are going to impress with their designs for years to come. There's something about stark minimalism which makes this an impressive choice for many people. We were personally very impressed with the level of audio playback that was on offer and felt that these headphones managed to be sleek and stylish.

Jays u-Jays Wireless Headphones Fonehouse Deals

At Fonehouse, we remain committed to providing you with nothing but the best when it comes to headphones and the options that you have available from within our selection. We understand that people like to have options. It is vital to choose between a range of items to find your ideal fit. For this reason, we have tried to collect as many options as we can regarding headphones. Our range is also continually expanding to give you as much variety as possible.

So if you have found yourself smitten with the Jays u-Jays Wireless Headphones, and want to get a pair, please get in touch. Our team of customer service representatives are all standing ready to provide you with the best possible options because we care about customer satisfaction. To discuss this item or any other within our selection, please feel to ring in on 0333 900 1133.
Whats in the box
Headphones, Detachable Audio Cable, USB Cable, User Manual
Volume Control
Integrated Touch
Operating Keys
Intergrated Touch
Connectivity Technology
Bluetooth
Wired Connection
3.5mm Jack
Battery Technology
Lithium Ion
Continuous Audio Playback Time (hrs)
25
Dimensions L x W x H (mm)
215 x 50 x 215
Why Choose fonehouse?
Fonehouse employs a dedicated team of deal hunters, who work around the clock to source the top offers on a variety of devices, from Apple to Samsung phones, so whether you're searching for the latest iPhone deals, Samsung offers, or the best sim only deals, Fonehouse is the place to be. Our mission is to supply you with awesome phone deals alongside cracking handsets.
We provide great value, feature-packed tariffs for you to get your hands on and even negotiate some fantastic cashback options, which will considerably reduce your monthly bill. To top it all off, you will benefit from free next day delivery service, secure checkout, and our 14-day return policy.
At Fonehouse we off free next day delivery with all of our orders, so you could have your new handset the very next day.
If you need more information about shopping with fonehouse or are interested in any of our great deals,
then call our UK-based customer service team, today, on 0333 900 1133
FREE Next Day Delivery
We offer free next day delivery with all handsets, when ordered before 8 PM Monday-Friday.
14 Day Returns Policy
We hope you are happy with your purchase. However, we understand that sometimes you might change your mind. Please contact us within 14 days to see how we can help.
UK Based Customer Service Team
Call our UK based customer service team, where a trained member of staff will be on hand to assist with your mobile phone purchase.
100% Secure Checkout
We use SSL (Secure Socket Layer) technology. When you place your order with us all information you share with us is encrypted for your security.
FREE Phone Insurance for the First Month
Take advantage of our one-month free mobile phone insurance. Click to buy or call into our UK-based call centre.
FREE Phone Insurance for the First Month
Take advantage of our one-month free mobile phone insurance. Click to buy or call into our UK-based call centre.
100% Secure Checkout
We use SSL (Secure Socket Layer) technology. When you place your order with us, all information you share is encrypted for your security.
©2022 All rights reserved E&OE. fonehouse.co.uk is part of KTM Online Limited. Reg. No. ‍10781202. VAT Reg. GB ‍276 ‍6191 ‍72. Monthly prices may rise in line with RPI.