Free Next Day Delivery
Order before 8pm
100% Secure Checkout
Shop with Confidence
UK Customer Service
Dedicated to you
14 Days Returns Policy
Terms may apply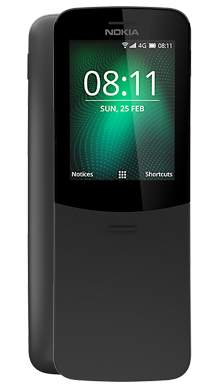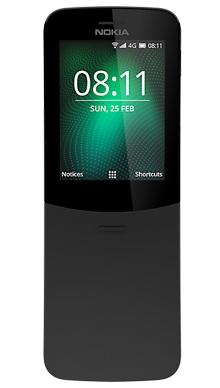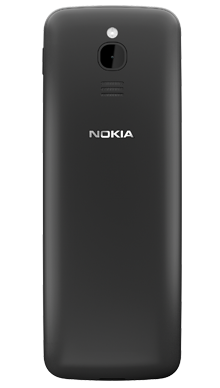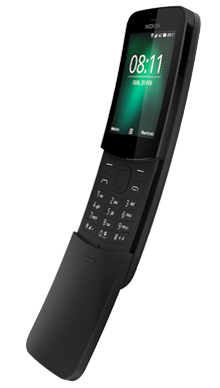 Nokia 8110 Black
NOW WHATSAPP COMPATIBLE! <br /> The Nokia 8110 is a nod back to the nineties and reminds us some what of The Matrix film with its curved design and slid down keypad cover.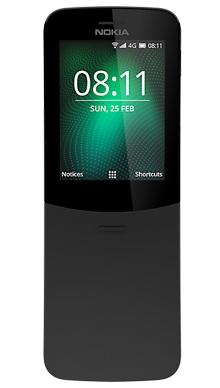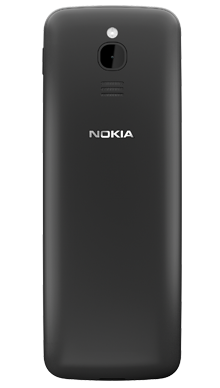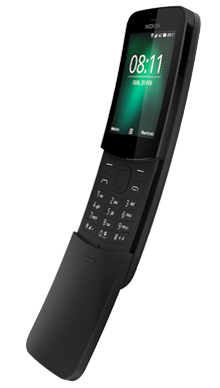 Key Features:
Downloadable applications Facebook, Gmail, Whatsapp, etc.
600 Hours Standby Time
Lightweight
Audio/Video player
NOW WHATSAPP COMPATIBLE! <br /> The Nokia 8110 is a nod back to the nineties and reminds us some what of The Matrix film with its curved design and slid down keypad cover.
Our Best Selling Deals

per month / 24 months
30GB Data

Unlimited

Minutes

Unlimited

Texts
24 Month EE Contract
£500 Cashback
Before cashback: £33.00 pm
This deal comes with £500 cashback which effectively reduces the monthly cost from £33.00 pm to £12.17 pm

per month / 24 months
1GB Data

Unlimited

Minutes

Unlimited

Texts
24 Month Vodafone Contract
£500 Cashback
Before cashback: £28.00 pm
This deal comes with £500 cashback which effectively reduces the monthly cost from £28.00 pm to £7.17 pm
FREE DELIVERY
Order now for delivery within the next 3 days*
Compare Nokia 8110 Deals
Select your desired options to find the best Nokia 8110 deals for you.
Network
Tariff Details
Upfront Cost
Extras
Monthly
Nokia 8110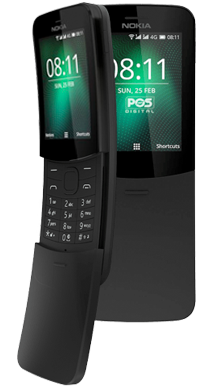 It may not come as a surprise that the Nokia 8110 has been nicknamed the banana phone although Nokia seems quite happy to go along with the gag as the handset does also come in a striking yellow colour. The handset is slightly less intrusive and obviously comes with a curved shape to the body. This is to enable the phone to snugly fit the face when taking calls leaving the earpiece and microphone in a great place to get the best call quality.

The cover is plastic which makes it quite robust compared to the high-end glass designs seen on other top-end models. The curve makes it slightly less pocket friendly, but it would fit in a bag fine. The keyboard cover slides down to reveal the keypad and really is quite refreshing. Sliding the cover down wakes up the screen while sliding it shut puts it back to sleep, which is quite a nice touch. If you want to light up the screen with the cover closed, then you can press the power button on the side, but the phone only actually works when the case is slid open.
This is not a touchscreen so you will have to get used to the key-based navigation. It is a more basic phone that can handle text and images but not the phone for you if you want to stream movies. However, from a practical point of view for those who just want a phone, this could be the perfect solution.

Of course, because this is a more basic handset, the price is very reasonable so you are going to be able to get some great mobile phone deals and this could be an ideal first phone. It does have 4G connectivity so you should find that it is usable in most locations even if there is no WiFi around.

Nokia 8110 Audio

The Nokia 8110 comes with a standard headphone jack, and there is an app for music. Storage isn't massive, so you are not going to be replacing your mp3 player with this phone, and the sound quality is not the best on the market but what would you expect for the money. If you want to listen to a tune or two you certainly can, it plays music at a decent enough quality so does what it needs to.

Nokia 8110 Camera

The Nokia 8110 has a basic camera which features a 2MP lens. There is no front-facing camera at all. Yes, it takes photos, but they are not going to be the best quality. Again for some users, this is not an issue. Video capture records 720x480 which still is not the best quality, but video audio is really excellent.

Nokia 8110 Features & Performance

In terms of internal workings, the Nokia 8110 runs on a Qualcomm 255 platform that is specifically for the more basic handsets that don't have touchscreens and the like. You get a 1.1GHz dual-core CPU and a very tidy 512MB of RAM

Obviously the apps are not in plentiful supply, but there are six free games available on the KaiOS app store. It wouldn't be a classic Nokia without Snake being preinstalled as standard, and this time it is in colour. The games are not the best on offer but would pass the time of day if needed.

The Nokia 8110 has Bluetooth and Wifi so offers a good level of connectivity. In addition, there is GPS and A-GPS again well below the higher end phones but the Google Maps app that comes as standard is quick and accurate.

Summary

If you are looking for a phone that primary needs to make and receive calls, then the Nokia 8110 could be the perfect handset for you. The shape and design are a definite talking point, and we know that Nokia makes robust phones that perform well.
The battery life is really good because it is not carrying all the things that drain the more sophisticated handsets. The handset has a MicroUSB port that makes charging a breeze. In terms of texting, users are limited to SMS only, but that is also perfectly functional and will be plenty for many users.

Nokia 8110 Fonehouse Deals

Because this is a level entry handset, there are plenty of deals on offer at Fonehouse. You are looking at some really cost effective monthly plans that offer exactly what is needed and can also get the handset at no upfront cost.

At Fonehouse we partner exclusively with EE and Vodafone which means we can be sure our customers have the best network service and connection wherever they are. We have also been able to secure some great extras from both providers, so you have a great range of deals to choose from.

Whether you are looking for access to BT Sport or Apple Music, or Sky Sports and Spotify or even NowTV and Prime Video, then our deals have something for everyone thanks to the excellent packages on offer.

If you would like to find out more about the Nokia 8110 or if you'd like to find out more about a specific deal with Fonehouse, then why not call one of our excellent customer service team today, on 0333 900 1133.
Specification
Battery
up to 99.99hrs
Camera
2MP
Screen Size
2.4inch
Memory
4GB
Specification
Battery
up to 99.99hrs
Camera
2MP
Screen Size
2.4inch
Memory
4GB
Dimensions (mm)
133.5 x 49.3 x 14.9
Processor
Dual-core (2x1.1 GHz Cortex-A7)
Processor make
Qualcomm MSM8905 Snapdragon 205 (28 nm)
Internal memory
4GB 512MB RAM
Protection
IP52 Drip Protection
Capacity (mAh)
Li-Ion 1500 mAh
Stand-by Time (hours)
600
Headphone connection
3.5mm Jack
Why Choose Fonehouse?
When you choose to purchase a product from Fonehouse, you are purchasing from one of the UK's leading independent mobile phone retailers.
We're proud to deliver some of the very best mobile phone deals on the market, with our team of experts who work tirelessly around the clock to ensure that we also give you the very best price for your new mobile phone deal.
At Fonehouse we have several network partners including EE & Vodafone. By giving our customers a fantastic deals on these networks, we can be sure that they always have the best service and network connection no matter where they are. With free roaming, you can connect to anyone and everywhere, even when you're on the other side of the world.
When you shop with Fonehouse, you could get your hands on a fantastic cashback offer, saving you even more money. Plus, every time you take out a new pay monthly contract with us, you have the chance to be entered into a prize draw to win an incredible new Samsung Galaxy S9 handset, solely by providing us feedback!
At Fonehouse we off free next day delivery with all of our orders, so you could have your new handset the very next day.
If you need more information about shopping with Fonehouse or are interested in any of our great deals, then call our UK based customer service team today on 0333 900 1133
FREE Next Day Delivery
We offer free next day delivery with all products, when ordered before 8pm Monday-Friday.
14 Day Returns Policy
We hope you are happy with your purchase. However, we understand that sometimes you might change your mind. Please contact us within 14 days to see how we can help.
UK Based Customer Service Team
Call our UK based customer service team where a trained member of staff will be on hand to assist with your mobile phone purchase.
FREE Phone Insurance for the First Month
Take advantage of out one month free mobile phone insurance. Click to buy or call into our UK based call centre.
100% Secure Checkout
We use SSL (Secure Socket Layer) technology. When you place your order with us all information you share with us is encrypted for your security.
If you choose an EE deal your monthly price plan charge will be increased by RPI in March of each year. Other prices, such as call charges and roaming costs, may also go up during your plan. For full details please see section 7 of the Network terms and conditions.
Unless otherwise stated, any cashback or gift incentives are provided by us, and not the network operators.
©2019 All rights reservered E&OE. fonehouse.co.uk is part of KTM Online Limited. Reg. No. ‍10781202. VAT Reg. GB ‍276 ‍6191 ‍72. Monthly prices may rise in line with RPI.