Free Next Day Delivery
Order before 8pm
100% Secure Checkout
Shop with Confidence
UK Customer Service
Dedicated to you
14 Days Returns Policy
Terms may apply
Our Best Selling Deals

per month / 24 months
6GB Data

Unlimited

Minutes

Unlimited

Texts
24 Month Vodafone Contract
£468 Cashback
Before cashback: £34.00
†
pm
This deal comes with £468 cashback which effectively reduces the monthly cost from £34.00† pm to £14.50 pm

per month / 24 months
1GB Data

Unlimited

Minutes

Unlimited

Texts
24 Month Talkmobile Contract
£72 Cashback
Before cashback: £12.00 pm
This deal comes with £72 cashback which effectively reduces the monthly cost from £12.00 pm to £9.00 pm
Compare Huawei Y7 Deals
Select your desired options to find the best Huawei Y7 deals for you.
Huawei Y7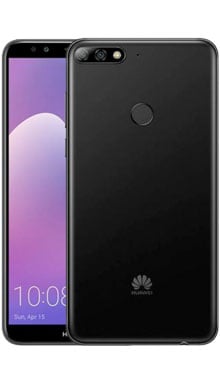 We know that Huawei is considered one of the big three mobile phone providers and that they bring impressive design and cutting edge technology to the table offering users the latest in mobile phone creativity. They have a vast range of handsets pitched at all levels so that all users can access their phones no matter what budget they have available.

Cutdown handsets have become a popular trend with all the handset manufacturers as they realise that not all users can access the higher price tag flagship phones, and it is a technique that is working well.
Huawei Y7 (2018) Design and Display
As soon as you pick up the handset, you will know you have a Huawei as their design shines through, this is a great looking edge to edge screen that has the finest of bezels around the sides, but these do not detract from the all screen look. The case is plastic but looks the part, and the handset is light and easy to hold despite being a large phone bordering on the phablet side of things. This is a stunning handset that really does have a certain shine about it.
So, this is a whopping 5.99-inch display with a resolution of 1440x720 and an aspect ratio clocking in at 2:1 which gives it an excellent bright and clear display for streaming video and let's face it with a screen that big movies are going to be a serious consideration.  On the rear of the handset which comes in more than one colour, you will find the rear camera housing tucked heating to the top corner, the ergonomically placed fingerprint scanner and at the bottom, the Huawei logo, and overall gives a good looking finish. The handset comes in a sleek black or a really lovely blue that looks really nice.
If you want a phone that offers one handed operation you might struggle with a handset this size but it is still a popular option and you can offset the keyboard to make it a little easier. Huawei ships this handset with a screen protector in place which is really helpful and something we wish others would do as there is nothing worse than the fight to stop the bubbles when doing it yourself. Although this is a more durable plastic, it is still advisable to use a case as you wouldn't want to damage something so pretty.
Huawei Y7 (2018) Audio
This is a Huawei handset so it stands to reason that the audio would be good and it really is. There is a decent loudspeaker for handsfree calling, and this works well, and can also be used to stream music or watch movies in a quiet room.  For this handset Huawei has included the standard 3.5mm headphone jack which is going to be music to the ears for many users who prefer wired headphones over wireless cans, however, there are no headphones included in the box so you will have to find your own.
Huawei (2018) Y7 Camera
Camera technology is not something Huawei struggles with, although the cameras are not quite the same standard as their flagship phone this is one of the payoffs for the lower price tag, but to be honest these are stunning cameras, and the supporting software does not disappoint. The front-facing camera is an 8MP offering, and the rear camera packs a 13MP punch both of which are on a par with some much higher spec handsets, so you are getting a great photography experience. Of course, you can also record video, and the quality is great meaning you can capture those all important moments and relive them over and over again, or share them with your friends. 
Huawei Y7 (2018) Features & Performance
So, under the hood you will find Qualcomm MSM8937 Snapdragon 430 (28 nm) CPU and 3GB of RAM, this is an Octa-core 1.4 GHz Cortex-A53 with Adreno 505. In terms of software you will find the handset running Android 8.0 (Oreo); which of course comes the proprietary Huawei skin over the top, in this case, EMUI 8 so a pretty solid operating system that certainly packs a powerful punch.
In terms of storage on the phone you will find 32GB which is not the best but of course, Huawei do like their SD card slots, and you can expand unto 256GB which should give you pretty much everything you need and more. This is all supported by a 3000mAh battery which is plenty to get you out and about for the day and still get back to the charging point at night.
Summary

Overall the Huawei Y7 (2018) is a textbook example of a cutdown phone and is packed with the classic Huawei technology that we have come to love. It is certainly a reliable and well-built handset and although it has a slightly lower spec than their flagship range their mission to ensure that their phones are available to all certainly works with this offering. 
Huawei Y7 (2018) Fonehouse Deals


Here at Fonehouse, our aim is to make sure that we have the most extensive selection of handsets possible and then combine this with a great set of pay monthly deals so that our customers can find the perfect combination that suits their needs and the Huawei Y7 (2018) is no exception. We have worked hard with our network providers Vodafone and EE to ensure that we have the best deals for you and that we have managed to secure some great extras in the way of free network gifts, cash back options and more.
So, if you would like to find out more about the Huawei Y7 (2018) or any of the fantastic deals that we have in stock why not contact our excellent customer service team on 0333 90 1133 and they will be happy to run through everything with you. 
---
Frequently Asked Questions About The Huawei Y7
Q. Is the Huawei Y7 5G?
A. No, the Y7 is not compatible with 5G connectivity.
Q. Does the Huawei Y7 have wireless charging?
A. No, the Huawei Y7 does not support wireless charging, nor fast charging.
Q. Does the Huawei Y7 have a headphone jack?
A. Yes, the Y7 has a 3.5mm headphone jack which will work with all regular wired headphones.
Q. What colours can I buy the Huawei Y7 in?
A. You can buy the Huawei Y7 in Grey/Prestige or Gold/Silver.
Q. How big is the Huawei Y7?
A. The Huawei Y7 has a 5.5-inch IPS LCD display.
---
Specification
Battery
up to 99.99hrs
Camera
13MP
Screen Size
5.99inch
Memory
Specification
Battery
up to 99.99hrs
Camera
13MP
Screen Size
5.99inch
Memory
Why Choose Fonehouse?
When you choose to purchase a product from Fonehouse, you are purchasing from one of the UK's leading independent mobile phone retailers.
We're proud to deliver some of the very best mobile phone deals on the market, with our team of experts who work tirelessly around the clock to ensure that we also give you the very best price for your new mobile phone deal.
At Fonehouse we have several network partners including EE & Vodafone. By giving our customers a fantastic deals on these networks, we can be sure that they always have the best service and network connection no matter where they are. With free roaming, you can connect to anyone and everywhere, even when you're on the other side of the world.
When you shop with Fonehouse, you could get your hands on a fantastic cashback offer, saving you even more money. Plus, every time you take out a new pay monthly contract with us, you have the chance to be entered into a prize draw to win an incredible new Samsung Galaxy S9 handset, solely by providing us feedback!
At Fonehouse we off free next day delivery with all of our orders, so you could have your new handset the very next day.
If you need more information about shopping with Fonehouse or are interested in any of our great deals, then call our UK based customer service team today on 0333 900 1133
FREE Next Day Delivery
We offer free next day delivery with all products, when ordered before 8pm Monday-Friday.
14 Day Returns Policy
We hope you are happy with your purchase. However, we understand that sometimes you might change your mind. Please contact us within 14 days to see how we can help.
UK Based Customer Service Team
Call our UK based customer service team where a trained member of staff will be on hand to assist with your mobile phone purchase.
100% Secure Checkout
We use SSL (Secure Socket Layer) technology. When you place your order with us all information you share with us is encrypted for your security.
FREE Phone Insurance for the First Month
Take advantage of out one month free mobile phone insurance. Click to buy or call into our UK based call centre.
FREE Phone Insurance for the First Month
Take advantage of out one month free mobile phone insurance. Click to buy or call into our UK based call centre.
100% Secure Checkout
We use SSL (Secure Socket Layer) technology. When you place your order with us all information you share with us is encrypted for your security.
†RPI/CPI Price Increase - Each year, your Pay Monthly airtime tariff will be adjusted according to: Three - Three's Fixed Annual Price Change which is 4.5% each April. Vodafone – The Retail Price Index which is announced each March and adjusted on your bill each April. EE - The Consumer Price Index rate of inflation plus 3.9%, which is announced each January and adjusted on your bill each March.
Unless otherwise stated, any cashback or gift incentives are provided by us, and not the network operators.
©2020 All rights reserved E&OE. fonehouse.co.uk is part of KTM Online Limited. Reg. No. ‍10781202. VAT Reg. GB ‍276 ‍6191 ‍72. Monthly prices may rise in line with RPI.