Free Next Day Delivery
Order before 8pm
100% Secure Checkout
Shop with Confidence
UK Customer Service
Dedicated to you
14 Days Returns Policy
Terms may apply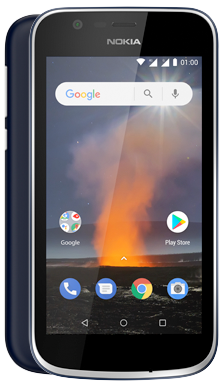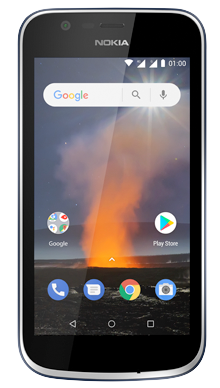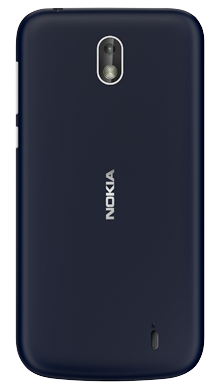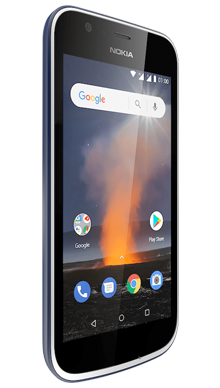 Nokia 1 Blue
At one point or other in their lives, most people over 30 have owned a Nokia, and while the brand does not have quite the same draw as it used to have it still continues to offer a vast array of handsets.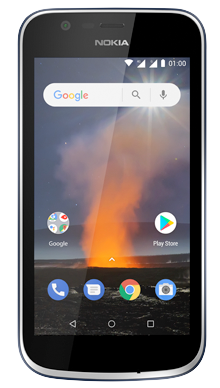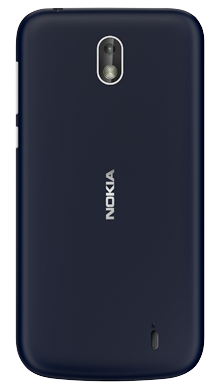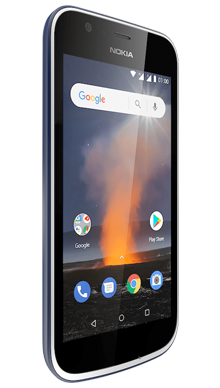 Key Features:
4.5" display
8GB Internal Storage
5MP Camera
Available in Red and Blue
At one point or other in their lives, most people over 30 have owned a Nokia, and while the brand does not have quite the same draw as it used to have it still continues to offer a vast array of handsets.
Our Best Selling Deals

per month / 24 months
500MB

Data

Unlimited

Minutes

Unlimited

Texts
24 Month EE Contract
£324 Cashback
Before cashback: £20.00 pm
This deal comes with £324 cashback which effectively reduces the monthly cost from £20.00 pm to £6.50 pm

per month / 24 months
1GB

Data

Unlimited

Minutes

Unlimited

Texts
24 Month Vodafone Contract
£396 Cashback
Before cashback: £26.00 pm
This deal comes with £396 cashback which effectively reduces the monthly cost from £26.00 pm to £9.50 pm
FREE DELIVERY
Order now for delivery within the next 7 days*
Compare Nokia 1 Deals
Select your desired options to find the best Nokia 1 deals for you.
Network
Tariff Details
Upfront Cost
Extras
Monthly
Nokia 1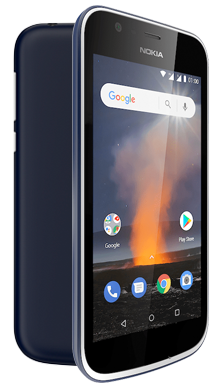 Nokia 1

At one point or other in their lives, most people over 30 have owned a Nokia, and while the brand does not have quite the same draw as it used to have it still continues to offer a vast array of handsets. These tend to sit the midrange budget but provide a strong performance and will suit many users

Generally most eyes are on the flagship phones, but the Nokia 1 is a neat little budget smartphone that is actually a great place to start if you are looking to move to smartphones. You can get your hands on it with some really great pay monthly deals, and it is a fun phone to own and use.

The handset comes in dark blue and red but also features Xpress-on covers which offer users the ability to customise it further with a range of colours and styles available. For an entry-level smartphone, it certainly looks the part and has been armed with an impressive array of technology that means it will not disappoint the user.

Nokia 1 Design & Screen

In terms of design, the Nokia 1 has a retro feel; this is because it looks like the smartphones of about three years ago. It has a large bezel top and bottom which we could have lived without, but the screen is still a reasonable size.

It is a plastic backed phone and is 9.5mm thick which is actually quite chunky. The Nokia 1 feels nice to hold and in terms of overall size is 133.6mm x 67.78mm which is not too bad. It can be used with one hand reasonably easily and reaching across the screen is not difficult.
The screen of the Nokia 1 is 4.5 inch and is an LCD screen feature a resolution of less than 720p. This means that video streaming and image display are average but passable. Reading the screen is ok considering that the phone does not have the best technology on offer.

For a cheap end phone, the Nokia 1 offers a surprisingly responsive touch screen, making navigation and use much nicer than those that make you really work.

It has been designed to be a cut down version of Android which enables it to work faster with lower-end hardware, and the results are good. It certainly seems to tick all the boxes and doesn't look out of place. When you removed the back, and take out the battery, you will find the hidden gem that is the MicroSD slot which suddenly ups the game when it comes to what we know about the Nokia 1. Level entry it might be but in terms of performance and looks it is a strong contender in its class.

Nokia 1 Audio

To be fair, you are not going to be looking for a great audio performance from a handset at this level. That said what it does have is perfectly functional, and the sound quality is not too bad. The phone has the standard headphone jack, and clearly, the audio level is infinitely better when piped through headphones.

Nokia 1 Camera

For a phone, at this level, the Nokia 1 cameras are not much to write home about. The rear camera is a small 5MP lens, and the front-facing camera offers just 2MP. It is not going to set the world on fire, but if you want to grab the occasional snap, you will probably be ok.

Nokia 1 Features & Performance

What we do have with the Nokia 1, which has been largely phased out with other high-end handsets it a removable battery. At just 2150mAh this is no bad thing as it means you could carry a charged spare for times when the power runs low.

In terms of the operating system we are looking at the first Android Go handset (Android 8.1 Oreo Go Edition), this means that the OS has been cut down to offer a better performance on the phone with lower end technology. Other things have been cut down too, YouTube Go, for example, means that streaming on the Nokia 1 is still possible.

The magic behind the performance for the Nokia 1 comes in the form of MediaTek MT6737M, a quad-core Cortex-A53 processor running at 1.1GHz. There is 8GB of internal storage, and the operating system half uses this but fear not because you also get a MicroSD slot which gives you up to 128GB more.

Summary

The bottom line is that the Nokia 1 is a solid level entry smartphone that will not bust the budget but will come with a myriad of impressive pay monthly deals for the savvy shopper.

It would make a great first phone for children starting out on their mobile phone journey and the design means that it will probably survive a bit of rough handling and the occasional drop more than some of the more sophisticated glass and metal counterparts. It is a 'does what it says on the box' kind of phone and is worth a look if you do not want to spend big bucks on your handset.

Nokia 1 Fonehouse Deals


We sent the team away and told them to find the best deals they could for the Nokia 1 and to be fair they did not disappoint and have come up with a cracking selection from our favourite network partners.

At Fonehouse we partner exclusively with EE and Vodafone which means we can be sure our customers have the best network service and connection wherever they are. We have also been able to secure some great extras from both providers, so you have a great range of deals to choose from.

Whether you are looking for access to BT Sport or Apple Music from EE, or Sky Sports and Spotify or even NowTV and Prime Video via Vodafone, then our deals have something for everyone thanks to the excellent packages on offer.

If you would like to find out more about the Nokia 1 or if you have questions about any one of the specific deals with Fonehouse, then why not call one of our awesome customer service team members today, on 0333 900 1133.
Specification
Battery
up to 9hrs
Camera
5MP
Screen Size
4.5inch
Memory
8GB
Specification
Battery
up to 9hrs
Camera
5MP
Screen Size
4.5inch
Memory
8GB
Release date
February 2018
Dimensions (mm)
133.6 x 67.8 x 9.5
OS Version
Android 8.1 Oreo (Go edition)
Messaging
SMS(threaded view), MMS, Email, Push Email, IM
Internal memory
8 GB, 1 GB RAM
Expandable storage
microSD, up to 128 GB (uses SIM 2 slot)
WLAN
Wi-Fi 802.11 b/g/n, hotspot
Sensors
Accelerometer, proximity
Stand-by Time (hours)
360
Headphone connection
3.5mm jack
Alert types
Vibration; MP3 ringtones
Why Choose Fonehouse?
When you choose to purchase a product from Fonehouse, you are purchasing from one of the UK's leading independent mobile phone retailers.
We're proud to deliver some of the very best mobile phone deals on the market, with our team of experts who work tirelessly around the clock to ensure that we also give you the very best price for your new mobile phone deal.
At Fonehouse we have several network partners including EE & Vodafone. By giving our customers a fantastic deals on these networks, we can be sure that they always have the best service and network connection no matter where they are. With free roaming, you can connect to anyone and everywhere, even when you're on the other side of the world.
When you shop with Fonehouse, you could get your hands on a fantastic cashback offer, saving you even more money. Plus, every time you take out a new pay monthly contract with us, you have the chance to be entered into a prize draw to win an incredible new Samsung Galaxy S9 handset, solely by providing us feedback!
At Fonehouse we off free next day delivery with all of our orders, so you could have your new handset the very next day.
If you need more information about shopping with Fonehouse or are interested in any of our great deals, then call our UK based customer service team today on 0333 900 1133
FREE Next Day Delivery
We offer free next day delivery with all products, when ordered before 8pm Monday-Friday.
14 Day Returns Policy
We hope you are happy with your purchase. However, we understand that sometimes you might change your mind. Please contact us within 14 days to see how we can help.
UK Based Customer Service Team
Call our UK based customer service team where a trained member of staff will be on hand to assist with your mobile phone purchase.
FREE Phone Insurance for the First Month
Take advantage of out one month free mobile phone insurance. Click to buy or call into our UK based call centre.
100% Secure Checkout
We use SSL (Secure Socket Layer) technology. When you place your order with us all information you share with us is encrypted for your security.
If you choose an EE deal your monthly price plan charge will be increased by RPI in March of each year. Other prices, such as call charges and roaming costs, may also go up during your plan. For full details please see section 7 of the Network terms and conditions.
Unless otherwise stated, any cashback or gift incentives are provided by us, and not the network operators.
©2018 All rights reservered E&OE. fonehouse.co.uk is part of KTM Online Limited.
Reg. No. ‍10781202. VAT Reg. GB ‍276 ‍6191 ‍72. Monthly prices may rise in line with RPI.