Free Next Day Delivery
Order before 8pm
100% Secure Checkout
Shop with Confidence
UK Customer Service
Dedicated to you
14 Days Returns Policy
Terms may apply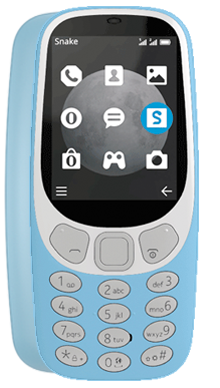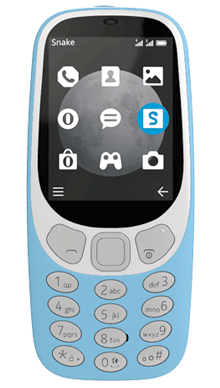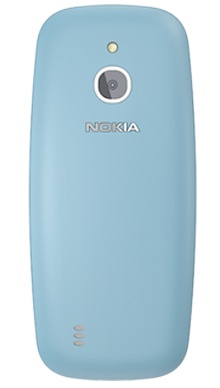 Nokia 3310 Blue
This 3310 borrows heavily from the original designs and updates them, making them a new model that is both an infusion of the existing classic and the new tastes.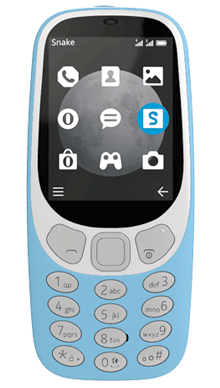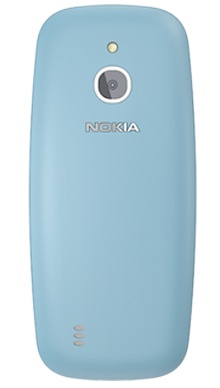 Key Features:
2.4" display
2MP camera
Classic Snake Game (pre-installed)
Battery standby for up to a month
This 3310 borrows heavily from the original designs and updates them, making them a new model that is both an infusion of the existing classic and the new tastes.
Our Best Selling Deal

per month / 24 months
500MB Data

Unlimited

Minutes

Unlimited

Texts
24 Month EE Contract
£192 Cashback
Before cashback: £20.00 pm
This deal comes with £192 cashback which effectively reduces the monthly cost from £20.00 pm to £12.00 pm
FREE DELIVERY
Order now for delivery within the next 3 days*
Compare Nokia 3310 Deals
Select your desired options to find the best Nokia 3310 deals for you.
Network
Tariff Details
Upfront Cost
Extras
Monthly
Nokia 3310
Nokia 3310

Nokia has made history as one of the first to create a mobile phone which could be used by everyone. At the time, their iconic 'brick' design was the height of fashion and sophistication. This 3310 borrows heavily from the original designs and updates them, making them a new model that is both an infusion of the existing classic and the new tastes.

Nokia 3310 Design and Screen

The Nokia 3310 is a design which has been updated and redesigned for a modern audience. It's sleek, it's shiny, it comes in a lot of colours… but it's still got that retro look and feel. This is a reimagining and not a whole new model.

However, the phone has benefitted from modern upgrades and advancements in technology. While the 2.4-inch screen may not be all that big, it is polarised to allow you to read your messages even when you're in the blinding sunlight. The screen is also curved and ergonomic, fitting better in the hand than it's ancestor.

Nokia 3310 Camera

There's actually a pretty good camera when you consider that this is a phone which borrows its design from something over a decade old. You have a 2-megapixel camera to play with. No, this isn't anything when compared to other phones of the modern era, but it's pretty good for what it is.

Nokia 3310 Features and Performance

You really have to appreciate that this is based on a fundamental mobile device which isn't designed to compete with any of the modern models. You have the basic features, and a couple of extras, and that's basically it.

However, what this does have, it does well and without any kind of fault. The battery is incredible for a phone of this design, giving you an easy two days without the need to recharge and rejuvenate. You can text, call and even listen to the radio. And in one of the most nostalgic moves since Nintendo ported the original Pokemon onto the modern DS, this phone comes with Snake. For anyone who loved to play that game when this phone was king, it's available for you now.

Summary

All things considered, this is actually a fairly decent model. When you consider the tier and the way in which this phone has been made, it's not half bad. No, it's not going even to come close to modern phones. However, that's really not what the point behind this was. It's been designed to be a retro phone, a nod to the past, and this is something that it does very well while still being suitable for someone who wants to avoid the fuss and drama of modern phones.

Nokia 3310 Fonehouse Deals

Here at Fonehouse, we strive to provide you with nothing but the very best in mobile phone deals and offers, and to this end, we've paired up with both EE and Vodafone to make sure you have as much choice as possible.

If you think this is the ideal phone for you, then please don't hesitate to speak to us on 0333 900 1133.
Specification
Battery
up to 8hrs
Camera
2MP
Screen Size
2.4inch
Memory
Specification
Battery
up to 8hrs
Camera
2MP
Screen Size
2.4inch
Memory
Release date
February 2018
Dimensions (mm)
117 x 52.4 x 13.4
Web browser
WAP 2.0/xHTML
Internal memory
512 MB, 256 MB RAM
Expandable storage
microSD, up to 64 GB
Resolution
240 x 320 pixels
Stand-by Time (hours)
360
Headphone connection
3.5mm Jack
Alert types
Vibration, MP3 ringtones
Why Choose Fonehouse?
When you choose to purchase a product from Fonehouse, you are purchasing from one of the UK's leading independent mobile phone retailers.
We're proud to deliver some of the very best mobile phone deals on the market, with our team of experts who work tirelessly around the clock to ensure that we also give you the very best price for your new mobile phone deal.
At Fonehouse we have several network partners including EE & Vodafone. By giving our customers a fantastic deals on these networks, we can be sure that they always have the best service and network connection no matter where they are. With free roaming, you can connect to anyone and everywhere, even when you're on the other side of the world.
When you shop with Fonehouse, you could get your hands on a fantastic cashback offer, saving you even more money. Plus, every time you take out a new pay monthly contract with us, you have the chance to be entered into a prize draw to win an incredible new Samsung Galaxy S9 handset, solely by providing us feedback!
At Fonehouse we off free next day delivery with all of our orders, so you could have your new handset the very next day.
If you need more information about shopping with Fonehouse or are interested in any of our great deals, then call our UK based customer service team today on 0333 900 1133
FREE Next Day Delivery
We offer free next day delivery with all products, when ordered before 8pm Monday-Friday.
14 Day Returns Policy
We hope you are happy with your purchase. However, we understand that sometimes you might change your mind. Please contact us within 14 days to see how we can help.
UK Based Customer Service Team
Call our UK based customer service team where a trained member of staff will be on hand to assist with your mobile phone purchase.
FREE Phone Insurance for the First Month
Take advantage of out one month free mobile phone insurance. Click to buy or call into our UK based call centre.
100% Secure Checkout
We use SSL (Secure Socket Layer) technology. When you place your order with us all information you share with us is encrypted for your security.
If you choose an EE deal your monthly price plan charge will be increased by RPI in March of each year. Other prices, such as call charges and roaming costs, may also go up during your plan. For full details please see section 7 of the Network terms and conditions.
Unless otherwise stated, any cashback or gift incentives are provided by us, and not the network operators.
©2019 All rights reservered E&OE. fonehouse.co.uk is part of KTM Online Limited. Reg. No. ‍10781202. VAT Reg. GB ‍276 ‍6191 ‍72. Monthly prices may rise in line with RPI.