Free Next Day Delivery
Order before 8pm
100% Secure Checkout
Shop with Confidence
UK Customer Service
Dedicated to you
14 Days Returns Policy
Terms may apply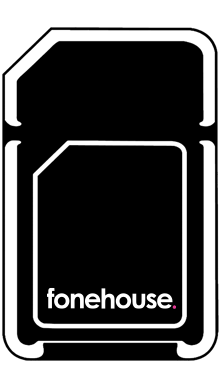 Multi SIM Card
What is 5G?
If you are looking for a great value deal, Fonehouse offer a variety of SIM only deals at competitive prices.
Key Features:
Use with any SIM free handset
Free SIM card with free delivery
Low credit check criteria
12 months or 30 day SIM only plans
Our Best Selling Deals

per month / 12 months
8GB Data

Unlimited

Minutes

Unlimited

Texts
12 Month Vodafone Contract

per month / 12 months
8GB Data (5G)

Unlimited

Minutes

Unlimited

Texts
12 Month Three Contract
£48 Cashback

per month / 1 months
30GB Data

Unlimited

Minutes

Unlimited

Texts
1 Month Smarty Contract
Compare SIM Card Deals
Select your desired options to find the best SIM Card deals for you.
†RPI/CPI Price Increase - Each year, your Pay Monthly airtime tariff will be adjusted according to: Three - Three's Fixed Annual Price Change which is 4.5% each April. Vodafone – The Retail Price Index which is announced each March and adjusted on your bill each April. EE - The Consumer Price Index rate of inflation plus 3.9%, which is announced each January and adjusted on your bill each March.
SIM Only Deals
There are many reasons to have a pay monthly phone, for some people it is all about having the newest handset and for others it is simply the convenience of a fixed monthly tariff. If you have a handset you really love, but are spending loads of money on a pay as you go deal then switching to a SIM only deal could save you a lot of your hard earned cash.
EE Three and Vodafone SIM Deals
Here at Fonehouse, we chose to have exclusive partnerships with both EE, Three and Vodafone for the simple reason that we believe they offer our customers the best in UK network coverage. We also think that 4G is essential and again we feel that these two network providers offer the best coverage. It doesn't matter whether you live in the middle of a city or out in the countryside you should have access to your phone and all of its features whenever you need them. There is nothing more frustrating than trying to make a call and not having any signal or needing to use your apps and email and not being able to get a 4G connection, and in some cases, you could be missing important calls and business. We are confident that our SIM only deals give you the best level of connectivity at all times.
Great Offers
Here at Fonehouse, we are proud to offer some awesome SIM only deals which give you access to all the benefits afforded to pay monthly customers. The only difference is you don't end up paying for a handset you do not really want or need. The same amazing offers on data allowances, talk time and texts are all still on offer, and there is plenty of scopes to customise the deal to suit you.
Grab a Data Deal
Data is one of the most common reasons that people end up with extra charges on their monthly phone bill and do not understand why. Data allowances are one of the most critical parts of your SIM only deal so be sure to understand how it works. Your data allowance will simply start charging you extra if you go over the tariff. Your phone will keep working, and you may be totally unaware until the bill arrives. You use your data allowance when you step away from a wifi connection. This can be because you use apps, sent iMessages or used apps when not connected to wifi. If you see the 4G symbol, then your phone is using the data allowance to carry out all the requests you make from these things. The safest thing to do is pick a data allowance higher than you normally expect to use. If you are unsure of how much data you will use then have a chat with our team and they will be able to help you estimate it based on your proposed activity with your phone. Underestimating your usage is a false economy as you will just end up accruing extra charges at the end of every month, so it is better to get a sensible estimate and pay accordingly.
Love to Talk?
If you tend to be a little bit chatty or you have a business that needs you to make a lot of calls, then you will want to be looking for a SIM only deal that comes with unlimited talk time and unlimited texts. The good news is we have lots of these on offer. This means you cannot go over your allowances as such; you just need to be aware of numbers that you call that are not ever including, things like premium rate numbers and chargeable text services for example. If you travel abroad, you also need to understand how the charging works for international calling so be sure to find this out if you plan to be out of the country a lot or spend a lot of time ringing people that are not in the UK.
Bag Some Cash Back
Cashback is another excellent way to save some money, and we have many SIM only deals that have cash back as an option. Some of the deals have an auto cashback offer which means you do not need to take any further action to claim the cash back; it will all be done for you. Others do require you to make a claim in order to get the cash back, and details of how to do this will be given to you once your contract is active.
Network Extras
Both of our network providers have given us some really awesome extra gifts for our customers when they sign up to one of our SIM only deals. Both Vodafone and EE have some great extras in the form of subscriptions to television or music apps, the chance to use your phone within the EU for no extra change and many other offers. You can pick one reward when you sign up, and you will be given details of how to claim your prize once the contract is live. All of the gifts are very generous and could save you money on extra subscriptions as well as being seriously cool to have on your phone. Just remember if you are streaming sports or movies then you are using data if you are not connected to a wifi network. So if your intention is to watch movies on the commute be sure to get a data allowance that covers you for this.
SIM Only Deals at Fonehouse
So as you can see we take finding the best SIM only deals very seriously as we believe our customers should only ever have the best. With that in mind, the team have been hard at work getting these great deals for you. If you have any questions about the sim only deals, we offer then why not call one of our fantastic team today, and they will be happy to help, just dial 0333 900 1133.
©2020 All rights reserved E&OE. fonehouse.co.uk is part of KTM Online Limited. Reg. No. ‍10781202. VAT Reg. GB ‍276 ‍6191 ‍72. Monthly prices may rise in line with RPI.