Do you need help deciding which Samsung mobile is best for you? Well, look no further because our Samsung buying guide will help find the best Samsung mobile phone for you, and our best deals available.
When choosing a new mobile phone, you need to consider what functionalities are most important to you, is it 5G connectivity, screen size, storage, camera quality, or all the above? There are many features to choose from. Maybe you must be on trend and have the latest technology at your fingertips. No matter how you use your mobile phone the Samsung range has something on offer for everyone.
The Samsung Brand
Samsung is a well-known, distinguished, household name, and are a brand we trust for the quality of their products. Their huge range of mobile phones are popular for their superior designs and innovative features. This year is due to be an amazing year for Samsung as they release their latest handset. The tech giant is expected to set a new precedent in the mobile industry.
Which Samsung Phone is Best for Me? 
Samsung have a wide range of mobile phones and smartphones available and the best phone for you is dependent on which features you will get the most out of. If you are an avid photographer, the Galaxy S22 Ultra 5G has an impressive 106 megapixels main camera, which is able to capture high-quality images.
If you take more videos, then look for a smartphone which has at least a 4k video, some of the newer smartphones have an 8k video available which is 16 times the resolution of Full HD.
The Samsung Galaxy Z and Samsung Galaxy S ranges also have remarkable optical image stabilisation for smooth, slick videos.
Phone memory and storage goes hand in hand with taking photos and videos, so make sure whichever smartphone you choose has sufficient memory for your needs. The more Gigabytes (GB) your phone has the more you'll be able to store. A typical smartphone user will feel that 64GB phone memory is sufficient, although some prefer to choose between 128GB and 256GB.
If streaming and connectivity is more your thing, look for a 5G enabled phone. 5G is the fifth generation of mobile networks offering fewer delays when using your phone and accessing web content as well as significantly faster download and uploads.
Which Is the Latest Samsung Phone? 
Samsung have lines in all areas across the smartphone market, the latest Samsung phone in the Galaxy S range is the Galaxy S22 range, released in February 2022 and now available for Pre-Order. This superior model outshines most other smartphones available on the market, with its iconic style it offers a huge range of features, from a smart battery which optimises power consumption, to high-quality photos and 8k video for cinema quality, this is the smart phone that keeps on giving. It also boasts the fastest chip in the Galaxy range for seamless content streaming and multitasking.
As well as being super on trend and stylish, the Galaxy Z Fold3 and Galaxy Z Flip3 also offer some of the highest specification smartphone technology, and they both offer IPX8 rated water resistance revolutionising the way we use smartphones.
Which Samsung Series Is the Best? 
Samsung Galaxy A Series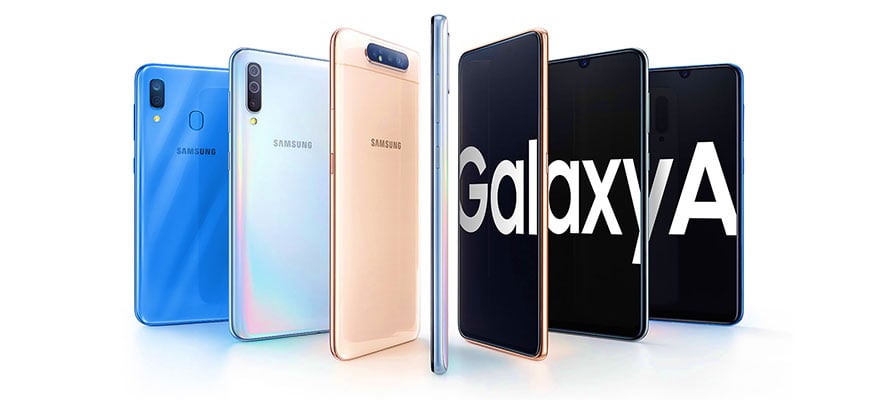 The Samsung Galaxy A range is ideal for those looking for an affordable handset with a huge range of modern features. Each smartphone in this series makes innovation accessible to all. The Galaxy A72 is the most recent smartphone in the Galaxy A range. This stunning handset combines high-end tech with a lovely look and feel and will not break the bank. The Galaxy A72 boasts smooth scrolling, 4k video, a high-resolution camera and much more, further to this it is also waterproof for up to one meter for 30 minutes.
Samsung Galaxy S Series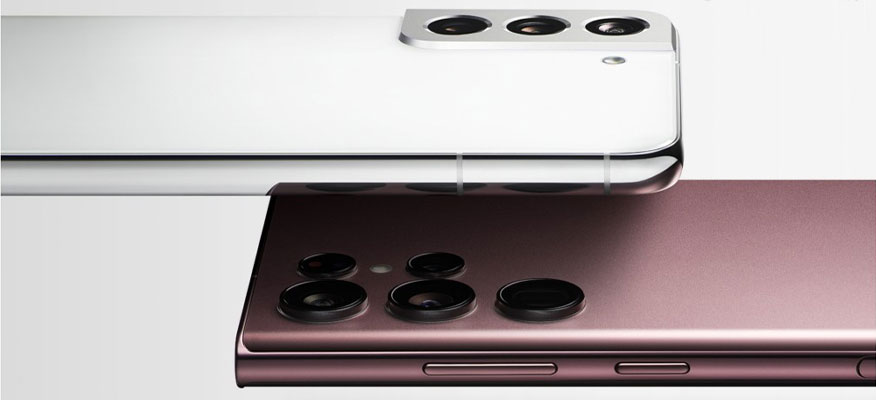 The Samsung Galaxy S series is a line of high-quality Android handsets. With the Z series, it is one of Samsung's flagship series' of handsets. The S series began in 2010, with the launch of the Samsung Galaxy S, and has consisted of smartphones and even tablets ever since. The Samsung Galaxy S22 is the latest in the S series, and boasts an Ultra and Plus model.
Samsung Galaxy Z Series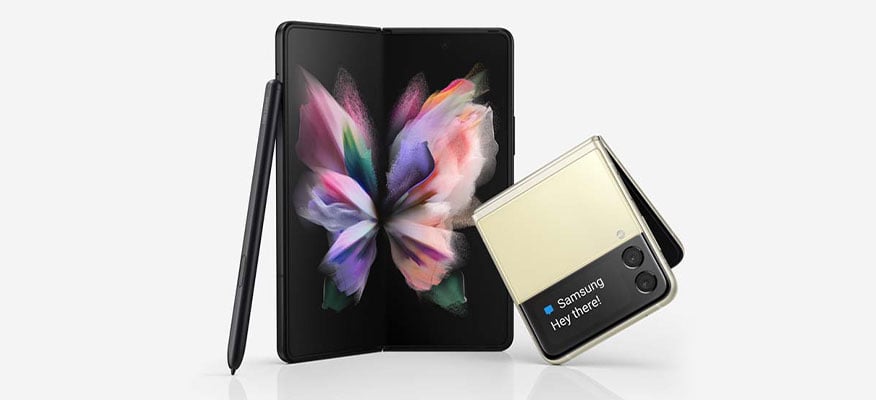 The Samsung Galaxy Z series differs from other series' as it is Samsung's line of foldable smartphones. There are multiple different handsets featured in the Z series, including the Flip and Fold models. The main difference between the Z Flip and Fold models, is how they fold. In August 2021, Samsung launched the latest handsets in the Z series; the Samsung Galaxy Z Fold3 and Flip3.
Overall, the best series for you depends on what you want from your handset. For those on a budget, the A Series offer you a great specification for an affordable price. However, if you are looking for a mid to high-range handset, the S Series may be better suited and offers various specifications based on your preferences. The Z Series would make the perfect choice for those looking for something a little different with all the same great Samsung qualities.
Which Samsung phone has the best camera? 
The camara quality in all the smartphones in the Samsung Galaxy range are second to none. With no expenses spared, Samsung continually strive to bring the best and latest camera technology to their new smartphones, ensuring photo and video quality are key features.
The latest Samsung Galaxy S22 Ultra 5G brings all the best and latest technologies to life, featuring a 108MP sensor, four cameras and 10 x zoom, along with 8K video recording, it's difficult to beat. The 6.8'' display also makes it perfect for viewing your photos and videos.
When does the new Samsung come out? 
2022 is an exciting year for Samsung. They have just released the latest in the Galaxy S Series – the Samsung Galaxy S22, which is now available to pre-order. Within the range there is an Ultra and Plus model, so plenty of choice. Watch this space for more news on the release date and specifications on all the latest Samsung releases.
Which Samsung mobile should I buy? 
In summary, Samsung have lines in all areas across the smartphone market covering a whole range of customer needs and requirements. Below is an outline of some of the smartphones we have available.
Samsung Galaxy S22 Range
The latest handset range launched by Samsung is the S22 range. Featuring the Samsung Galaxy S22 5G, S22 Ultra 5G and S22 Plus 5G this range exceeds all previous expectations of the S Series.
The latest flagship handset from Samsung, the Galaxy S22 5G really exceeds expectations, with a huge range of impressive features. Featuring a 50MP camera as one of three lenses and 8K video recording as well as reverse wireless charging you don't want to miss this. The S22 5G boasts a 6.1" screen with a resolution of 1080×2340 pixels making it ideal for watching films, scrolling social media and gaming. The screen is protected by Corning Gorilla Glass Victus+ so you don't have to worry about damage!
Next, in the S22 line up is the Samsung Galaxy S22 Plus 5G. This is the step-up from the already impressive Galaxy S22 and features some impressive upgrades. It is larger, boasting a screen size of 6.6" and a 1080×2340 resolution. With all the great features of the S22 5G, experience it all on a larger scale with the Galaxy S22 Plus 5G.
Finally, at the top of the range is the Samsung Galaxy S22 Ultra 5G which rivals the very best devices on the market with incredible features and design. Taking a step up – with the S22 Ultra you're getting a 108MP camera and dual video call as well as wireless charging and 8K video recording. The 6.8" display means you have the ideal smartphone for entertainment, gaming and social media. The resolution is an incredible 1440×3080 pixels so you can see everything with clarity. The S22 Ultra has a quad camera set which features a 108MP main camera, 10MP periscope telephone lens, 10MP telephoto lens and a 12MP ultrawide lens. Available in Phantom Black, Burgundy and Green you have some great colour choices that will let you stand out from the crowd with this handset.
Samsung Galaxy S21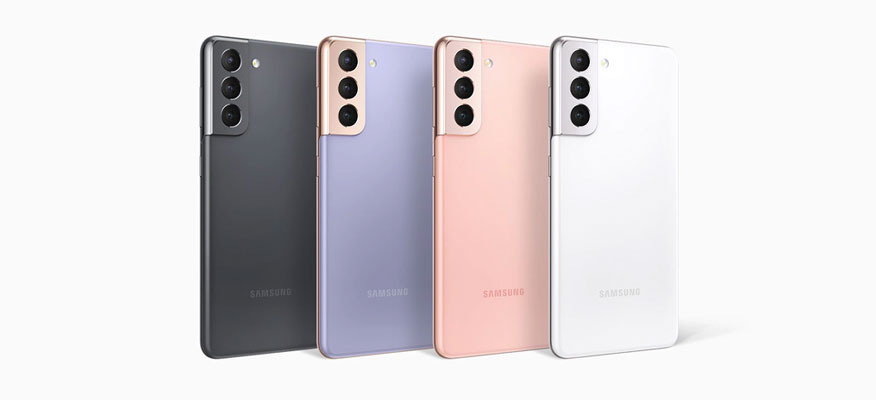 The Samsung Galaxy S21 really took handsets to the next level for Samsung in terms of design and video recording. With a screen resolution of 1080 X 2400 pixels the colours are brighter and images more vivid than ever. The camera has a triple lens setup with a 12MP main lens, 64MP telephone lens and a 12MP ultra-wide lens.
With this camera you can also record 8K video with 24 frames per second and the 10MP selfie camera means you can take front facing images that are packed with colours and detail.
It isn't only visuals that make the Galaxy S21 stand out, but also its stereo speakers that are of the highest standard.
Samsung Galaxy S21 Plus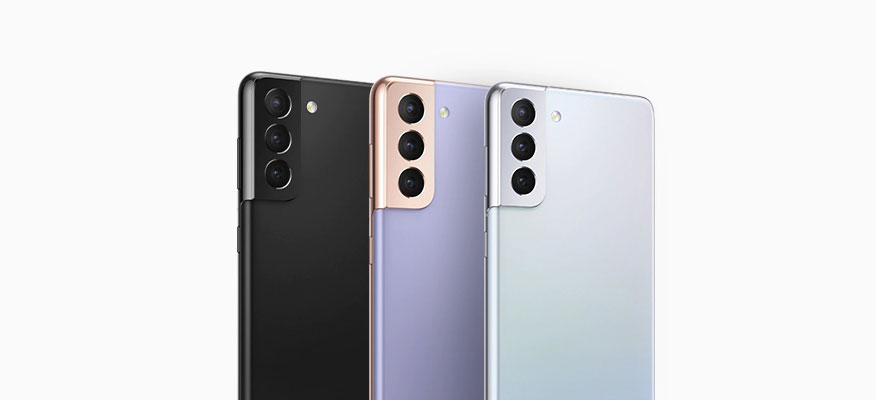 The Samsung Galaxy S21 Plus just takes things a little bit further, hence the name. With an improved camera and larger battery life this handset is one to beat. The S21 Plus has Gorilla glass to protect the front screen, preventing cracks, chips and scratches.
It comes in three colourways – Phantom Black. Phantom Silver or Phantom Violet. But, taking a closer look it is the chipset that is truly impressive. The S21 Plus features the Exynos 2100 chipset which brings the ultimate 5G speed and quality.
Samsung Galaxy S20 FE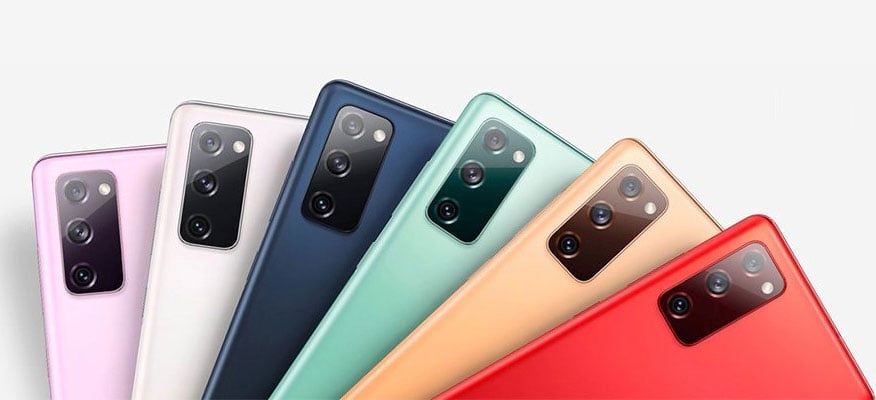 There are plenty of features worth shouting about in the Samsung Galaxy S20 range. For example. with the Samsung Galaxy S20 FE you can bag an incredible deal and get a 6.5-inch full HD+ Infinity-O display, which is a great size for all activities, and it even comes with a 120Hz refresh rate – make streaming and video calling much clearer and faster.
The Galaxy S20 FE also features impressive battery life – with one charge lasting you throughout the day. This is due to the 45000mAh battery that provides a huge amount of power – so, even with heavy use you can still enjoy a long-lasting battery life.
Samsung Galaxy A12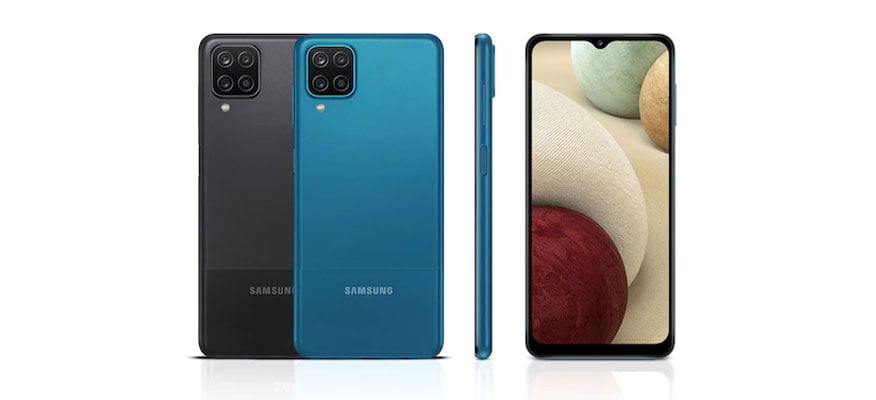 For an affordable handset with a huge range of features, you can't go wrong with the Samsung Galaxy A12. Samsung's most affordable range is the A series – and the A12 is the latest edition. With a glass front and a whole host of impressive features, you still get a high-end finish without the price tag.
The Galaxy A12 handset features a quad lens camera which is extremely powerful – with a 48MP wide lens, a 5MP ultra-wide lens, a 2MP macro lens and a 2MP depth lens so you have endless shooting options when it comes to this camera.
The Samsung Galaxy A12 offers a range of storage options, so you can keep all your beautiful photos safe. You can choose from 32GB, 64GB and 128GB – so you can choose what you need.
Samsung Galaxy Z Flip3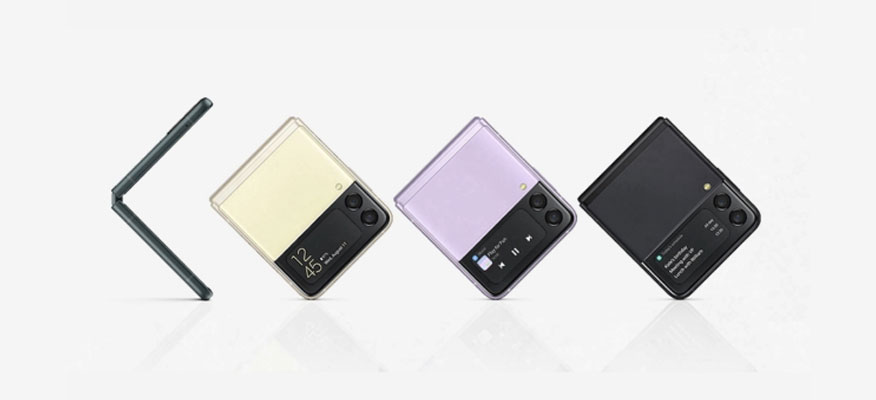 The Samsung Galaxy Z Flip3 really changes the game. This handset easily folds into your pocket and can be slipped into your purse with ease. Available in a range of exciting finishes, this handset comes in cream, phantom black, green and lavender so you can choose your favourite colour.
The Galaxy Z Flip3 is by far one of the most practical handset options when it comes to size. As many handsets tend to get larger and larger – the Z Flip3 provides a great solution, a full-sized phone that folds to seamlessly fit into your pocket. You don't even have to open the phone to access a number of features – check messages, take photos and play music without even needing to open it up.
The Samsung Galaxy Z Flip3 is the world's first water-resistant foldable smartphone. You can take this phone up to 1.5 metres deep for up to 30 minutes without a concern. Not only that, but as this phone is incredibly durable you don't have to worry about it shattering or getting damaged in your bag, or pocket.
Shop Samsung mobile deals with Fonehouse 
Here at Fonehouse, we work with a huge range of different networks, allowing you to find something that is perfect for what you need. Whether you're looking for something super affordable or a huge data package, we're going to have the perfect deal for you.
If you have any questions surrounding any models in the Samsung range or any other smartphones on our website or need a bit of help placing an order, don't hesitate to contact us on 0333 900 1133. Our UK based call centre is on hand and ready to help you out.
Want to know more about the iconic Samsung brand? Check out our Samsung Brand History Guide or head over to the Fonehouse blog to find out more.