Over the years, Samsung have become a particularly popular household name. With so many products we use daily, they are a brand we trust for their design and quality, and they never disappoint. Samsung are now one of the largest producers of electronic devices and continue to be at the forefront of people's minds when looking to upgrade their smartphones.
At Fonehouse, we know our customers love the Samsung brand, as do we. It is trusted, reliable and innovative – so, what is the history of Samsung phones and where did it all begin?
Where was Samsung founded?
Samsung was founded in 1938 in Daegu, South Korea, and was originally known as a grocery trader. The Samsung brand continually changed with the times, however, moving into the electronics sector in the late '60s. This is when they started manufacturing black and white televisions.
Following the opening of a new development centre in Poland in 2000, Samsung moved into the development of digital TV, eventually making the move into the world of smartphones in the late noughties.
Samsung's first foray into the world of mobile telecommunications happened a lot earlier however, pioneering the development of mobile phones as early as the 1980s.
When was the first Samsung phone released?
In 1985 the first-ever Samsung phone, an in-car only cell phone, the SC-1000 was released. Sadly, the phone wasn't a massive success with consumers; the model was plagued with tech issues. The mixed reception to the SC-1000 spurred the Korean-based manufacturer on as they invested heavily in research and development. This culminated in the launch of the Samsung brand's first fully mobile telephone, the Samsung SH-100.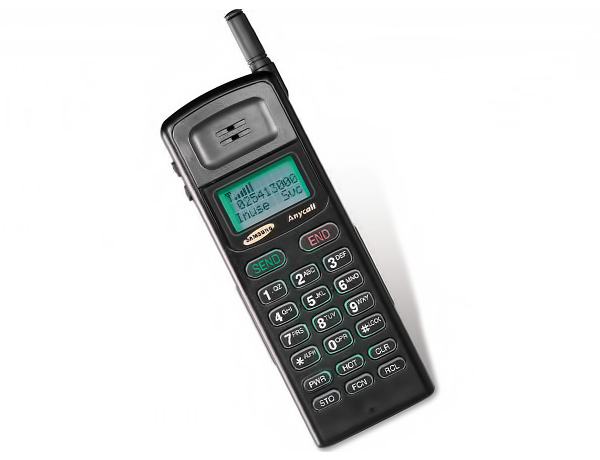 The Samsung SH-100 boasted several ground-breaking advancements and was also the first mobile phone to be manufactured in Korea. Following the blockbuster launch of its flagship phone, Samsung went from strength to strength, continually thriving in the highly competitive mobile phone market.
Moving with the times
Between the late 1980s and the millennium, Samsung expanded its mobile phone range and customer offering. They released their first colour mobile phone, the SCH-X430 model, with an LCD colour screen, truly ground-breaking for the time.
Technology has developed at an unprecedented rate since the start of the millennium, and Samsung have continued to rise to the challenge and deliver well designed, high-quality products that withstand the test of time. From touch screens to Flip screens, Ultra and Plus models, Samsung have developed products with consumer needs and usability in mind.
When was the first Samsung smartphone made?
Samsung's first smartphone was the original Samsung Galaxy released way back on June 29th in 2009. The Samsung Galaxy GT-17500 boasted cutting edge technology that offered quad-band GSM and tri-band HSDPA.

Running off the then relatively new Android operating system (OS), this model pioneered the Samsung Galaxy line of devices, and helped shape and revolutionise how we use our mobile phones today. Samsung have since excelled in the Android (OS) market.
For over a decade, Samsung have expanded their Galaxy S smartphone range as they have developed new and innovative models, they do not hold back when it comes to design and user capabilities.
Their most recent launch in the S range was the Samsung Galaxy S21; 5G, triple-lens camera for high-resolution, professional images, built-in stereo speakers, and a long-lasting battery are to name only a few of the top features this high specification device has to offer.
Samsung phones 2022: The Future of Samsung mobiles
2022 is an exciting year for Samsung. They have the expected arrival of the successor to the S21, the next big Android phone, this is rumoured to be released in February 2022, with a Plus and an Ultra model also rumoured.
Whilst they are known for their top of the market, high-end phones, Samsung have lines in all areas across the market. Their Galaxy A range is ideal for those looking for an affordable handset with a huge range of modern features. Their Samsung Galaxy A10 model in particular gives appeal to those customers.
Samsung have also brought the very impressive Samsung Galaxy Z range to market, bringing full-sized smartphones which fold away to a more manageable size, making them easier to store in pockets. The Galaxy Z models are compact, foldable, and water-resistant. Samsung have really listened to their customers when developing this eye-catching model, showcasing their innovative designs.
Whether you are looking for one of the latest releases or for a real Samsung classic, there is something for everyone here at Fonehouse. Shop mobile phone deals online or instore or, if you are planning on upgrading your smartphone to a Samsung, you can view all our latest Samsung mobile deals here.