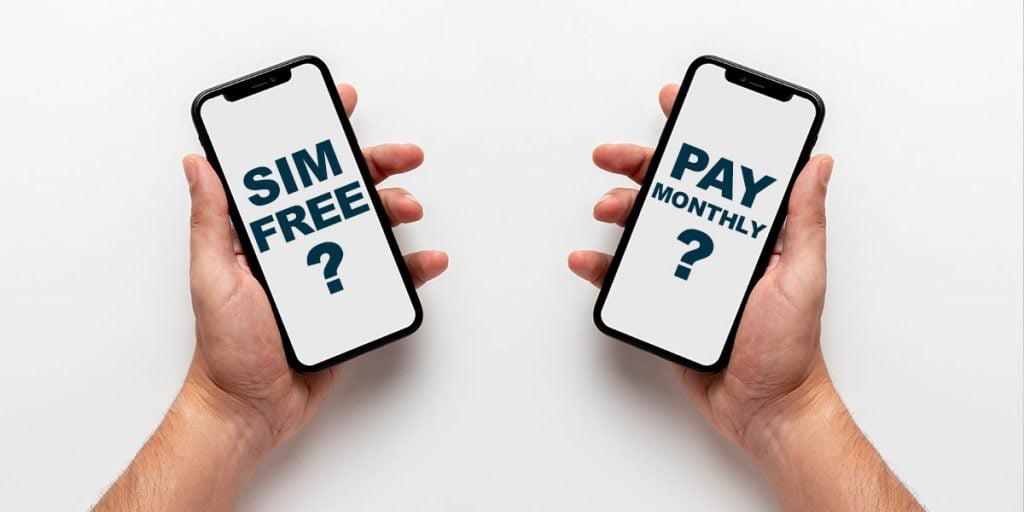 20 Mar

SIM Free or Pay Monthly?

You want to make sure you're getting the best when you come to buy a SIM free or pay monthly contract phone and there are perks to each! It can be so hard to find your perfect deal or dream phone but it doesn't need to be difficult. You'll want to make sure you do what you can afford and what suits you the most.
Sim Free Perks
The most obvious perk of buying a SIM free phone is that you aren't tied into any contract. Mobile phone contracts range from 18 months to 24 months to 36 months in some cases. Buying the phone outright means you won't be tied into paying for something for a set time. When your phone breaks or you want a new one, you can go out and buy a new one with no commitments to another.
As you aren't entering into a contract, you aren't having any credit check run. SIM free phones don't affect your credit score at all. You pay one lump sum for the phone and that's it. You don't need to worry about having bad credit and getting declined. Once you have paid the payment, the phone's yours!
Best Bits of Pay Monthly
It goes without saying, pay monthly contracts make smartphones way more affordable, even if they are slightly more expensive in the end. Living on a budget, people can't afford to splash out on a big price for a phone and that's what makes pay monthly contracts so good!
Something else that makes pay monthly contracts really offer some amazing perks too. By paying monthly, you join a network for their airtime. Depending which network you choose to join, this gives you access to some great network add ons. For example, EE offers a range of free subscriptions to big brands you can use across your contract. Vodafone offer a bunch of discount codes and competitions to their customers and Three let you visit more countries than any other network and use your allowance for free.
Pay monthly contracts can also come with benefits to bring your monthly costs down. We offer a whole variety of different cashback amounts with our devices. In some cases, your effective monthly cost can be taken down to around half what you're actually paying! If that isn't something that shows great value, we don't know what is.
Don't forget to checkout a selection of our latest handpicked
Mobile Phone Deals
on some of the latest handsets.
SIM Free or Pay Monthly?
It really comes down to your own opinion whether you prefer SIM free or pay monthly is right for you. If you can afford to, you may want to jump in and buy the smartphone of your dreams outright however, not everyone can do that. To spread the costs, you may decide to stick with a pay monthly contract. These can help stay within budgets and make phones more affordable.
Before committing to either option, you would want to take a look at offers on the market. SIM free customers will need to purchase an airtime contract alongside the phone if they want mobile data and calls so you'd want to pick a great SIM deal. Pay monthly deals are always changing to suit customers.
Whether you decide that SIM free or pay monthly is the one for you, we've got unbeatable prices. Our monthly contracts come with a whole bunch of perks that we're sure you'll enjoy every second with us!