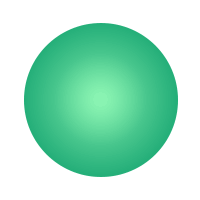 FREE Next Day Delivery - 7 Days a Week
Order now for
delivery in 5 - 6 days*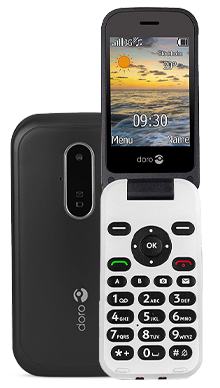 Doro 6620
Doro 6620
Easy to use, easy to store and an affordable price. The Doro 6620 is the perfect handset for anyone who's looking to keep things simple.
Key Features:
Flip phone
Assistance button
Easy to read display
HD voice



Compare Doro 6620 Deals
Select your desired options to find the best Doro 6620 deals for you.
Doro 6620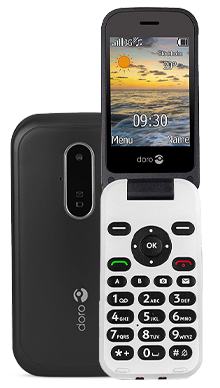 Doro has been producing handsets that are perfect for keeping to a budget and keeping technology simple for years on end. They're perfect for people hard of hearing and with visual impairments. Enjoy an extra large, easy to read display as well as a large keypad for easy use.
Doro 6620 Design
The Doro 6620 is a flip phone, which makes it super easy to store. It can easily slip into your pocket or even fit into a bag. This device does have an extra large display, to make it far easier to read text and see images. With the 2.8 inch screen, you've got plenty of room to view. There is also a backlit keypad on the bottom half of the phone. These keys allow you to type messages or dial numbers with just a few clicks. 
The 6620 is only available in a black and white variant to keep things simple and classy looking.
Doro 6620 Camera
On the back of the Doro 6620, you can find a 3MP camera. This is capable of capturing some relatively high quality photos. You'll find that you can capture good amounts of detail and colour in your photos. With an LED flash, you can also take photos at night. This will give out a quick flash when the shutter is pressed to light up the area around you.
Once you've taken a photo, you can also see it in your gallery with image viewer. Here you can find all your photos taken on the Doro 6620 and delete or share them via multiple channels. 
A huge camera feature of this mobile phone is the video recording available. With the same camera, you'll be able to take fairly high resolution videos during the day. These will also save in your gallery to view later on.
Doro 6620 Audio
The Doro 6620 is perfect for anyone who's hard of hearing. This phones has loud and clear sound so you don't have to strain. It is also hearing aid compatible, which is perfect for a whole range of different people. This is the perfect phone if you need these features.
A 3.5mm headphone jack allows you to plug in any regular wired headphones. Enjoy the loud, crystal clear audio aloud or via headphones for a truly immersive experience.
Doro 6620 Features & Performance
Keeping this thing powered is a 800mAh battery kit. With this, you'll be able to get up to 380 hours standby. You won't have to worry about charging your phone during the day. You'll even be able to enjoy up to 8 hours talk time on a single charge. You can spend hours on the phone and still not worry!
You don't get the largest amount of storage when you purchase this device. To solve this, there is the option to us a microSD card too. This can allow you to add huge amounts of memory to your device and it also makes transferring it much easier.
Doro 6620 Deals
You'll be able to find a huge range of deals on the Doro 6620 here at fonehouse. Choose from a low monthly cost package with high data offers all in one place. With a range of networks available, you'll be able to get decent coverage, no matter where you live. Every single deal is cater to mean your needs as well as match the handset perfectly.
You can contact us on 0333 900 1133 if you have any questions around the Doro 6620 or just need help choosing the right phone for you. Our UK based call centre is on hand 6 days a week to help answer your questions.
Specification
Battery
up to 8hrs
Camera
3MP
Screen Size
2.8inch
Memory
32GB
Specification
Battery
up to 8hrs
Camera
3MP
Screen Size
2.8inch
Memory
32GB
Dimensions (mm)
106 x 55.1 x 19.5mm
Expandable storage
microSDXC (dedicated slot)
Screen size (inches)
2.8 inches
Resolution
320x240 pixels
Specifications
3gp (240x320 & 144 x 176)
Stand-by Time (hours)
380
Why Choose fonehouse?
Fonehouse employs a dedicated team of deal hunters, who work around the clock to source the top offers on a variety of devices, from Apple to Samsung phones, so whether you're searching for the latest iPhone deals, Samsung offers, or the best sim only deals, Fonehouse is the place to be. Our mission is to supply you with awesome phone deals alongside cracking handsets.
We provide great value, feature-packed tariffs for you to get your hands on and even negotiate some fantastic cashback options, which will considerably reduce your monthly bill. To top it all off, you will benefit from free next day delivery service, secure checkout, and our 14-day return policy.
At Fonehouse we off free next day delivery with all of our orders, so you could have your new handset the very next day.
If you need more information about shopping with fonehouse or are interested in any of our great deals,
then call our UK-based customer service team, today, on 0333 900 1133
FREE Next Day Delivery
We offer free next day delivery with all handsets, when ordered before 8 PM Monday-Friday.
14 Day Returns Policy
We hope you are happy with your purchase. However, we understand that sometimes you might change your mind. Please contact us within 14 days to see how we can help.
UK Based Customer Service Team
Call our UK based customer service team, where a trained member of staff will be on hand to assist with your mobile phone purchase.
100% Secure Checkout
We use SSL (Secure Socket Layer) technology. When you place your order with us all information you share with us is encrypted for your security.
FREE Phone Insurance for the First Month
Take advantage of our one-month free mobile phone insurance. Click to buy or call into our UK-based call centre.
FREE Phone Insurance for the First Month
Take advantage of our one-month free mobile phone insurance. Click to buy or call into our UK-based call centre.
100% Secure Checkout
We use SSL (Secure Socket Layer) technology. When you place your order with us, all information you share is encrypted for your security.
†RPI/CPI Price Increase - Each year, your Pay Monthly airtime tariff will be adjusted according to: Three - Three's Fixed Annual Price Change which is 4.5% each April. Vodafone - The Consumer Price Index rate of inflation plus 3.9%, which is announced each January and adjusted on your bill each April.
Unless otherwise stated, any cashback or gift incentives are provided by us, and not the network operators.
*Subject to successful network and / or identity checks and stock. Excludes bank holidays. For more information on weekend and bank holiday deliveries please see our FAQs.
©2022 All rights reserved E&OE. fonehouse.co.uk is part of KTM Online Limited. Reg. No. ‍10781202. VAT Reg. GB ‍276 ‍6191 ‍72. Monthly prices may rise in line with RPI.