Free Next Day Delivery
Order before 8pm
100% Secure Checkout
Shop with Confidence
UK Customer Service
Dedicated to you
14 Days Returns Policy
Terms may apply
FREE DELIVERY
Order now for delivery within the next 3 days*
Compare Apple iPhone 6 Deals
Select your desired options to find the best Apple iPhone 6 deals for you.
Apple iPhone 6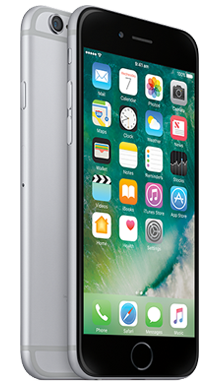 Apple iPhone 6

Despite the fact that the iPhone 6 was released in late 2014, it is still one of the most popular handsets available even today.

As one of the most celebrated mobile phone manufacturers of all time, Apple consistently release stand out iPhone handsets that have built them a cult following of loyal customers,willing to purchase the iPhone time and time again.

The iPhone 6 was the first smartphone of its kind with the larger screen and since its release, Apple have stayed true to a tried and trusted design that still stands strong today. At Fonehouse we're still huge fans of the iPhone 6 and believe that it definitely should not be overlooked by those on the hunt for a new smartphone.


Apple iPhone 6 Build and Design

When the iPhone 6 was first released, smartphone consumers were used to seeing phones that were attempting to be as small and compact as possible, so when the new iPhone came along, with the larger screen and thinner body, it really was the first of its kind.

The iPhone 6 is just 6.9 millimetres thin and has a 4.7inch screen to make for a handset that is sleek and sophisticated, as well as light. Despite the larger screen, the iPhone 6 still feels compact and is easy to carry around all day.

Unlike its predecessors, the build of the iPhone 6 has been optimised to make using the handset as comfortable and as convenient as possible. The power button is situated on the side of the phone, and the home button acts as a fingerprint sensor - something that was relatively new upon its initial release, and means that your smartphone security won't be of any concern.

The expert craftsmanship of the iPhone 6 has resulted in a phone that is bigger and better than its predecessors in every way. Available in three different colour options (space grey, silver and gold), there is an iPhone 6 to suit each and every individual's style.

In terms of durability and protection, the iPhone 6 features Ion-strengthened glass and oleo phobic coating, meaning that this isn't the most protected smartphone when compared with more recent releases, but the addition of a protective case should see you through to your next smartphone.

If anyone ever doubted the new design of the iPhone 6 they have since been proved wrong; the design that we see on the build of the iPhone 6 now acts as pretty much standard and is clearly recognisable in each and every iPhone release since (with the exception of the iPhone SE).


Apple iPhone 6 Screen Quality

The iPhone 6 features the aforementioned 4.7-inch display with a resolution of 750 x 1334 pixels, or a 16:9 ratio.

It's certainly not the most impressive screen quality on the market, and this is perhaps where it becomes increasingly evident that the iPhone 6 is an older model. Nowadays you can easily get your hands on what may be considered a budget handset with a significantly better screen quality.

With that being said, the colours displayed on the iPhone 6 are still extremely vivid and details come out crisp and clear, so while you might assume that the display lets the handset down when you read the specs, it's certainly not a factor that should deter users from buying the iPhone 6.

We really shouldn't criticise the screen too much as Apple have chosen to stick with this particular screen resolution right up to the iPhone 8, so it is clearly a winning formula.


iPhone 6 Sound Quality

The iPhone 6 continues the traditional great quality sound that we're used to with iPhones.

While a lack of hi-res audio support may disappoint some users, it's not too noticeable when the CD-quality 44.1kHz sound is so impressive.

Overall the sound is clear, crisp and rich, and upon release made the iPhone 6 stand out as one of 2014's best sounding smartphones. That's not to say it won't still impress users four years later; you'll be more than happy listening to Apple Music on your commute or atthe gym, and watching your favourite films and TV shows is a pleasure.


iPhone 6 Features

The new design of the iPhone 6 wasn't the only major improvement that Apple made with this handset. They also stepped up their game when it came to the key features and the internal workings of the phone.

Possibly one of the most talked about new additions to this phone was the introduction of Apple Pay, a service that allows iPhone users to use their handsets to conveniently make card payments in participating stores. As such a new feature back in 2014, it was initially a somewhat redundant as not many stores were immediately participating in Apple Pay, but nowadays it is a great feature that makes day to day life a lot easier- particularly if you find yourself stuck without cash when you're out and about.

Some users were concerned about using Apple Pay and how secure it could be, but the fingerprint sensor on the iPhone 6 performs well and users really need not be concerned about issues with keeping their details secure.

The iPhone 6 features a good quality 8MP rear camera with increased Focus Pixels when compared to its predecessors, for quick focus time. In comparison to older iPhones, there is a notable improvement in photo quality; the iPhone 6 photos feature less blurring and camera performance is significantly better in low light.

In comparison to other front shooters on more recent smartphone releases, the 1.2MP front-facing camera won't blow you away, however, we're used to the low-resolution front cameras that have become a standard feature on Apple handsets, and after a while, you learn to live with it. In all honesty, we feel that the other features of the iPhone 6 override a poor selfie camera, and it wouldn't put us off purchasing the iPhone 6.


iPhone 6 Performance

The iPhone 6 was released with the iOS 8 interface but is now upgradeable to more current versions. If you're a die-hard Apple fan then you'll be used to using the classic iPhone interface;it's extremely responsive and you can to choose to increase the size of everything which is a great feature for older users.

Apple are known for their impressive processors and the iPhone 6 unsurprisingly runs on the Apple A8 chip. When compared to previous models iPhone 6 delivers a 25% increase in CPU performance, a 50% increase in graphics performance and noticeably less heat output.


Fonehouse's iPhone 6 Opinion

The iPhone 6 will always standout as the Apple release to feature the most significant changes in design,build and performance and for that reason will always be a firm favourite at Fonehouse.

While improvements have been made since the release in 2014, many of the brilliant, innovative features of the iPhone 6 are still featured in each and every iPhone release since.

The iPhone 6 features a beautiful design with a build that is surprisingly light despite the larger screen size and is an ideal option for personal or professional use thanks to the impressive performance and powerful processor.

We would have liked to have seen an improved camera performance, particularly from the front shooter, as the iPhone 6 can seem somewhat dated when compared to the camera capabilities of recently released budget handsets, but if you're looking for an iPhone in particular, we wouldn't recommend buying a more expensive, recent release just because of the camera.


Best iPhone 6 Deals

Here at Fonehouse we pride ourselves on providing the UK with some of the best iPhone 6 deals on the market and will always endeavour to bring you our lowest iPhone prices ever.

We have some great value monthly iPhone contracts on Vodafone, with fantastic data packages and free texts and minutes.

Or, if you're looking for an EE iPhone deal, we've partnered with the network to bring you some great value pay monthly contracts.

We also have some amazing cashback deals and there's loads of extra perks and bonuses to check out with all of our networks.

If you're on the hunt for a new SIM free handset then you'll be happy to know that we have some great deals on the iPhone 6 and with our great next day delivery service you could be setting up your new iPhone the very next day for no extra cost!

If you can't find the best iPhone 6 deal online or in our stores, contact our team on 0333 900 1133 and our UK based customer service team will be on hand to guide you to the perfect deal for you.
Specification
Battery
up to 14hrs
Camera
8MP
Screen Size
4.7inch
Memory
32GB
Specification
Battery
up to 14hrs
Camera
8MP
Screen Size
4.7inch
Memory
32GB
Release date
September 2014
Dimensions (mm)
138.1 x 67 x 6.9
OS Version
iOS 8, upgradable to iOS 11.3
Messaging
iMessage, SMS(threaded view), MMS, Email, Push Email
Internal memory
16/32/64/128 GB, 1 GB RAM DDR3
WLAN
Wi-Fi 802.11 a/b/g/n/ac, dual-band, hotspot
GPS
Yes, with A-GPS, GLONASS
USB
2.0, proprietary reversible connector
Sensors
Fingerprint (front-mounted), accelerometer, gyro, proximity, compass, barometer
Screen size (inches)
4.7 inches
Resolution
750 x 1334 pixels
Protection
Ion-strengthened glass, oleophobic coating
Specifications
Phase detection autofocus, dual-LED dual-tone flash
Features
Touch focus, geo-tagging, face/smile detection, HDR (photo/panorama)
Capacity (mAh)
Li-Po 1810 mAh battery
Stand-by Time (hours)
Up to 250 h (3G)
Talk Time (hours)
Up to 14 h (3G)
Headphone connection
3.5mm jack
Loudspeaker
Voice 66dB / Noise 65dB / Ring 72dB
Alert types
Vibration, proprietary ringtones
Why Choose Fonehouse?
When you choose to purchase a product from Fonehouse, you are purchasing from one of the UK's leading independent mobile phone retailers.
We're proud to deliver some of the very best mobile phone deals on the market, with our team of experts who work tirelessly around the clock to ensure that we also give you the very best price for your new mobile phone deal.
At Fonehouse we have several network partners including EE & Vodafone. By giving our customers a fantastic deals on these networks, we can be sure that they always have the best service and network connection no matter where they are. With free roaming, you can connect to anyone and everywhere, even when you're on the other side of the world.
When you shop with Fonehouse, you could get your hands on a fantastic cashback offer, saving you even more money. Plus, every time you take out a new pay monthly contract with us, you have the chance to be entered into a prize draw to win an incredible new Samsung Galaxy S9 handset, solely by providing us feedback!
At Fonehouse we off free next day delivery with all of our orders, so you could have your new handset the very next day.
If you need more information about shopping with Fonehouse or are interested in any of our great deals, then call our UK based customer service team today on 0333 900 1133
FREE Next Day Delivery
We offer free next day delivery with all products, when ordered before 8pm Monday-Friday.
14 Day Returns Policy
We hope you are happy with your purchase. However, we understand that sometimes you might change your mind. Please contact us within 14 days to see how we can help.
UK Based Customer Service Team
Call our UK based customer service team where a trained member of staff will be on hand to assist with your mobile phone purchase.
100% Secure Checkout
We use SSL (Secure Socket Layer) technology. When you place your order with us all information you share with us is encrypted for your security.
FREE Phone Insurance for the First Month
Take advantage of out one month free mobile phone insurance. Click to buy or call into our UK based call centre.
FREE Phone Insurance for the First Month
Take advantage of out one month free mobile phone insurance. Click to buy or call into our UK based call centre.
100% Secure Checkout
We use SSL (Secure Socket Layer) technology. When you place your order with us all information you share with us is encrypted for your security.
†RPI/CPI Price Increase - Each year, your Pay Monthly airtime tariff will be adjusted according to: Three - Three's Fixed Annual Price Change which is 4.5% each April. Vodafone – The Retail Price Index which is announced each March and adjusted on your bill each April. EE - The Consumer Price Index rate of inflation plus 3.9%, which is announced each January and adjusted on your bill each March.
Unless otherwise stated, any cashback or gift incentives are provided by us, and not the network operators.
©2020 All rights reserved E&OE. fonehouse.co.uk is part of KTM Online Limited. Reg. No. ‍10781202. VAT Reg. GB ‍276 ‍6191 ‍72. Monthly prices may rise in line with RPI.