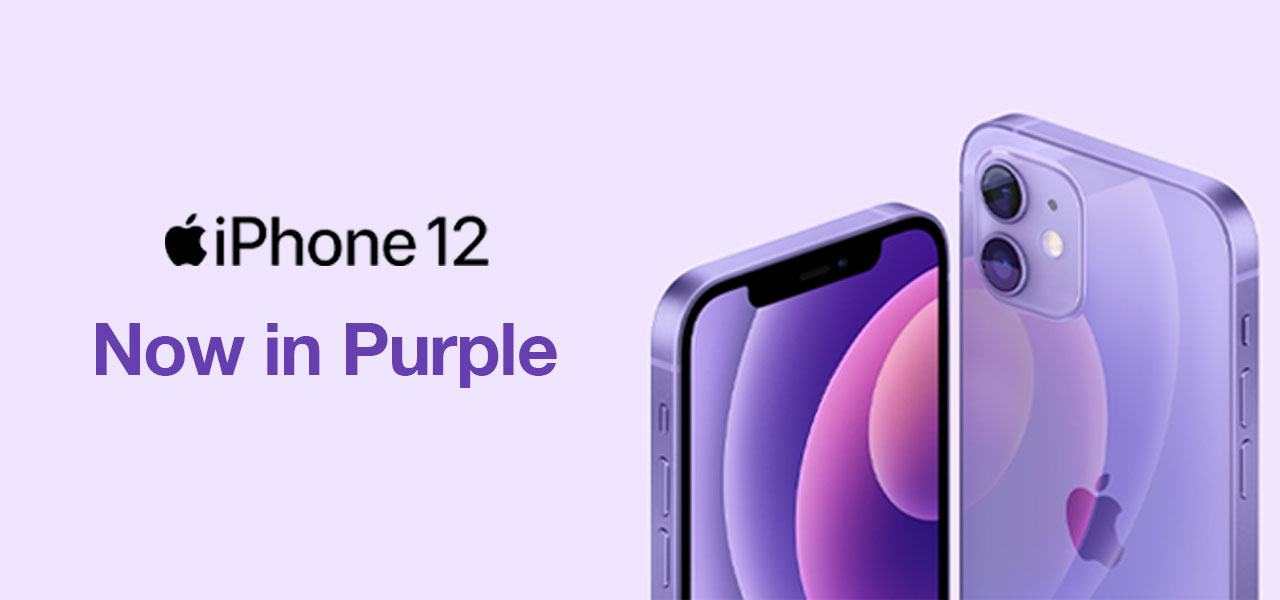 23 Apr

Apple Launch The iPhone 12 In Purple 

Looking to brighten up your life? We've got just the phone for you! Apple have announced at their 'Spring Loaded' event this week that a purple (yes, purple!) iPhone 12 Purple is set to become available, adding to the array of existing colours already on offer since the launch of their latest smartphone last October.

The event was staged virtually, as was also the case last year, but that didn't stop the tech giant from sharing its intriguing new innovations with the rest of the world in their own unique way.

The iPhone 12 Purple has been a huge hit with customers, and this new model can be yours for the exact same price as the rest of its kind, meaning you don't have to worry about paying any extra to add a bit of purple to your purse or pocket.

Sounds great! When can I get my hands on one?

The plush purple iPhone 12 Purple, also available on the iPhone 12 Mini Purple, launched this Friday 23rd April 2021 for pre-order from 1pm UK time and you can get yours right here on the Fonehouse site (insert link). It will be officially released seven days later on Friday 30th April 2021 to all customers who have pre-ordered, and we will begin shipping devices on this date, so act fast to grab yours in time for those early summer barbecues, pub garden drinks and sunny days out with your friends and family.

It's the most popular smartphone in the world for good reason, and the iPhone 12 family has an over 99% customer satisfaction rate thanks mostly to its durable design and immersive display. Big things are expected of the new release, with Apple's senior vice president of Worldwide Marketing, Greg Joswiak, commenting that "the new purple finish, just in time for spring, adds another bright and fun option to the lineup, and we think customers are going to love it."
"Apple always create demand. This device is no different. It's powerful and bold. Every tweak and change Apple introduce is always popular, this new colour looks brilliant, our customers will be after it – as will my wife!" – Michael (Store Manager), Fonehouse Belfast
Why purple? Why not!
Apple are known for their bright and vibrant finishes and this new purple design joins a snazzy list of fun options in what is an already colourful listing. It contains a range of fantastic features such as an advanced dual-camera system that delivers powerful computational photography and the highest-quality video in a smartphone, expansive edge-to-edge Super Retina XDR displays with OLED for an enhanced, brighter look and a Ceramic Shield front cover which provides the biggest jump in durability ever on an iPhone.
All of this compliments the stunning flat-edge aluminum feel, perfectly colour-matched to the precision-milled black glass and more immersive viewing experience, not to mention its high-powered wireless charging with MagSafe and an all-new ecosystem of accessories that can be easily attached.
Throwing it back
Its launch was unveiled at the same time as new brightly iMac computers, available in a rainbow of seven different shades, as Apple add a splash of colour to their collection of marketing-leading devices. The promotional video used to announce the new purple products provided a throwback to earlier purple iMac variations and expressed 'delicious like candy' messaging which alluded to Willy Wonka and the famous purple factory the character owned and colourful clothing he's often associated with.
In a moment when people are constantly looking back to nostalgic periods from time gone by, Apple have really hit the 'sweet spot' with their new purple finish which just exudes positive vibes and vibrancy – and when do we ever not need some of that!
What else makes the purple iPhone 12 so good?
Well, where do we start! The durable, elevated, design and immersive display is as beautiful as it is practical, not to mention that the iPhone 12 Mini purple is the smallest 5G smartphone in the world, packing intelligent technology into a handy, compact size.
Watching videos or browsing through photos on the go? The immersive HDR viewing experience is perfect for high-definition video and images with enhanced detail and both models have nearly double the peak brightness of the iPhone 11 – which combined with the new purple finish makes for a delightfully colourful smartphone.
With an industry-leading IP68 rating for water resistance, you can rest easy knowing your device is protected against everyday spills, up to 6 meters and for up to 30 minutes.
Not only that, the Ultra Wide camera and a new Wide camera provides 27% more light for incredible video and photo-taking and ensures brighter pictures and better contrast for images taken in low-light settings with Night mode. Order yours with Fonehouse today (insert link) and you can benefit from an end-to-end Dolby Vision experience (the first and only device to provide such a thing), and shoot cinema-grade videos natively on your iPhone.
With playback on the iPhone 12 Purple  now more realistic than ever before thanks to the Super Retina XDR display, both models boast improved cinematic video stabilisation and true-to-life selfie videos with Dolby Vision. Other features include longer exposure times for sharper videos, better light trails and smoother exposure in low-light scenarios.
Buy today & do your bit for the environment
Did you know that iPhone 12 models are made of 100% recycled rare earth elements in all magnets? This includes the camera, Taptic Engine and MagSafe, as well as Apple's MagSafe accessories, whilst the power adaptor and EarPods have also been removed from packaging which further reduces carbon emissions and avoids the use and mining of precious materials, allowing for 70% more boxes to be shipped on pallet.
In total, this has cut over two million metric tons of carbon emissions each year which, for context, is similar to taking not far off 450,000 cars from the road annually. So not only can you get your hands on a vivacious new purple-coloured phone, but you can also do your bit for the greater good of the planet.
"We have already started to receive interest in the new iPhone 12, no changes to the core device but it's a striking new colour and the fashionistas are keen!" – David (Store Manager), Fonehouse Wokingham
I'm sold! How can I get mine?
You can pre-order with Fonehouse right now, and we offer deals from EE, Three and Vodafone for the iPhone 12 Purple 5G and iPhone 12 Mini Purple , both of which are available in 64GB and 128GB variations.
So don't delay, check out the latest deals available for both the iPhone 12 Purple  5G  and the iPhone 12 Mini Purple now and get ready to add a splash of spring colour to your smartphone!