When it comes to selecting a mobile network, affordability, reliability, and speed are three key areas people look for – 3 things Vodafone knocks out of the park. From flexible and cheap Vodafone mobile contracts to Vodafone TV, it truly is a company that does it all. If you want a run down about Vodafone as a brand, what they've achieved, and what they have to offer their customers Q&A style keep reading!
How Many Countries Does Vodafone Operate In?
Vodafone since its humble beginnings in 1984 has made a huge impact in the world of telecommunications. Currently, Vodafone operates across 21 countries over two geographical regions, Europe, and the rest of the world. These countries include Turkey, Albania, Tanzania, Greece, and many other beautiful hotspot destinations.
Exactly How Succesful Are Vodafone?
As you've probably guessed, Vodafone is hugely successful in what they do. In the majority of its operations, they are within the top 2 spots of the largest mobile operators, and they are Europe's largest 5G network provider – giving users more of what they enjoy, at fasters speeds. Vodafone is also known for being the best mobile network for people looking for varied and affordable data bundles as well as unlimited 5G.
What Are Vodafone's Network Speeds like?
Each year Vodafone aims to become bigger and better than ever. This means improved network speeds, increased reliability, and even stronger 5G – a company that is always striving for greatness. One thing Vodafone has covered is providing its users with super-speedy access to content. The 2021 UK Mobile Performance Review by Root Metrics, reported that Vodafone was 1 out of 2 network providers that provided download speeds faster than 50 Mbps. Whether you're a person who loves to open 10 internet tabs at a time or a person who's constantly calling their friends, Vodafone is a network that always aims to support you within your ventures.
5G is the future. A great 5G provider should allow strong connection in heavily populated areas, faster downloads, flawless streaming, HD video calling and no lagging – ultimately making the usage of your device more fluent. Since 2020 Vodafone has shown massive improvements within its 5G mobile data service. In 2021 it's every day 5G availability improved across all 13 of its cities, and the network had increased median download speeds in a total of 11 cities. In the world of Vodafone, losing connection, long loading speeds and lagging are simply a thing in the past.
How do I Keep My Mobile Number On Vodafone?
You want to make the big switch over to the trustee Vodafone network, but you want to keep your existing mobile number- we're here to help you out a bit. If you're joining Vodafone from another network provider, you'll need three things: your temporary Vodafone number, the number you want to keep and a Porting Authorisation Code (PAC code). To get this code, all you'll need to do is text the word 'PAC' to the number '65075', this will request your code from your current network provider free of charge (this code typically lasts 30 days, and after this duration, you'll have to request a new code). Upon securing your new Vodafone contract, you'll just need to provide them with this PAC code, and then Vodafone will do all the work and make the transfer to switch over your device from your temp number to the mobile number you want. Once your number has been transferred over to Vodafone, you might temporarily lose service and you might need to turn your device on and off to complete the process.
Alternatively, if you would like to take a new number, and cancel your old contract, you'll need a Service Termination Authorisation Code (STAC Code). To get this code from your existing provider you'll just need to text the word: 'STAC' to the number '75075' – again completely free of charge and give this code to Vodafone to sort out on your behalf.
What Are The Top Vodafone Deals?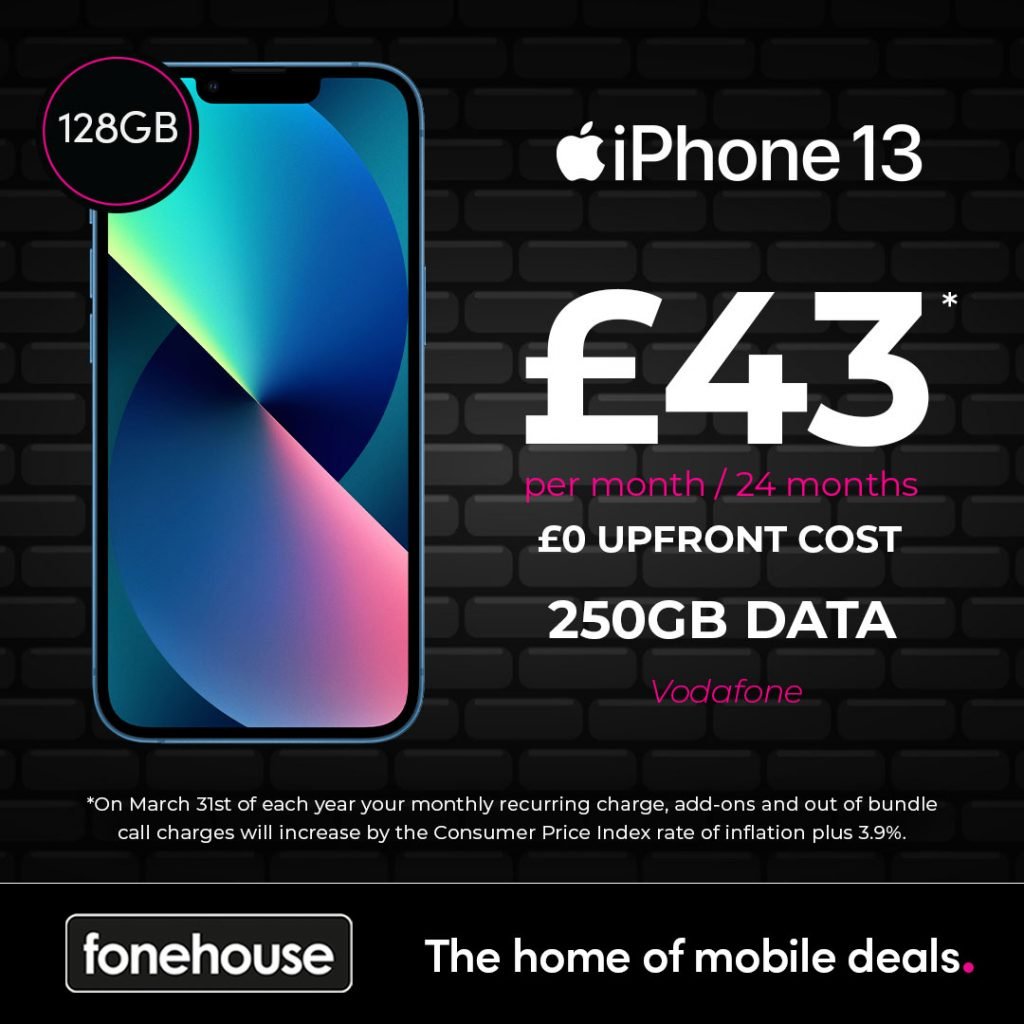 You'll be thrilled to hear that there's a large selection of amazing Vodafone mobile contracts and deals available on Fonehouse. There really is a deal for everyone, whether you're an iPhone fan, Oppo lover, Samsung Galaxy fanatic or even Sony Xperia obsessed, we have a Vodafone deal for you. One of the standout deals we think is worth shouting about is our iPhone 11 64GB 24-month contract, available for only £32 per month, with no upfront cost. With this plan, you'll get 150GB of data, unlimited minutes, unlimited texts – and the sparkling new phone itself of course. This is not only a wonderful and fairly newly released iPhone, but the low monthly cost with the reliable Vodafone network makes it a fan favourite.
Another Vodafone deal we think you should get your hands on is our iPhone 13 5G 128GB, £43 per month with no upfront cost 24-month contract. This contract comes with 250GB of data, unlimited minutes, and unlimited texts – a perfect plan for those who want one of the newest iPhones on the market and spend their days chatting on the phone and texting their friends.
If you're a Samsung user you'll love this one. The Samsung Galaxy S20 FE 5G 128GB, for only £30 per month, with no upfront cost, is up for grabs. With this Vodafone plan, you'll get a whopping 100GB of data, unlimited minutes, and unlimited texts! – all your wants and needs in a device catered for.